Milestone Announcements
|
October 18, 2020 1:00 AM
ANNIVERSARIES
Dave and Patsy Peterson
60th Anniversary
Dave and Patsy Peterson's children, Deanna, Scott, Kevin and Mike, are proud to announce their parents' 60th wedding anniversary. They were married on Oct. 15, 1960, in Spokane.
After marrying and starting a family in Seattle, with stops in Sandpoint and Pendleton, Ore., they settled into the community of Post Falls and have resided there since 1970.
They are blessed with eight grandchildren — Tyler, Ben, Kyle, Trevor, Zoë, Blake, Kendall and Madeline.
Merle and Judith Black
50th Anniversary
1970-2020
Merle L. Black III and Judith Elaine Barb were from two different parts of the USA. They met in 1969 in Germany upon his return from Southeast Asia and upon her transfer from Turkey. They have two anniversaries. Merle claims Oct. 16 because he paid money to the German government for the civil ceremony, while Judith claims Oct. 17 when the church wedding was conducted. Their dual events do not end there. Each had grandparents married on their anniversaries; one set on Oct. 16 and one set on Oct. 17. When asked where each is from, Merle responds Cleveland, but not Ohio, Oklahoma. Judith claims Jacksonville, but not Florida, North Carolina.
At the time of their marriage, in 1970, Merle was a Captain in the U.S. Air Force and stationed with NATO at Ramstein Air Base Germany. Judith was an educator with the Department of Defense Overseas School System at Ramstein. They found they had many common interests.
Both like traveling and meeting new people while experiencing new foods and different cultures. Between 1970 and 1978, their travels encompassed trips from Hammersfest, Norway, to Gibraltar, Spain, and numerous places and countries in-between. They liked joining friends and participating in local festivals in Germany, the Netherlands, Italy and Spain.
From 1978-1991, Merle and Judith began traveling at the will of the Air Force. Their moves and jobs included Tinker Air Base, Okla.; McDill AFB, Fla.; Osan, Korea; Hickman AFB, Honolulu, Hawaii, and Sembach AFB, Germany. They had several separations during their Air Force years. Merle attended military schools, and had a second extended tour to Thailand. Judith maintained her job with DOD in Germany.
In 1980, while stationed at Tinker AFB, Okla., their son Gregory was born in Norman, Okla. At 2 months old, he began traveling with the family. By age 10, he had lived and gone to school on three continents. Each transfer was a new adventure which he seemed to willingly embrace. By middle school, the family retired to Norman, a university town. When, new foreign students enrolled, they often shadowed his schedule based on his experiences in foreign countries. Often they spent time with our family in our home, ate our food and practiced English.
After retiring as a Lt. Col. in the Air Force, Merle, Judith and Greg continued to travel. School vacations allowed frequent winter trips to Colorado and summer trips to various places in the U.S. In their early 60s, both Merle and Judith officially retired. Their retirement allowed them to complete their travels to all 48 contiguous states and Alaska. It was then that they decided that Idaho was worth revisiting. Following extended visits to both Sandpoint and Coeur d'Alene, they chose Coeur d'Alene. They enjoyed their visits and now call Idaho home.
• • •
Submit your milestones to hmain@cdapress.com or in person at the Coeur d'Alene Press, 215 Second St., Coeur d'Alene, ID 83814.
Listings include: Wedding anniversaries for couples married 25 years and every fifth year thereafter (2 photos accepted); engagement announcements (1 photo accepted); wedding announcements (1 photo accepted); births (1 photo accepted); milestone birthdays at age 70 and every fifth year thereafter or every year after age 90 (1 photo accepted); generations (1 photo accepted); academic honors and higher education accomplishments (1 photo accepted) and military announcements (1 photo accepted). Deadline is 3 p.m. Tuesdays.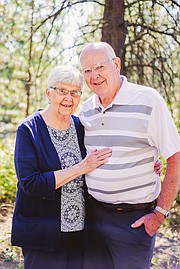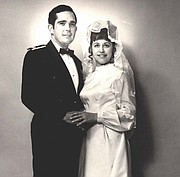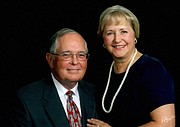 ---