THE FRONT ROW with MARK NELKE: The state of spectators at state high school events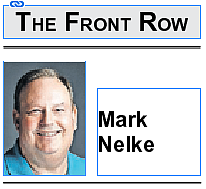 |
October 18, 2020 1:30 AM
Remember going to Walmart in the early days of the COVID-19 pandemic?
If the store was "full," you had to wait outside until someone left — then you could go in.
When the state soccer tournaments come to North Idaho this week — the 5A tourneys at Coeur d'Alene, Lake City and Post Falls high schools, and the 3As at The Fields at Real Life Ministries in Post Falls — there might be a "greeter" of sorts at the gate to control the amount of fans at the facility for any given match.
"We understand people want to watch their kids, and we're going to do everything we can, but we're also going to do it as safely as we can, too," said Ty Jones, executive director of the Idaho High School Activities Association.
THE IHSAA posted crowd limits for each sport at each state venue, based on recommendations of the local health districts where the events are scheduled.
For soccer, at each 5A tourney match, capacity will be capped at 300 fans — 150 per school per match.
At each 3A tourney match, capacity will be capped at 150 fans — 75 per school per match.
At the state 4A tournaments at Bonneville High in Idaho Falls (boys) and Hillcrest High in Ammon (girls), capacity is 350 — 175 per school per match.
"Soccer being outdoors helps us," Jones said. "We think we're going to be able to spread out a long way on the entire sideline, and that's going to hopefully take care of a lot of the concerns that some people might have. You can get some pretty hefty soccer crowds at times, but looking at the numbers everybody has provided, we think we're going to be able to do that."
If fans show up early for their match and want to watch the end of the previous match, they might be let in at the discretion of the greeters — er, tournament officials — or they might have to wait until the venue is cleared of fans from that match.
FOR VOLLEYBALL, crowd limits for the 5A tournament at Skyline High in Idaho Falls will be capped at 520 per match. For the 4A tourney at Kimberly High, and the 3A tourney at Twin Falls, the crowd will be limited to 1,000 per match.
For the 2As at Buhl High, it's 700 per match. For the 1A Division I tourney at Jerome High, and the 1A Division II tourney at Burley High, the crowd limit is 1,000 per match.
At state volleyball, officials plan to clear the facility after each match. But to allow time for that, matches are scheduled 2 1/2 hours apart, instead of the usual 1 1/2 hours.
That also caused the IHSAA to modify the bracket, changing it from a true double-elimination tournament to a single-elimination event with a consolation bracket, like basketball.
Now a team will "only" have to win three matches to be state champs, instead of four. Teams will not be able to play their way back through the losers bracket into the championship round.
"We're going to clear each facility after each game," Jones said. "You're not going to have three other 5A teams in watching a 5A match. It's going to be Team A and Team B, and Team A and Team B's fans and parents, and at the end of that match, we're going to clear the entire gymnasium, and then bring the next group in.
"We're pretty confident that, based on the size of the gyms we have, the changing of the brackets, and the fan limits that we were given, we're going to be able to get them in and out as safe as we can."
Jones said switching volleyball from double-elimination to single-elimination with a consolation bracket is "not ideal, we know that, but we're always going to go back to the standard of, we're going to do whatever we can to get kids to participate, and participate safely."
He said there was talk of a three-day, double-elimination tourney, but that was scrapped for financial reasons, both for the schools and for the IHSAA.
"It's not like we have an unlimited supply of money," he said.
WHEN TALKING about state venues and crowd limitations, Jones admits that state sites and/or crowd limitations can change.
"We're exhausting all possibilities," he said. "I'll never say never again in my life."
That is the case with state cross country, which on Friday the IHSAA moved from Eagle Island State Park in Eagle to the Portneuf Wellness Complex in Pocatello.
Last week, Jones said Eagle Island wasn't going to allow spectators on its property. This week, in announcing the move to Portneuf, the IHSAA said each runner will be allowed two spectators.
But, as was the plan at Eagle Island, the state meets will be split into two days at Portneuf — the 5As, 4As and 3As competing on Friday, Oct. 30, and the 2As and 1As competing the following day. The Friday slate is heavier because Portneuf has a previously scheduled Halloween event slated for later Saturday.
The initial idea for going to a two-day event was to spread out the races, and clear the venue after each classification's races.
"We, along with our parents, are very happy that spectators are now allowed to show support for their athletes," said Timberlake cross country coach Shawn Lawler, whose Tiger boys and girls teams have been regulars at state for years. "Since the distance is over 550 miles, some teams may have a few parents that cannot make the trip, allowing other runners to have more family members attend. It's likely the 'two person per runner rule' will be on the honor system, but one in which the IHSAA hopes will be followed so new cases are not spread after such events."
tye
"The IHSAA listened to the Central Health District and took a close look at the COVID-19 cases in Ada County and recognized that the meet needed to be moved," Lawler said.
State cross country was held at Portneuf last year, one of three rotating sites established by the IHSAA.
"I feel that most coaches prepare their athletes to compete in any conditions and circumstances — i.e. snow, rain, and various course challenges — so moving the course is a matter of coaches preparing their runners to compete regardless of the location."
In a memo to schools, the IHSAA said moving cross country could help offset additional expenses for eastern Idaho schools, after state wrestling was moved from Holt Arena in Pocatello to the Ford Idaho Center in Nampa because Holt was not going to be available for high school events.
STATE SWIMMING might be the most interesting state event.
Citing "facility and safety concerns," Jones said the usual YMCA venue in Boise can't host all the swimmers from throughout the state — even without fans.
Instead, at least for right now, state swimming will be a "virtual" meet.
When schools gather for their district meets — the District 1-2 meet is Oct. 24 at the Kroc Center in Coeur d'Alene, not only will district champions be crowned, but those times will be compared with other district times statewide, and that's how state champions and other medalists will be determined.
"In all honesty, while not an ideal situation, as we would love to compete against swimmers statewide, I am thrilled that our swimmers have been able to complete as much as they have the season," Lake City swimming coach Michelle Sobek said. "Being in the middle of a pandemic is not easy for anybody, but seniors that ended their school year last spring with no sports at all would probably attest to the fact that they are extremely jealous that our swimmers have had the opportunity to compete at all."
Meets this fall in North Idaho have mostly been dual meets, or gatherings of 3-4 teams if a couple of them only had a few swimmers. In the past, everyone opened at the Icebreaker meet, and other events featured more than two schools.
"Looking at the bigger picture right now is important," said Sobek, who was part of a statewide committee of coaches and administrators who met before the season to plot out a way to pull off a swimming season in the fall. "Keeping my swimmers safe and healthy during this time has been a huge concern, and traveling eight hours on a bus in a closed air space, and interacting with swimmers from all over the state that may be asymptomatic, is a very scary thought to me. Not to mention that putting all of those kids in a confined pool area space where ventilation is not the same as having an open air environment, makes me nervous for spreading COVID."
JONES SAID guidelines for the football playoffs will begin to take shape once it is known which schools are hosting. Two of the three preferred sites for state championship games — Holt Arena in Pocatello and Albertsons Stadium in Boise — are currently not available, but the Kibbie Dome in Moscow is.
If title games are to be played in the Boise area or in eastern Idaho, they'll likely end up at one of the larger high school venues.
Jones said discussions are underway concerning winter sports, and "we're hoping it's business as usual," he said.
AS FOR the fall ...
Rewind back to March, when spring sports were halted only a couple of weeks after they started, then were ultimately canceled.
While neighboring states like Washington and Oregon pushed their fall sports seasons back to the spring, in hopes the COVID situation would be different then, Idaho forged ahead with its usual schedule.
Jones was asked how he thought the fall sports season has gone to date, compared to how he thought it might unfold.
"I've gone back and forth quite a bit on that, truthfully, as far as how I thought it would go," he said. "Before the season started, I thought we'd be lucky to make it a month in. And truthfully, I think our schools have done a fantastic job, as best as they possibly can, to try to give their kids the best opportunity to finish the season. It didn't happen everywhere; there definitely were quarantines for teams, we already know that there are teams that aren't going to be able to participate in the district tournaments, because of COVID, and quite possibly even the state tournaments. We thought that would happen going in."
But ...
"We're not out of the woods yet; we still have (one week) before state events, and you look around the state — cases are spiking. But the schools and kids have been great. It's been a really positive thing to see them participating again.
"I've said this from the start, I'm going to be cautiously optimistic, because I choose to be positive about this as best I can," Jones said.
Mark Nelke is sports editor of The Press. He can be reached at 664-8176, Ext. 2019, or via email at mnelke@cdapress.com. Follow him on Twitter @CdAPressSports.
---