COLLEGE FOOTBALL: Vandals hit the field; Cougs scrimmage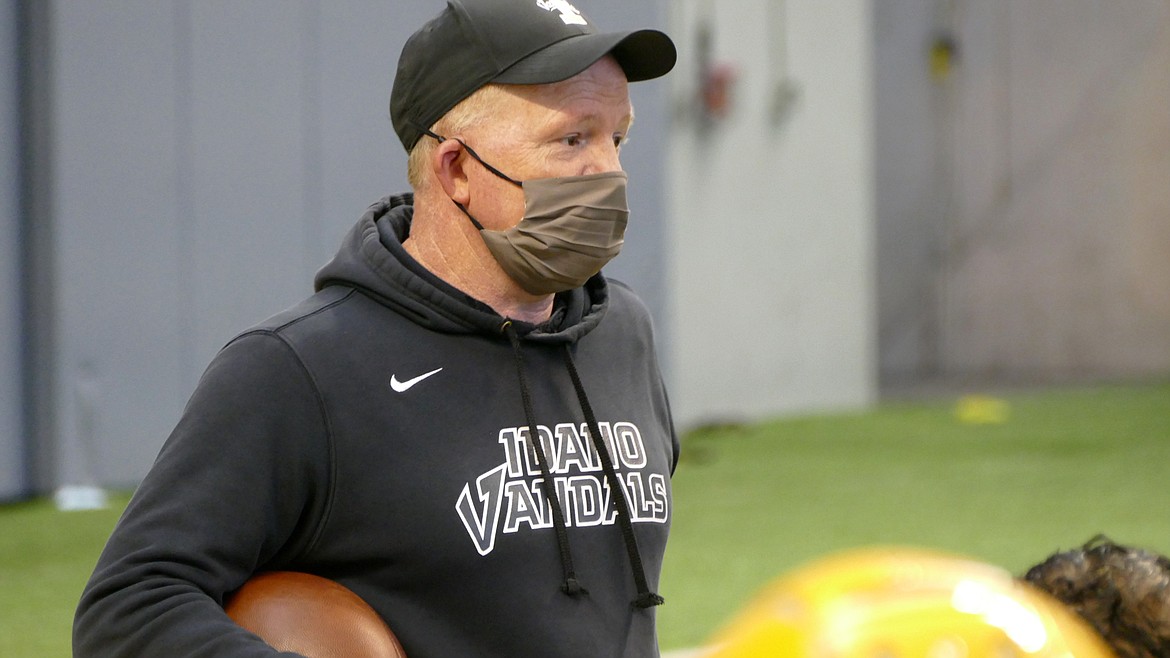 Courtesy Idaho media relations A masked Idaho coach Paul Petrino watches practice Saturday at the Kibbie Dome.
|
October 18, 2020 1:10 AM
From wire reports
IDAHO
MOSCOW — Idaho took another step toward a spring season on Saturday, practicing with full contact inside the Kibbie Dome for the first time this fall.
"I thought it was great," Vandals coach Paul Petrino said. "I thought we had really good intensity. We saw some good tackling, saw guys flying around."
The Vandals have seen a mixture of workouts and practices throughout the fall and have remained steady with regular meetings through Zoom. With so much happening digitally, preparation has been key.
"I think it's helped some of the new guys," Petrino said. "The new guys probably know it better than they normally would.
"I think our guys have had a really good attitude and continued to work hard. We have to control what we can control and get better one day at a time. That's really what we've been talking about."
Petrino also singled out a number of veterans on the squad for their effort on Saturday.
WASHINGTON STATE
PULLMAN — Washington State held its first scrimmage of preseason camp at Martin Stadium on Saturday afternoon.
The Cougars received passing touchdowns from Cammon Cooper and Jayden de Laura and rushing touchdowns from Jouvensly Bazil and de Laura while the defense recorded a pair of takeaways and 10 sacks.
Bazil led the way on the ground with 93 rushing yards including a 28-yard scoring scamper, while Max Borghi added 70 yards on five carries. Freshman wideout Joey Hobert led the receivers with six catches for 113 yards and a pair of touchdowns (56, 13 yards) while Donovan Ollie added five catches for 56 yards and Travell Harris finished with six grabs for 46 yards. Renard Bell and T.J. Robertson each made five receptions.
Cooper led the quarterbacks going 9 for 15 for 147 yards and one touchdown and one interception while de Laura went 10 of 14 for 133 yards and one touchdown pass (56) in addition to a 13-yard rushing score. Victor Gabalis was 8 of 16 for 70 yards and Gunner Cruz was 11 of 18 for 69 yards.
The defense received an interception from Halid Djibril and a forced fumble from Joshua Erling that Chau Smith-Wade jumped on. Freshman Justin Lohrenz led the way with three sacks while Brennan Jackson and Moon Ashby each added two.
Preseason camp continues today.
WSU's first game is Nov. 7 at Oregon State.
---