MOMENTS, MEMORIES AND MADNESS with STEVE CAMERON: No movie, but aftermath of Wichita State plane crash also memorable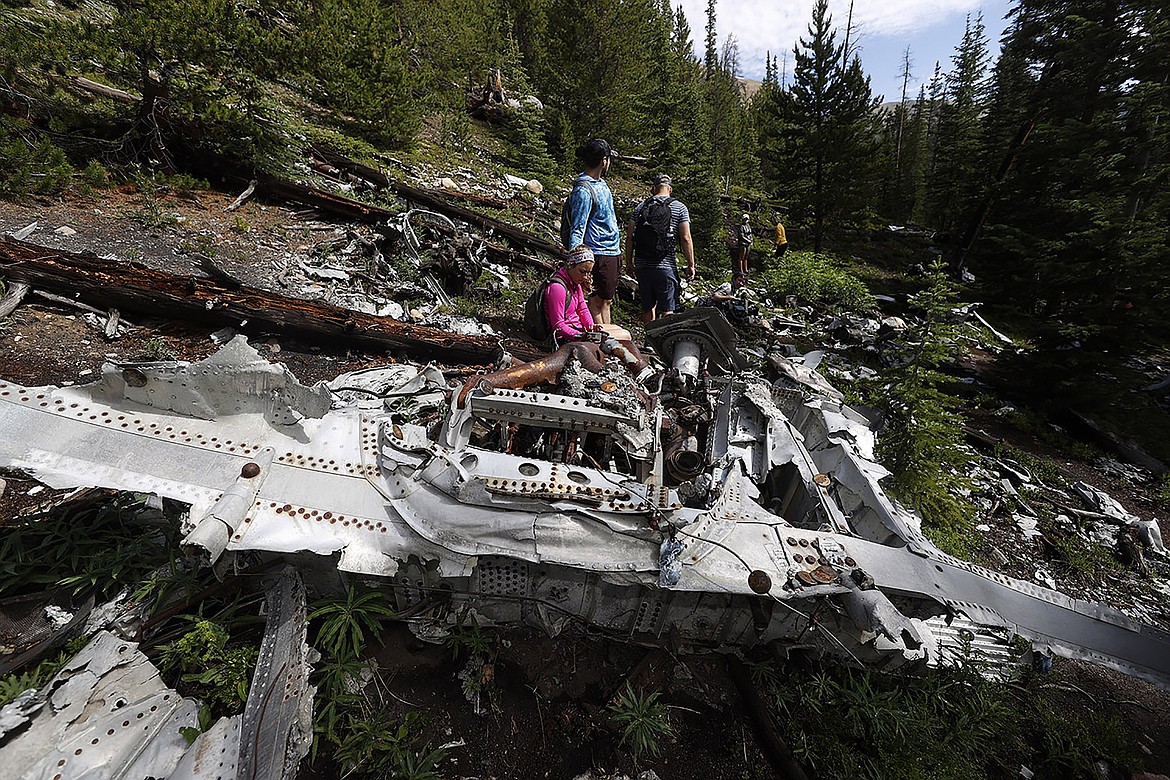 DAVID ZALUBOWSKI/Associated Press Relatives of members of the 1970 Wichita State University Shockers football team visit the crash site in July where an airplane carrying some of the players crashed near Loveland Pass, west of Silver Plume, Colo. Wreckage from the plane, which was one of two being used to take the Shockers to play a football game against Utah State University in Logan, Utah, is still scattered on the mountain top nearly 50 years after the crash close to the Eisenhower Tunnel.
|
October 18, 2020 1:25 AM
Sometimes a moment is almost too big, even for a journalist.
We're trained to put the facts first, and keep emotions to ourselves.
But once in a while, that's almost impossible.
I was barely into this business when I discovered that you can't remove feelings from a story.
It was almost 50 years ago — Oct. 24, 1970 — that I ran into a story that was so, so difficult to write.
The event was a football game between Wichita State and Arkansas at War Memorial Stadium in Little Rock.
It would have been a rout in any case, as the undefeated Hogs were ranked ninth in the nation.
The tale was on the other side, however.
Just over three weeks earlier, on Oct. 2, one of two planes carrying the Wichita State players to a game against Utah State in Logan, Utah, crashed into the side of a Colorado mountain — killing 31 of 40 passengers, including many of the team's starters.
BESIDES the tragedy and loss of life, there was an irony to that disaster.
Later that same season, a plane carrying the Marshall football team back from a game at East Carolina crashed while trying to land.
All 75 players and staff on that flight were killed.
The Marshall tragedy has never been forgotten, in part of the movie, "We Are Marshall," starring Matthew McConaughey.
But…
No movies came from the Wichita State crash.
The Shockers did not have a big-time program, for one thing, and even those deaths on the mountain were somewhat strange.
First of all, there was the fact that the Wichita State group was traveling on two planes — and then there was the miracle of nine survivors from the doomed flight.
Even more irony…
The crash only happened because the pilots took an unusual route from their refueling stop in Denver toward Utah.
They wanted to give the players a special scenic trip — which, unfortunately, they had not cleared for the weight on the plane.
The flight got caught in a box canyon west of Denver, and the crew could neither clear the mountains in front of them nor find the space to turn around.
YOU MAY be wondering how I wound up a part of this story.
Well, I was a VERY young sports reporter for the Topeka Capital-Journal.
The Wichita State tragedy was horrific news throughout Kansas, and we covered it extensively.
What no one suspected, however, was that the Shockers — who had lost several key starters (plus several more injured) along with head coach Ben Wilson — would attempt to finish out the 1970 football season.
Yet, indeed they did.
It was called the "Second Season," and simply to field enough players, Wichita State had to get permission from the NCAA and Missouri Valley Conference to use freshmen (who were then ineligible).
The Shockers surprisingly agreed to resume their season on Oct. 24 against Arkansas.
I'm not quite sure how or why I volunteered to cover that game.
Yes, I thought it would be a huge statement by Wichita State, but most likely I promised not to spend much money on the trip (I drove my rebuilt TR-3, and I had a buddy I could stay with in Little Rock.
CLEARLY, I knew it would be more than a normal football game.
Without overstating things, it seemed as though playing on schedule was an affirmation of life.
I wasn't ready for what greeting me in Arkansas, though.
The University of Arkansas, which played most of its home games on campus in Fayetteville, just happened to have this one set for Little Rock.
And everywhere in the city, it seemed, there were signs and banners greeting the Wichita State contingent.
I specifically recall huge, flapping signs hung across streets that said: "Everyone a Shocker."
The citizens of Little Rock definitely understood the meaning of this game to Wichita State, and did everything possible to make the visitors feel at home.
Now…
This may not seem like a huge deal to you, but one concession to that special week was that Arkansas fans had agreed NOT to "Call the Hogs."
You know?
"Whooo, pig, sooey!"
No Hogs that week.
I HAD no clue what would happen at the game — except that it would be one of the worst blowouts in NCAA history.
Just prior to kickoff, though, came…
The Moment.
When the team captains met in the middle of the field for the coin toss, the crowd of 40,000 just gasped.
Between two Wichita State players in uniform, there was another figure — on crutches.
It was John Hoheisel, middle linebacker and an original captain.
Hoheisel had barely survived the plane crash, and insisted that he travel to Little Rock, in order to represent the players who had died.
The scene as Hoheisel made his way to midfield was eerie.
You could hear people crying all over the stadium.
I remember thinking: "How can I write about THIS?"
It was one of the most dramatic live events I've ever covered.
THE GAME itself was an afterthought.
Arkansas won it, 62-0, using mostly backup players after the first three or four series.
It was a scrimmage between the ninth-ranked team in the country and a whole gang of kids who were barely out of high school.
But one play sticks in my mind.
Long after the Razorbacks had a big lead, a Wichita freshman named Tom Owen got free on a kickoff return.
You could see it would be a close call between Owen's dash to the goal line, and two Arkansas players who had an angle on him.
But what was stunning was that the crowd was going bonkers — they wanted Owen to score.
The noise got louder and louder as the end zone got closer, but…
Owen came up about 7 yards short, and the Shockers couldn't push the ball in from there.
The fans were disappointed. They'd wanted Wichita State to score.
The truth was, however, Wichita State was already on the scoreboard.
They'd done it just by showing up.
Email: scameron@cdapress.com
Steve Cameron's "Cheap Seats" columns appear in The Press on Mondays, Wednesdays and Fridays. "Moments, Memories and Madness," his reminiscences from several decades as a sports journalist, runs each Sunday.
Steve also writes Zags Tracker, a commentary on Gonzaga basketball, once per month during the offseason.
---