3A DISTRICT 1-2 GIRLS SOCCER CHAMPIONSHIP: Some heads-up Panthers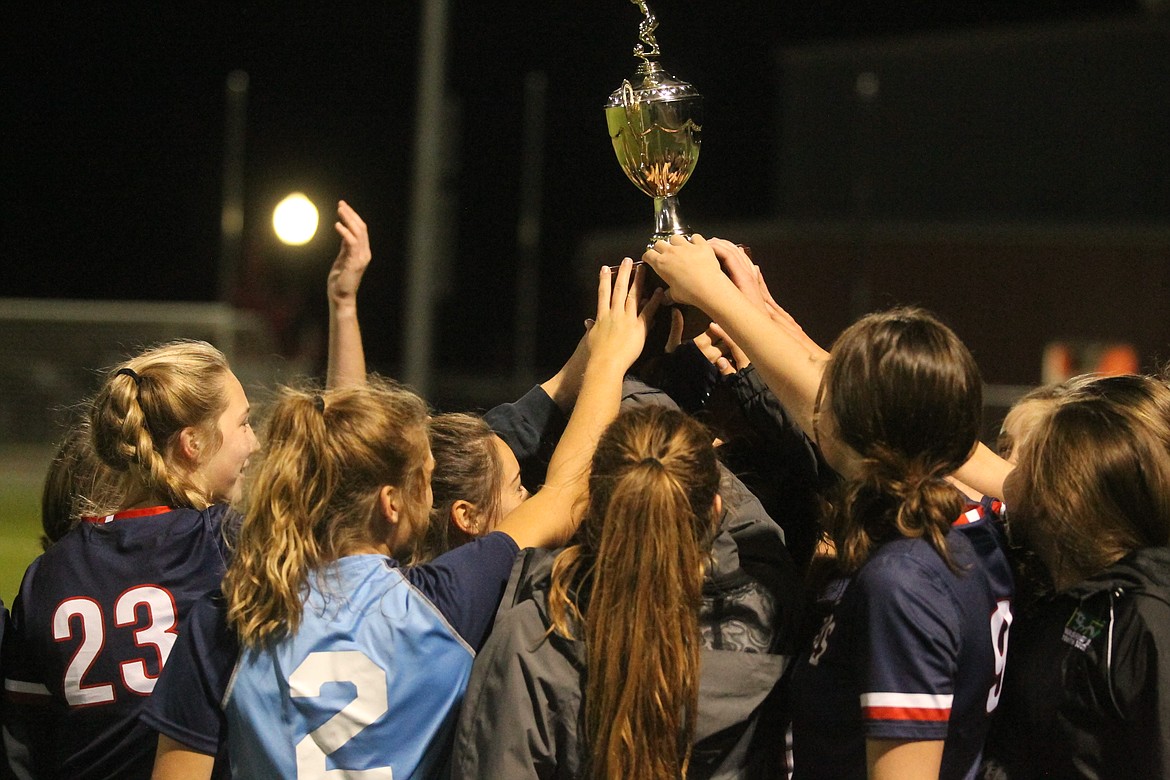 JASON ELLIOTT/Press Members of the Coeur d'Alene Charter Academy girls soccer team celebrate a fifth-straight 3A District 1-2 championship after beating Timberlake 9-0 at The Fields at Real Life Ministries in Post Falls on Saturday.
by
JASON ELLIOTT
Sports Writer
|
October 18, 2020 1:16 AM
POST FALLS — Technically speaking, you've got to use your head a little bit in the game of soccer.
Coeur d'Alene Charter Academy junior midfielder Ava Shivers demonstrated that to the best of her knowledge on Saturday.
"I know that Timberlake knows we've got a good offensive attack," Shivers said. "They really pack all their players back into the middle of the net, so when they've got numbers, they're not really pressing me, so I just ripped a shot."
And from 35 yards out, Shivers nailed it.
A little closer to the net, Shivers scored her second goal of the night, converting on a header in the 21st minute as the Panthers defeated the Timberlake Tigers 9-0 in the 3A District 1-2 girls soccer championship at The Fields at Real Life Ministries.
"Ava does a lot of important things for us on the field," fifth-year Coeur d'Alene Charter coach Stacy Smith said. "She's filled a backline role as a defender for us, then changed our lineup up a little bit in the first half to play a bit more of a midfielder. She's a strong, smart player similar to Sarah (Hines, who also scored two first-half goals for Coeur d'Alene Charter). She really helps us be really solid. Ava understands that when we play a 3-5-2, it allows her to be more offensive and that's one of our main goals."
Sarah Hines also had two assists for Coeur d'Alene Charter (13-1-1), which opens at state against Kimberly (13-1-0) on Thursday at 9 a.m. at The Fields. Charter has won four straight state titles, and five of the last six.
Saturday was Charter's fifth straight district title.
"We came out very strong in the first half and connected well," Smith said. "I was happy with their continuous movement. They kept moving and creating space and opportunities."
Timberlake (8-5-2), back at state for the first time since 2018, opens with Marsh Valley (11-2-1) on Thursday at 3 p.m.
"We knew it was going to be a tough match, and knew that coming into it," said Timberlake coach Steve Michael, who started the program in 2008. "The girls didn't quit. We had our struggles, but the girls didn't get down on each other. They gave it their best, and at the end of the day, it's really all you can ask for."
First half — 1, Charter, Ava Shivers (Sarah Hines), 7:00. 2, Charter, S. Hines (unassisted), 15:00. 3, Charter, Rebekah Hines (Cadence Wilson), 17:00. 4, Charter, Shivers (Kiley Cutler), 21:00. 5, Charter, S. Hines (unassisted), 29:00. 6, Charter, Cutler (unassisted), 35:00. Second half — 7, Charter, Wilson (S. Hines), 55:00. 8, Charter, Alexa Sheppard (Isabella Lucky), 62:00. 9, Charter, Megan Moore (Eden Harger), 75:00.
Shots on goal — TL 1, Charter 24.
Saves — TL, Ella Nunn 17; Charter, Danica Nowak 1.
---