"We built this airport"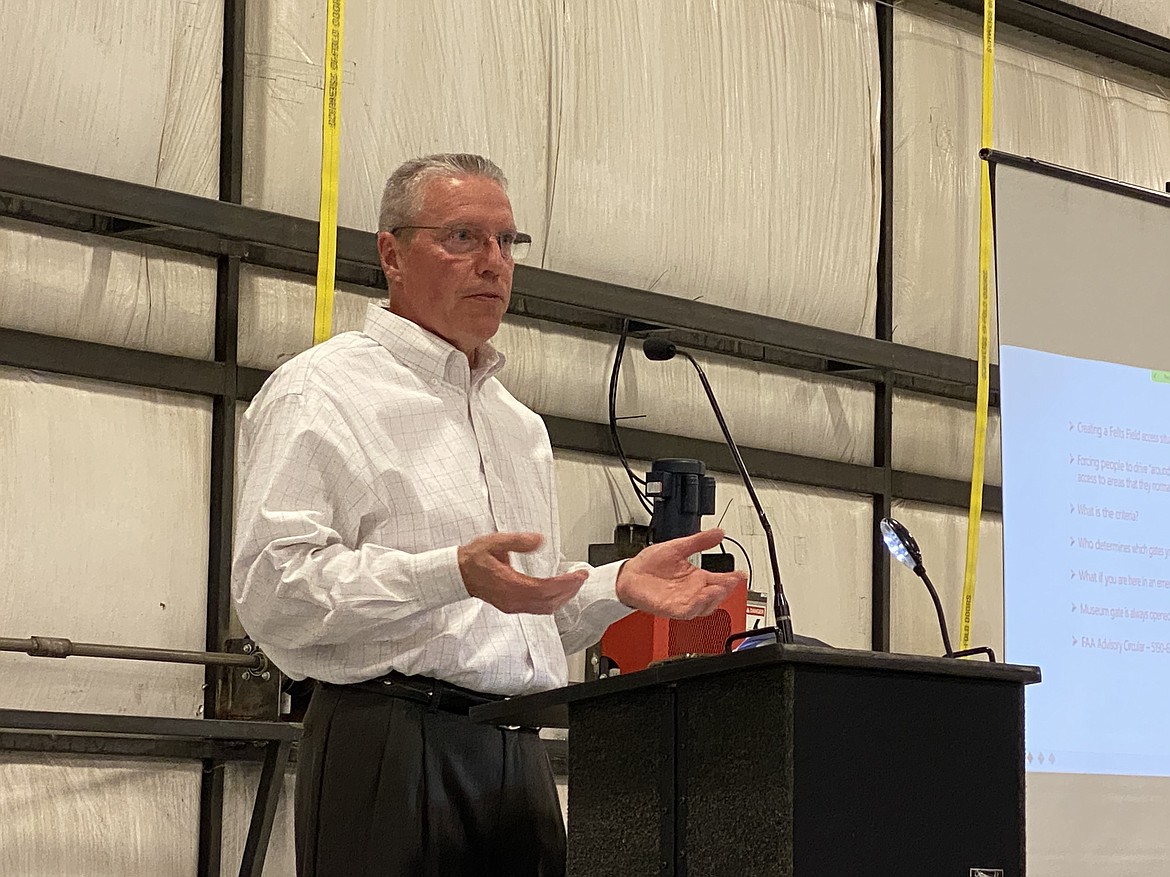 Airport hangar owner James Walsh addresses Coeur d'Alene Airport Association at meeting on decoupling. (MADISON HARDY/Press)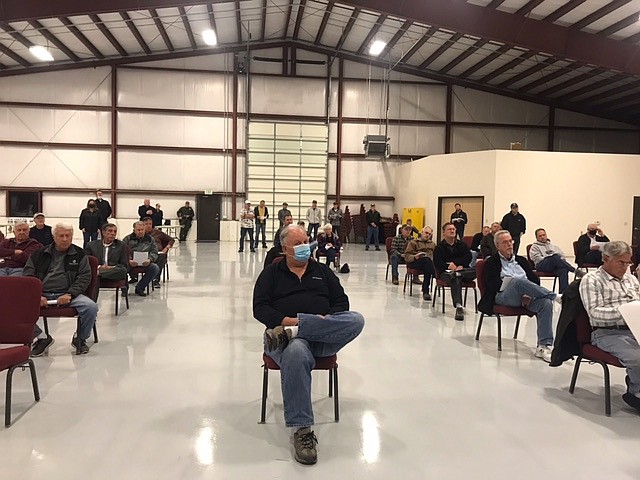 Over 50 hangar owners came out in support of the CDAAA meeting Friday where they discussed issues with future airport measures. Photo courtesy Coeur d'Alene Airport Association.
Previous
Next
by
MADISON HARDY
Staff Writer
|
October 17, 2020 1:00 AM
Coeur d'Alene Airport/Pappy Boyington Field hangar owners are circulating a petition and preparing to take action on several grievances after feeling unheard by county and airport officials.
In a Coeur d'Alene Airport Association meeting Friday night, members of the association expressed their disagreement on a number of issues they believe will negatively impact their ownership at the airport as well as the airport itself. More than 50 pilots who house their planes at the airport gathered at the meeting to collectively determine their next steps in communicating their concerns.
The primary issue, decoupling the 2/20 and 6/24 runways, has been part of an ongoing airport administration process for several years. While design plans for the project have only just begun, airport director Steven Kjergaard has said, hangar owners hope to negotiate the plans to suit the airport's Class 1 pilots better.
"There are so many reasons why we don't want to see runway 2/20 shortened," Keith Lang said during the meeting. "That runway gets used quite a bit, actually about 75% of the time for all the GA aircraft mainly but also midsize jets."
Kjergaard said the decoupling project is part of a 20-year master plan to bring the facility up to Federal Aviation Administration guidelines. Disconnecting the two runways currently in a v-shape has been a national FAA initiative since the Comair Flight 5191 crash in 2006 — an incident involving a plane taking off in Lexington, Ky., that killed 41 people due to coupled lanes.
Removing a portion of the runway is one solution to minimizing collision risks at airplane take off. However, the hangar owners said there are other alternatives they feel the airport should have considered.
"There are so many reasons not to take away pavement it's hard for me even to justify doing it," Lang said. "You shorten a runway and cause a real economic impact on that side of the airport. From a safety aspect, you shorten that runway and there are still going to be airplanes taking off from it. Runway excursion is the No. 1 accident that there is in aviation; this ups the challenge."
Kjergaard said the current plan would shorten the 2/20 runway from approximately 5,400 feet to about 4,442 feet. Class 1 Category 1 pilots, which are most airplanes on Pappy Boyington Field, would be most affected by the change, hangar owners said.
"We built this airport. All of the people who built their hangars, invested in the airport, we built this airport," James Walsh said. "Our voices are not being heard by an individual and a commissioner. They need to get the pressure from us all together as a group."
Moving forward, the CDAAA plans to approach the issues collectively, addressing their concerns to the Airport Advisory Board, Airport management, and the Kootenai County board of commissioners.
"The key right now is to stay together, and let's get the change," Walsh said. "We have a problem; we don't like the direction the airport is going. Hopefully, now they get the word."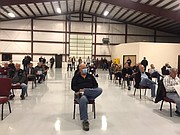 ---