FAITHFUL OBSERVATIONS: The Benedict Option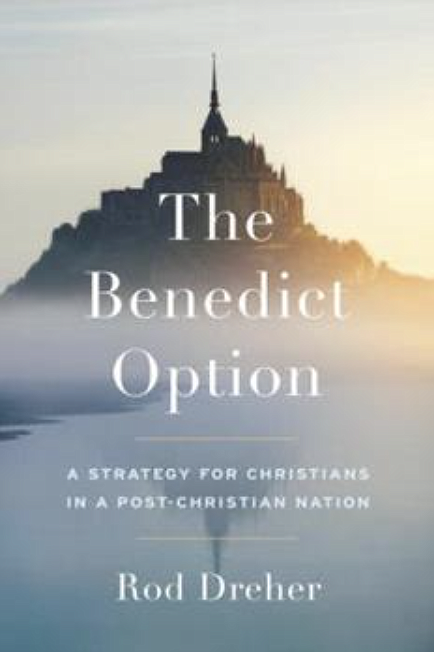 by
BOB SHILLINGSTAD/Special to The Press
|
October 17, 2020 1:00 AM
"to be made new in the attitude of your minds; and to put on the new self, created to be like God in true righteousness and holiness." -Ephesians 4:23-24
Part of what shaped America from its earliest days is the fact that we were predominantly a Christian nation, but never an exclusively Christian nation.
Washington didn't mention Christianity specifically, except to allude generally to "the same religion" — but of course, he didn't have to. Much has been written about how the common Christian moral and cultural heritage contributed to our original institutions.
de Tocqueville, in his famous study of early American democracy, thought it essential. And in times of crisis, the ability to communicate with each other in the common language of shared Christian morals has been essential to reforming those institutions as well.
If you have lived through the last generation, since the 1960s our country has gone through dramatic changes to a "post-Christian nation." Polling by Barna and Pew are discouraging concerning beliefs of many Christians.
Jeff Lukens said in a column "Christian beliefs in the sanctity of life, free will, and the flawed nature of humanity are the principal bulwarks against a descent into barbarism that progressivism promises. To the degree that Christians speak up for biblical virtue and sexual purity, and to the degree they preach the Gospel as the one true way to God, they are scorned and ridiculed.
The attack on the free exercise of religion now moves beyond prayer at football games and commencement ceremonies to legal battles over wedding cakes and floral displays."
"We are governed today by what Alasdair MacIntyre calls emotivism: the idea that all moral choices are nothing more than expressions of what the choosing individual feels is right. To live "after virtue" or post-Christian requires the following: 1) abandoning objective moral standards 2) refusing to accept any religiously or culturally binding narrative originating outside oneself 3) repudiating memory of the past as irrelevant, and 4) distancing oneself from community as well as any unchosen social obligations.
I was reading some comments by a commentator by the name of Rod Dreher who summarized as follows, "I met scores of concerned — even anguished — Christians as I traveled — Christians worrying about a future far more uncertain than they imagined even a few years ago … a sense of powerlessness in the face of a cultural riptide of relativism that is carrying so many Christian young people out to a secularist sea."
This week we look at "The Benedict Option," a book that Rod wrote three years ago about how to meet the challenge head on. The sub-title of Rod's book, "A Strategy For Christians In A Post-Christian Nation" will give you an idea of where he is headed. Rob states in this book: "Americans cannot stand to contemplate defeat or to accept limits of any kind. But American Christians are going to have to come to terms with the brute fact that we live in a culture, one in which our beliefs make increasingly little sense. We speak a language that the world more and more cannot hear or finds offensive to its ears."
The Benedict Option refers to Saint Benedict of history who was, as a young man was so shocked and disgusted by the vice and corruption in the city he turned his back on the life of privilege that awaited him as the son of a government official. When he left fallen Rome, Benedict had no idea that his founding of his schools for the Lord's service would over time have such a dramatic impact on Western Civilization. So, fear not! We have been in a place like this before.
Rod is not suggesting that we "head for the hills and hunker down" but rather the case that Christians should work to establish distinct cultures in the midst of the current chaotic one.
Dreher articulates his vision for implementing the Benedict Option, he frames the issue in terms of what Christians can or should do in the current culture. He outlines the need to live a life that is Biblically based, building a home that is teaching foundational truths, as we unite in fellowship with other like-minded believers we realize that the teaching of Christ is for all or our lives — not just the 'religious' part.
I hope this brief column has whetted your appetite to explore this topic further. We have done dozens of interviews of Christians involved in ministry in our area. There are many examples of people involved in jail ministry, missions, leading small groups, reaching those with addictions or poverty and their lives reflect the Benedict Option. We need to continue to highlight these efforts, but also remember that no regime can steal our cultural memory and Christian identity from us. We are giving it away ourselves.

If you have made progress on your own "Benedict Option" let me know what you have done and how it has worked. "In your relationships with one another, have the same mindset as Christ Jesus." -Phillippians 2:5
• • •
Bob Shillingstad's columns appear Saturdays in The Press. Email Bob: bjshill@mac.com
---