Monday's early voting an exercise in both efficiency and patience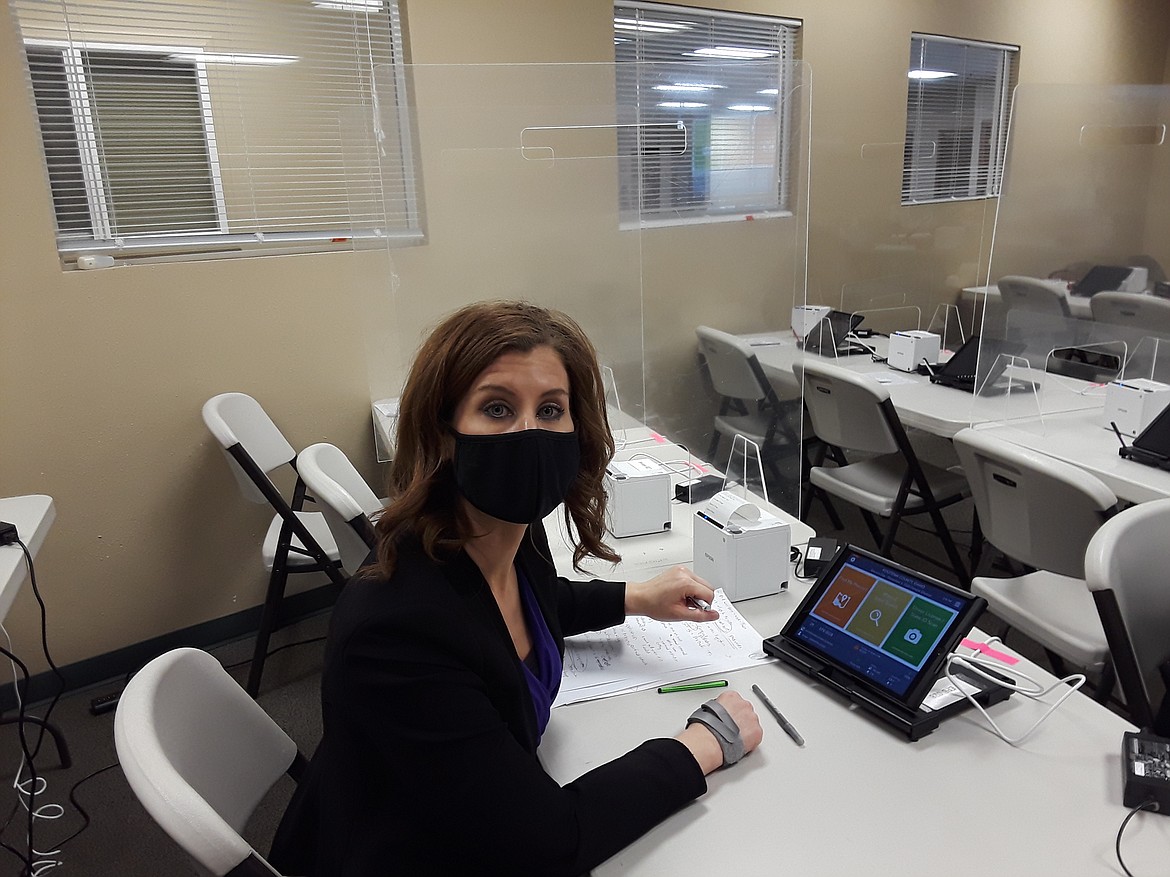 Jennifer Locke, chief deputy Clerk for Kootenai County, maneuvers through Tenex elections software during a simulated training course for poll workers. Around 300 volunteers have gone through the training for Election Day on November 3. (CRAIG NORTHRUP/Press)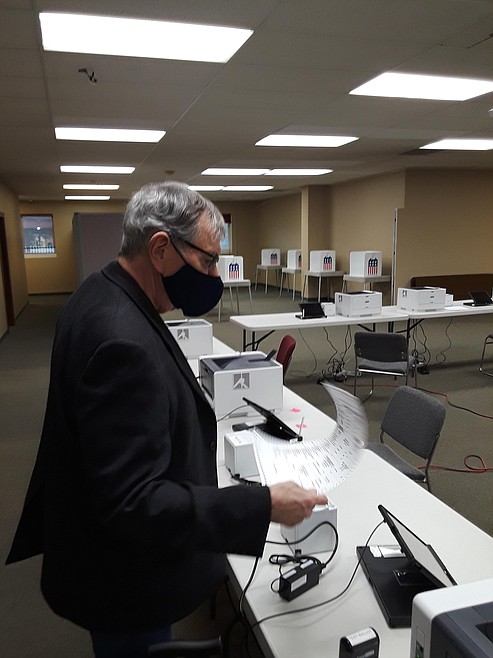 Kootenai County Clerk Jim Brannon awaits his ballot in a Friday test run leading up to Monday's early voting at the county's Elections Office on Third Street in Coeur d'Alene. Eight stations will be running simultaneously at the office for those who would like to vote early. (CRAIG NORTHRUP/Press)
Previous
Next
by
CRAIG NORTHRUP
Staff Writer
|
October 17, 2020 1:09 AM
The training room appeared no different than what you'd see in any other in-house professional learning environment. Fold-up tables rested neatly at an angle, chairs facing front toward an engaging speaker, a projector illustrating what the teacher's laptop screen showed. The only out-of-place reminders that things were abnormal were the Plexiglass shields rising up from the tables, adding another layer of protection for socially-distanced learners.
"The first screen is just where we verify the voter's identification," Ronnie Davisson said, standing beside the projector inside the Kootenai County Elections Office on Third Street in Coeur d'Alene. "He's given me his name, he's given me his address, and I'm getting ready to go to the next screen. But I see an alert that his mail-in ballot has already been received, and that he's not eligible to vote. And as you'll notice down here on the lower-right, I don't have any other options but to move forward with the next voter."
The software on the durable, portable tablets is provided by a company called Tenex, an election software solution company out of Tampa, Fla. The rigid, one-direction path for Davisson's students — volunteer poll workers for the upcoming election — was one of many security features in place. Some security measures are hidden behind encrypted code; some, like the one-path-no-workaround links to click, are hidden in plain sight. But all have the same goal: to safeguard one of the most abnormal elections in American history.
"With so many (absentee ballots) out there," chief deputy Clerk Jennifer Locke said, sitting right behind County Clerk Jim Brannon in the simulated training, "so many counties are moving to that (software). The flood of phone calls we'd get, we wouldn't be able to receive or take all those phone calls at one time. We want to make sure people are able to vote, but we want to make sure that we know in the system if they've sent back absentee ballots already."
The simulated training — again, a sliver of the two-to-three-hour training sessions for volunteer poll workers — was conducted as a courtesy for the Coeur d'Alene Press to demonstrate what steps Brannon and the Elections Office team are taking to ensure a safe and free election. Tenex is just one of the security tools in place to make sure poll workers — numbering around 300 to have passed through Davisson's class — can not only work efficiently, but also to clamp down on voter misinformation. The software continually updates, letting volunteers know if someone who's come to a precinct station has requested an absentee ballot, and whether or not that has absentee ballot has been processed
Monday is the first day of early voting. Neither Locke, Davisson nor Brannon said they could accurately predict what to expect when people who've chosen to cast their vote in person walk through the doors. One of the numbers on Davisson's screen she's sharing to the projector lists a six-digit, record number of registered voters in Kootenai County, as of last week: 100,300.
"That's actually wrong," Brannon said of the training environment number, sitting closer to the front of the room during Friday afternoon's simulated slice of training. "It's up to 102,000 now."
102,600, actually, as of 5 p.m. Friday. The unprecedented number of voters county-wide — be it through exploding growth or through political activism for what we've all been told is the most important election in our lifetime — throws predictions for Monday out the window. Nationwide, as early voting has started in precincts across the country, lines have backed through courthouse parking lots, along mile-long stretches of streets and around city blocks in triplicate. Whether or not those lines will replicate themselves in Coeur d'Alene Monday is anyone's guess.
Voters wanting to vote early can come to the Elections Office on Third Street starting Monday. Volunteers will use the tablets to scan in voters' driver's licenses or state-issued ID cards, where the software will identify which precinct — and, therefore, which ballot — to print out. It's a happy accident produced from an otherwise-nightmarish pandemic.
"If there's been a silver lining to COVID," Brannon said, "it is the fact that we are now in the 21st Century here in Kootenai County. We're at 103,000 registered voters, and now, it is going to be a lot easier and safer for people to vote at the polls. We can process ballots even faster than before. This is just absolutely amazing."
To speed things along even further, volunteers equipped with tablets will greet people waiting to vote — both Monday and on Election Day — to help with registration and processing.
Security encryption isn't the only precaution the office is taking for Election Day. The tablet cases — lightweight and made with recycled plastic — were built by veterans and heralded for their durability, should one of the volunteers drop them on Election Day. Their batteries last up to six hours, should the power go out, a contingency Davisson said demonstrates their volunteers' willingness to help.
"Some of our volunteers got together three back-up generators (to put) in the back of a pickup truck," Davisson said. "Think about that: These aren't 20-year employees working for the county. These are volunteers who just want to make a difference and help people vote."
Should someone who's already requested an absentee ballot come in to vote in-person, their in-person vote will take precedent, so long as their absentee ballot hasn't already been officially received by the Elections Office. They would, in such a case, electronically "surrender" — which essentially translates to "forfeit" — any future absentee ballot that comes in for this election cycle, rendering the absentees invalid.
Both Locke and Brannon stressed that 21st-Century speed and rugged resolve the team has assembled comes with a governor of health protocols that will slow the Elections Office down, a fact Locke noted multiple times over the course of the afternoon.
"Everyone's going to be socially distancing," Locke said after the presentation. "We're going to have places where people will stand. We're going to have people with questions. We're going to have people helping answer those questions. We're going to have ADA accommodations. But the point is: We're just hoping everyone can remain patient. This has been a challenging year. We'd just appreciate everyone's patience. We're doing the best we can."
"It really is frustrating to all of us here," Brannon said. "We are all absolutely doing the very best we can … You're not going to please everyone, but you gotta try. I want to make sure no voter is disenfranchised, and I want to make the process as efficient as possible."
That appreciation isn't only for Monday at the Elections Office or Nov. 3 at polling stations. Locke and Brannon both stressed that they've already received calls from some of the 44,000 local citizens asking about the status of their absentee ballots, something that can be tracked at idahovotes.gov. To date, 11,500 absentee ballots have been received back.
To help with social distancing, the entire Elections Office will be used to help process voters through, including the early voting staging area stemming through the Poplar Avenue door. Signs will be placed to direct citizens to the right area, and staff will be on hand to help. But however Monday unfolds at the Elections Office is something the team has long-since abandoned predicting.
"It's 2020," Locke said. "I don't even know what to expect this year."
Election Day is Nov. 3 at your nearby polling place or, if you prefer, Monday at the Kootenai County Elections Office.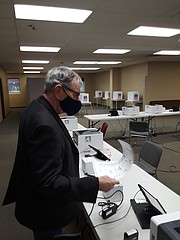 ---