Poems posted on poles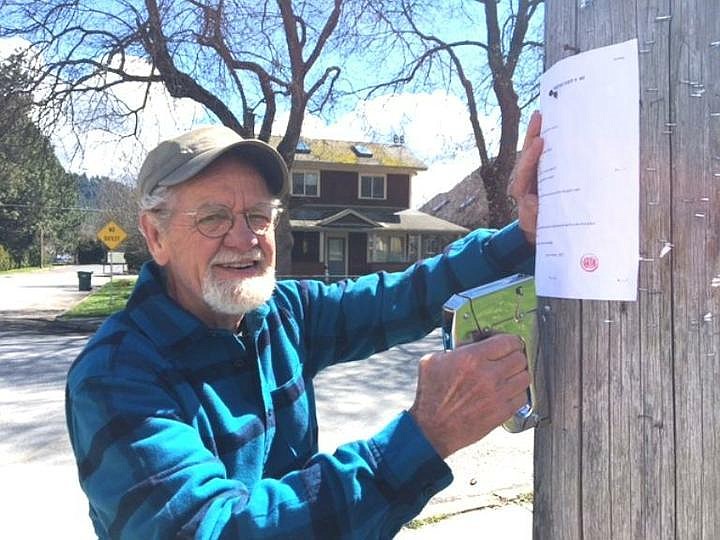 Roger Dunsmore, of Coeur d'Alene, acclaimed poet and longtime University of Montana professor, staples a copy of the poem "Regret" by his wife, Jenni Fallein, to a Coeur d'Alene telephone pole.
Photo courtesy of Jenni Fallein.
|
October 16, 2020 1:00 AM
The poem posted on Telephone Pole No. 700085 at Ninth & Locust verifies that Roger Dunsmore is alive and possibly well as he approaches Birthday No. 83.
On or about the 9th of each month, Roger rides his bike around Coeur d'Alene to promote poetry in a small way. He posts about 30 copies of a selected poem on telephone poles and another 20 to 25 on bulletin boards at local businesses, including the Mexican Food Factory.
The number 9 is important to Roger. His father's birthday is on the 9th. He married Jenni on the 9th day of the 9th month of 1999. And 9 is connected to Chinese royalty. He once taught in China.
The work takes four hours, often spread over several days. And even weeks.
Roger doesn't post as many copies of his Poem of the Month as he did when I met him two years ago. He admits he's slowing down. Also, the pandemic has closed some of the businesses he visited.
He was inspired to launch his lyrical crusade after his cat went missing. The idea hit him as he was stapling photos and information about the lost feline to a telephone pole. He saw an opportunity to share his love of poetry in an unobtrusive way.
Usually, the Coeur d'Alene poet posts the works of others. But this month he offers one of his own: "Nez Perce Healing and Peace Gathering." In the poem, Roger uses a child's plastic lawn chair from K-Mart to illustrate the violence that ended the legendary flight of Chief Joseph and the Nez Perce at the Big Hole Battle in western Montana.
I was pleased to see a handwritten salutation at the bottom of the page on Pole No. 700085: "Hi, Dave!"
Roger knows I check that telephone pole for his poems. And that's the fuel that keeps him going. In a phone call Wednesday night, he said: "It's the worst thing to put your work out and feel it's invisible."
The professor emeritus taught humanities, wilderness studies, and Native American literature for 50 years in the University of Montana system before moving here almost eight years ago.
Along with writing prose and re-working old poems, Roger explained that his telephone pole campaign gives him something to do. And it helps him connect with people in his adopted town.
Above all, he's teaching us that the inspiration and beauty of poetry isn't just for literary majors.
Golden Era
Dick Haugen's recent retirement from sports broadcasting reminds Huckleberries of the golden age of local radio.
For decades, KVNI-AM listeners were treated to the local news and chitchat provided by the late "Bubblehead Bob" Hough, then Dick, who was known as "the Voice of North Idaho," and finally Kerri Thoreson and Joe Paisley. Their broadcasts were as much a part of our mornings as a steaming cup of coffee.
As a pre-teen in the late '70s, Dave Wagner of Coeur d'Alene remembers the KVNI glory days. He writes to Huckleberries: "Every morning I would hear the national anthem at 5 a.m. Then, I'd listen to 'Hough and Stuff.' Bob would tell you which bays the Blue Backs were being caught in, and every morning he would tell you when Fred Murphy was coming across the lake for his morning coffee at Templin's. Later, it would be renamed Murphy's Landing. Miss those days." All old-timers do.
Huckleberries
• Poet's Corner: Apples and pumpkins,/white frost and red leaves,/the World Series games/and fresh antifreeze" — the Bard of Sherman Avenue ("October").
• Only in Idaho: As a Coeur d'Alene kindergartner prepared to leave school Wednesday, teacher Jeanne Smith Daniel reminded him of the open house that night. Be sure to tell your parents to come, she said. The tyke responded: "My Dad will come, but not my mother. She'll be hunting."
• While visiting pedestrian-friendly Orenco Station at Hillsboro, Ore., Sunday, Huckleberries saw a yellow sign with a silhouette figure on a street corner. It cautioned: "Slow, Children Texting."
• You know you've slipped into "full-fledged adulthood," Facebooks Sheriff Ben Wolfinger's better half, Mary, when "you are super excited about the new furnace being installed in your house."
• According to Sgt. Paul Twidt, the Kellogg (Idaho) PD fields calls "all the time" from people looking for Kellogg, Iowa. But he admits the call he received the other day from someone looking for Kellogg, Ore., was "a new one on me." Kellogg, Ore., is in the same county (Douglas) as Roseburg. A trivia site for the unincorporated area claims there are 17 Kelloggs nationwide.
Parting Shot
At 2 a.m. Sunday, Nov. 1, we'll forfeit that hour of daylight that we gained on Sunday, March 8.
In the 2020 Legislature, solons gabbed about adjusting Daylight Saving Time, once and for all. But don't hold your breath. In October 1970, then Coeur d'Alene Press Editor Terry Shick offered a fix to DST. He regretted that the longer days were nearing an end: "Now, when the normal part of the work day ends, it's going to be nearly dark outside, which makes it difficult to get in a set of tennis, or rake the leaves for that matter." Shick suggested running DST through the winter and then going to Double Daylight Saving Time in the spring and summer by adding another hour of light. "That way," he said, "it wouldn't get dark in the summer until 10 o'clock in the evening."
He knew the idea was crazy. But, fast forward 50 years, has there ever been an idea that's too crazy for an Idaho legislator?
• • • 
D.F. (Dave) Oliveria can be contacted at dfo@cdapress.com.
---