Bald is beautiful, babies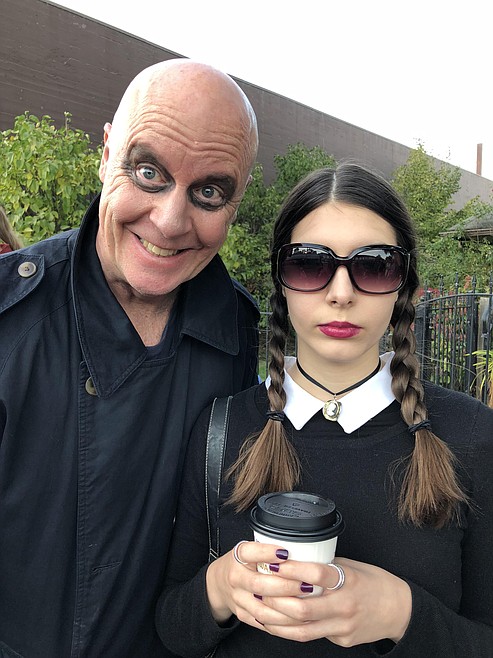 Uncle Fester, a.k.a. Press editor Mike Patrick, poses with Wednesday Addams at Halloweentown in 2018 (St. Helens, Ore.).
SHOLEH PATRICK/Photo
|
October 13, 2020 1:00 AM
Babies love the Press editor.
His bald pate is like a magnet (or is it those giant googly-eyes?) to miniature humans, drawing their gaze the moment the glare bounces off that shiny noggin of his. A mutual coo-ing fest begins. They can't help it; they're mesmerized in some sort of smooth-scalp solidarity.
Tomorrow is "Be Bald and Be Free Day" — a shoutout to hairless crowns. An affirmation of bald beauty, whether come by genetically, medically or simply sartorial style.
Adults typically lose 50 to 100 hairs a day. For most this goes unnoticed until the later years, because new hair grows in simultaneously. "Hair loss" happens when new hair doesn't replace the fallen ones.
Beyond heredity, causes of baldness include chemotherapy and radiation, hormonal conditions, immune disorders such as alopecia areata, extreme stress or depression, certain medications, and diseases such as lupus — the last one exemplified by my beautiful and much younger sister-in-law.
A natural blonde earlier in life, she now wears her baldness proudly.
You go, girl.
Joan Simon, chief nursing officer at Kootenai Health, is a breast cancer survivor. In 2015 as treatment and hair loss progressed, she struggled to find a comfortable hat that made her feel pretty (outside of summer, those bare noggins need warmth). Knowing others in the cancer boat faced the same challenge, she started a giveaway program. Each newly diagnosed patient now gets an attractive, soft turban, along with a few other items funded by the hospital's foundation.
You're beautiful, Joan.
That's what Bald and Free Day is about: Standing in solidarity with hairlessness, whatever the reason.
Saying, "Yes. Bald is beautiful."
And, in our editor's case, a perfect Halloween costume. You go, Uncle Fester.
---
Sholeh Patrick is a columnist for the Hagadone News Network who finds her editor quite handsome. Contact her at Sholeh@cdapress.com.
---