Tooth by tooth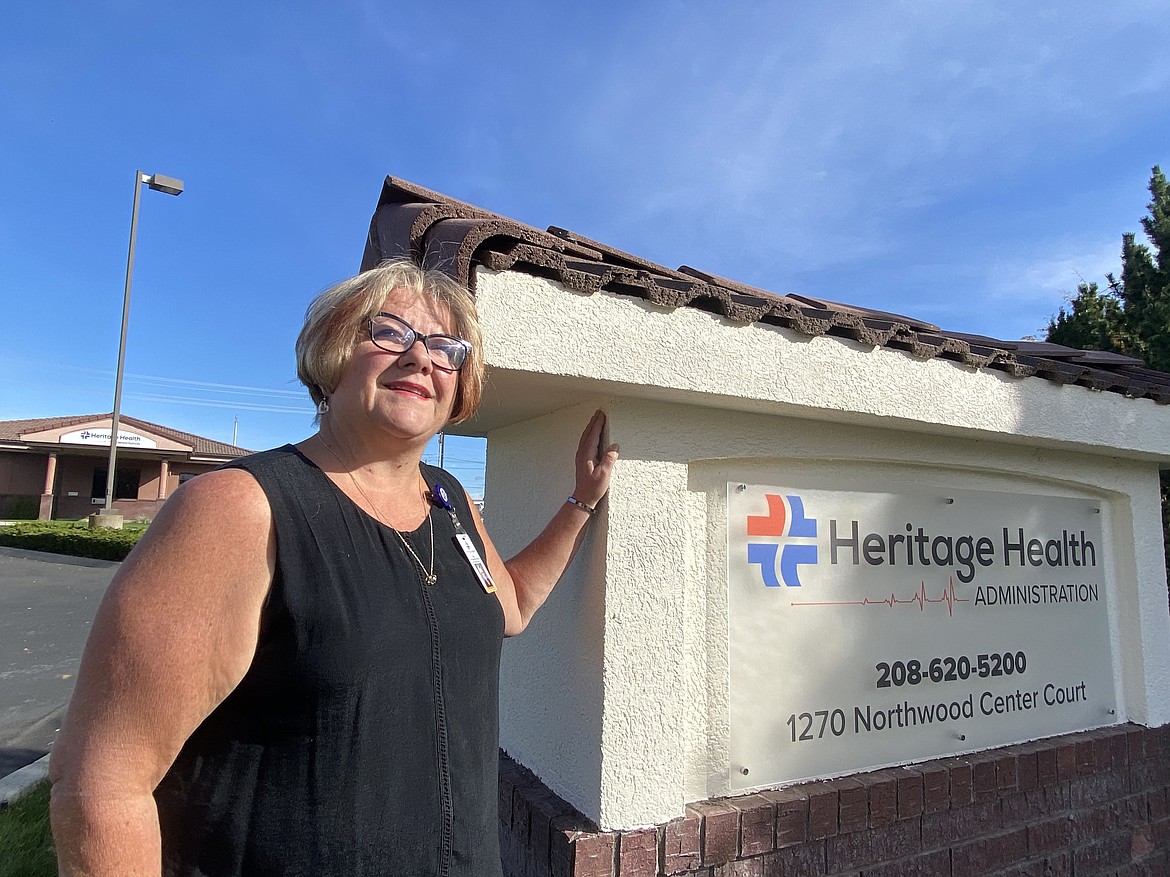 Pam Houser, Heritage Health's Vice President of Community Relations and Communications, stands outside the new Northwood Center facility before heading to the Press Christmas For All planning meeting. (MADISON HARDY/Press)
by
MADISON HARDY
Staff Writer
|
October 12, 2020 1:09 AM
For families affected by COVID-19, critical services like medical care can feel out of reach, affecting not only their daily success but long-term health.
With the help of Heritage Health, a federally qualified health center, The Press hopes to advance the lives of Kootenai County families one tooth at a time. As we enter the giving season, the Press and its partnering organization, Charity Reimagined, are gearing up for the 35th annual Press Christmas for All, offering a hand up for community members in need.
Charity Reimagined, a local nonprofit, has made it their goal to help other charitable organizations become more effective in assisting those in need through education and resources. Its mission is to help secular and faith-based entities promote individual responsibility and strengthen the capabilities of those in need, preserving dignity along the way.
After revamping the charity program last year, Press Christmas for All focused its fundraising efforts on connecting with local companies to provide services that will help families long after the Christmas tree has been recycled.
Through the donations of Press readers, the community raised $182,000 for those who need it the most.
Heritage Health was a key partner in helping locals who need it most.
Heritage strives to help its patients through medical, dental, counseling, behavioral health, psychiatric, and addiction services through its 12 locations across North Idaho. By partnering with groups like St. Vincent de Paul, the Kroc Center, and Family Promise, Pam Houser — Heritage Health's vice president of Community Relations and Communications — the provider touches the lives of individuals daily.
When Charity Reimagined stepped in to collaborate with The Press last year, Houser said Heritage Health was drawn to join the program.
"The vision looked a little different, but it still rallied people to help in our community," Houser said. "Even a little bit deeper than that, instead of giving a handout, we were trying to make a significant difference where we gave a hand up and could actually change the projection of someone's life."
Instead of giving smaller donations to a larger number of people, Charity Reimagined and The Press recruited organizations like Heritage Health to vet those in need of significant contributions like a cavity filling, tooth extraction, root canal and medical check-ups.
"A $30 gift card doesn't buy anything these days, one bag of groceries maybe. It just didn't make sense anymore, and it had no personal impact on anyone's life," Houser said. "This year, people filled out applications through a partnering agency which would be reviewed by an employee with a relationship to the person who determined their greatest need."
As one of the partnering agencies, Houser said Heritage Health reached out to other groups to provide the services Kootenai County residents desperately needed.
"It's finding out what would make a significant change and relieve a burden off their plate so they can have that hand up," Houser said. "We want to help them succeed. We don't just want to help them today; we want to get them to where their goals are."
Working with several referring agencies, Charity Reimagined and Heritage Health found six people in the Kootenai County area who needed significant dental work done. Without hesitation, Houser said they offered service to all six at no cost to the patients.
"We met their needs, quickly. Charity reimagined paid about $3,000 for these services, a significant discount from full price," Houser said. "Heritage Health was able to apply the sliding fee scale to all qualified applicants, our dentists were just happy to do it."
As medical professionals, Heritage Health's staff is continually seeing a flood of patients. To accommodate the extra clients, Houser said their dentists would come in on days off or work overtime to make sure they could improve the lives of the applicants.
"We were just part of giving people what they needed to be successful," Houser said. "You can't work if you have dental issues, and it could leads to other problems as well because it's an infection in your body."
This year, Houser recognized that the giving season will be more needed than usual due to the effect of COVID-19, but she also knows that donations might be affected. Despite this, Heritage Health is moving forward to try to provide just as many services, if not more.
To expand the breadth of Press Christmas for All, Houser said Heritage Health would welcome more medical groups to join the movement. She believes that Kootenai County is a giving community to its core that steps up in the worst of times to donate more of its time and resources to its struggling neighbors.
"Private medical and dental practices can do the same thing we were doing by offering help. Even if they took two patients all pro-bono, that would be great," Houser said. "Christmas for All is a fabulous program that we are taking up a notch and enhancing it. When people hear of these stories, they are encouraged, they are hopeful, and they want to be a part of it."
Press Christmas for All's fundraising drive officially kicks off the day after Thanksgiving.
---