Donald G. Bell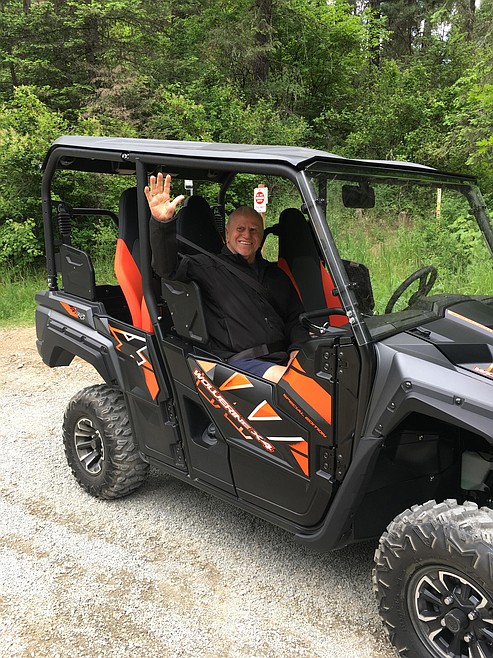 |
October 11, 2020 1:00 AM
It is with great sadness but much admiration that we announce the passing of Donald G. Bell, our dad, grandfather, cousin, and friend to so many. Don passed on Sunday, Sept. 6, 2020, in the presence of his family.
Don was born to Jesse A. Bell and Myrtle Mae Bell on July 30, 1941, in Modesto, Calif. Don was the youngest of four siblings and the only son. Growing up on Oregon Drive in Modesto brought many memories from his dad's butcher/soda fountain shop, to his Aunt Marie's second-hand store. Moving to Southern California in his late teen years, Don met his first wife, Alberta, to whom he had two daughters: Rebecca and Cheri. It was at this time that Don started his career working in various jobs, moving quickly up the ranks to management and soon he started his own precast stone business, in 1965. You can still witness many of Don's works throughout California at such places as University of Irvine and Stanislaus State College. Don was also a Master Freemason with the Gardena Moneta Masonic Lodge No. 372 since 1959, to which he was very proud of.
After a few years, Don moved from precast to becoming a general contractor in concrete construction, working up and down the state. Some of his work provided enjoyment for famous people such as Liberace, with a pool deck made to resemble piano keys, and Bing Crosby's Roman-style pool and theater. Mostly, many in the construction field will remember Don for work around the Modesto, Turlock, Merced and many other local and Bay Area towns, spanning 43 years before his retirement.
During these working years, Don met his two best-buddies, Ben Harden and Jim Gauze, who remained friends that talked once a day for 50+ years. Moving to Idaho after his retirement and living in an actual log cabin with his wife, Frances, Don met friends, Jim Smith and Dave Peterson. He felt so lucky to have such good friends in his life, plus many others not mentioned but no less important.
Don was definitely a man's-man. He worked hard, played hard and loved many. He was so caring and funny and was a protector. As a friend, he always could be counted on to be upbeat, even when not, and was one to give an honest opinion. He had a nightly list of people that he would call just to check in and say hi.

Don faced many challenges in his life and beat the odds more than once – just like a real hero. We would always say he has nine lives. When the time came at the end of that ninth life, Don decided he had fought his last fight. He said he lived a long life and that he was ready to rest. This was not easy for his family and friends to accept from the man that always faced it head-on.

Don is survived by his three sisters: Betty, Patty and Robbie, as well as his children, grandchildren, cousins and many friends.

Don's daughters would like to personally thank the nursing team at the Hospice Schneidmiller House for the most amazing care and support of our father as he transitioned to his heavenly venture.

A graveside service will be held at 2 p.m. on Saturday, Oct. 17, 2020, at Riverview Cemetery, 1001 Lincoln Way, Niche Wall No. 31, in Coeur d'Alene. Please visit Don's online memorial at www.belltowerfuneralhome.com.
For those that had the opportunity to know our dad, our hero, we hope that you keep his memory alive through the memories of encounters you had over time – we know we will.
---