Sweet thanks from the ice cream man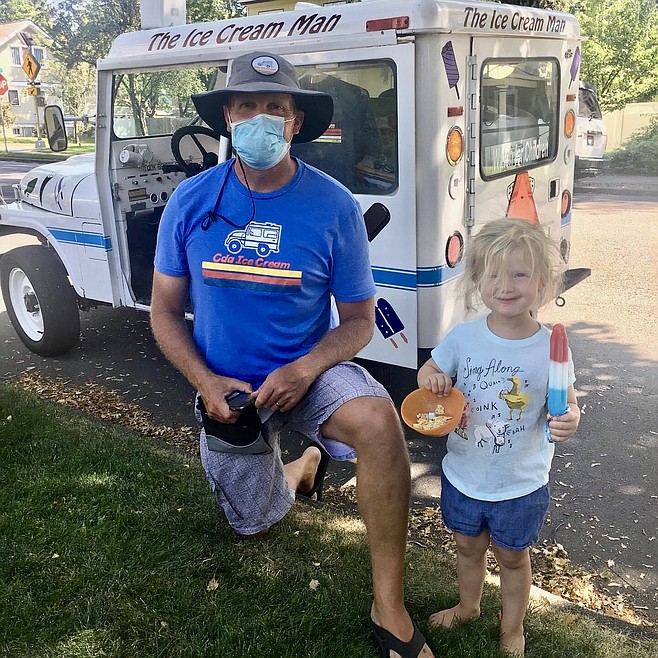 Scott DuCoeur with customer, Lola.
Courtesy Photo
by
SCOTT DuCOEUR/Guest Opinion
|
October 10, 2020 1:00 AM
Dear Coeur d'Alene,
My name is Scott DuCoeur and I have a small ice cream truck business called "CDA Ice Cream" that serves the downtown community during the summer. I live in downtown Coeur d'Alene and teach kindergarten at Sorensen Magnet School, just a few blocks from my house. Maybe you have seen me in my old 1977 postal Jeep ice cream truck.
My ice cream season is at an end, but I wanted to thank Coeur d'Alene, specifically the downtown Coeur d'Alene community, and all my customers for another great summer. I am extremely grateful for your business, but also for all of the great interactions. I know 2020 has been a challenging year to say the least, but you would never know that if you were driving around with me on my route each day. Everyone has been so kind and so positive.
I love so many things about what I get to do and see while operating my ice cream truck. I love talking to all of you locals about your yard projects, the Mariners, the Cougars, your kids, your grandkids, your weekend plans, etc.
I apologize to all of the kids on the next block, who could hear the ice cream truck music from afar, but had to wait as my chats on the previous block would sometimes last far beyond the sale of ice cream. I love that I get to see so many of my past and future students during the summer months. I love how the dogs were just as happy getting dog biscuits as the kids were getting ice cream.
I love witnessing the amazing hearing abilities of kids (when they want to hear). I love how our town's wonderful police officers and firefighters would take the time to exchange waves on their way to much more pertinent issues than curing an ice cream fix. I love seeing Ozzie sprinting out of her front door yelling, "Hi, Mr. DuCoeur. Hocko Taco, Hocko Taco!" hoping that I still have some Choco Tacos left.
I love driving around the Dike Road and seeing families enjoying our beautiful lake. I love seeing Weston's face completely covered with chocolate after just one bite of his ice cream. I love stopping and watching the amazing skateboarding by the respectful young people at our awesome skateboard park. I love turning the corner and knowing Reid will certainly be waiting and doing his "Ice Cream Dance."
I love chatting with the mail carriers as we routinely crossed paths. I love seeing kids playing outside, rather than stuck inside playing video games. I love the challenge of making sure I have some gum when I leave the house if I plan to go down Lola's street.
I love talking to the tourists and selfishly getting a lot of satisfaction knowing they have to head back to their hometowns while I get to stay in the place where they vacation. I love getting home and telling my wife about the stories from the day and all the great people I had the opportunity to chat with.
Thank you, Coeur d'Alene. I feel very privileged that I get to play two small parts in our great community.
---
Scott DuCoeur is a Coeur d'Alene resident who clearly loves his town.
---