Sheriff candidates square off at virtual town hall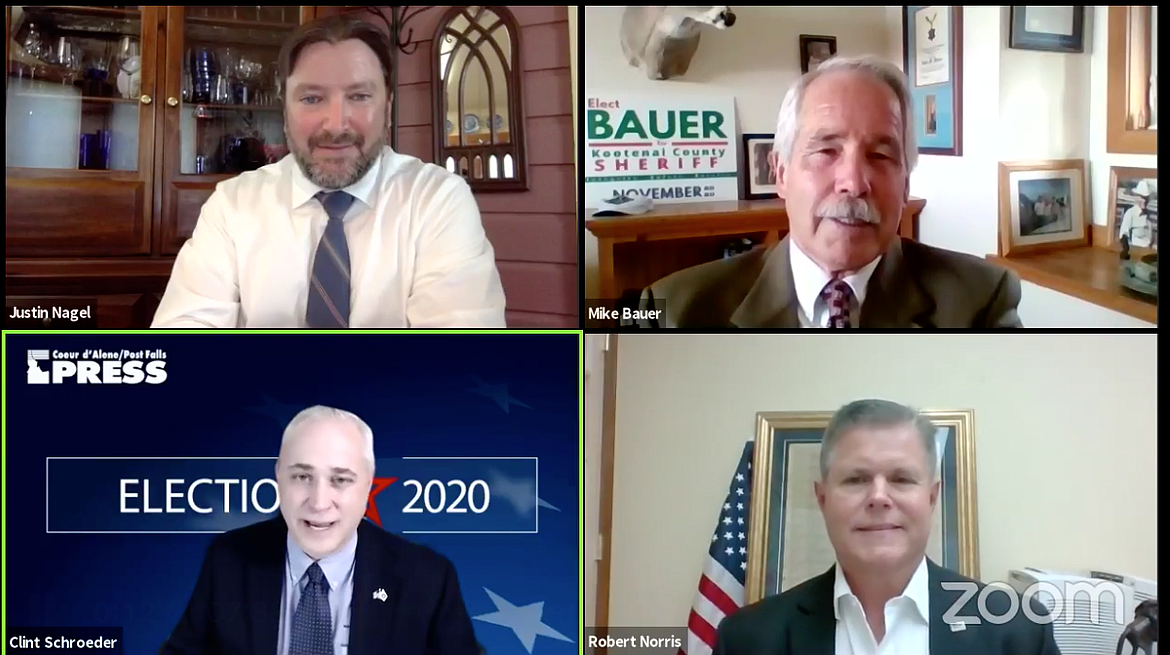 Kootenai County Sheriff candidates (clockwise from upper left) Justin Nagel, Mike Bauer and Bob Norris field questions from publisher Clint Schroeder (lower left), moderator of Wednesday night's Coeur d'Alene Press 2020 Town Hall Forum.
by
CRAIG NORTHRUP
Staff Writer
|
October 8, 2020 1:09 AM
Click here to watch the Town Hall Forums
The managing of law and order became a testy topic Wednesday night as three candidates for Kootenai County sheriff squared off in a town hall forum that quickly leapt into allegations of corruption.
Justin Nagel, representing the Libertarian Party on the ballot, led the Coeur d'Alene Press 2020 Town Hall Forum, answered the first of four reader-submitted questions — "What issues currently exist at the Kootenai County Sheriff's Office that you feel an urgency to correct as soon as you take office?" — with an abruptly blunt response: corruption.
"It's simple to take care of," Nagel said. "All we have to do is enforce the rules we already have and state law. Implementing those things is simple. When we have a complaint, we're going to take it. Basic functions of law enforcement are going to be followed."
Nagel suggested leveraging the cross-deputization agreement between municipalities and confronting the Idaho State Police over jurisdiction. He ended his answer with, "corruption and mis-use of power," words that incited Republican candidate Bob Norris to speak out of turn in protest.
"I'm sorry, but I feel the need to —" Norris interrupted, leading Nagel to question the violation of town hall rules. "Let's go by the credibility."
When Norris later began to answer the same question while addressing Nagel's use of the word "corruption," Nagel interrupted, challenging that Norris was veering off track from the question.
Moderator and Press publisher Clint Schroeder would quickly steer the forum — sponsored in part by TDS Fiber — toward more structured answers, insisting on more transparent answers to the questions he posed.
"I know this a very passionate race," Schroeder said. "We have a lot of feelings behind all of the campaigns, and a lot of different issues on these platforms … I would like to say one thing: If we are going to bring up generalizations, we need to be specific to support them. I think that's in the best interests of everybody that is here. But the most important priority is to get to the answer to the question that's being posed from our readers."
Ironically, Mike Bauer — running as an independent — gave a top priority that reflected the tone of the virtual town hall, as well as the tenor of this year's contentious sheriff's race: internal politics within the sheriff's office.
"These people have suffered for two years of not knowing who their sheriff is going to be," Bauer decried, "not knowing what kind of leadership they're going to have, not knowing what sort of changes in policy and procedure they're going to have."
Bauer then voiced his concern over political action committees formed within the sheriff's office, saying that while the Deputy Sheriff's Association had the right to develop the committee, it perpetuated an unhealthy political atmosphere in what he believes should be an impartial department.
"Developing the (leadership) team will help me resolve the other issues," he said. "I need to remove this political attitude out of the department …"
Despite the opening exchange, the candidates quickly adjusted to policy, including the suggestion by Norris of a resident alert system after an escape, recruiting qualified candidates in a time of negative public relations amid police brutality nationwide, and managing deputies falling into patterns of excessive force.
"We can recruit good employees," Nagel said. "Retention's a problem at the Kootenai County Sheriff's Office. Once again, from the officers I know that have left and that still work there, the problem to them is (the) work environment."
Nagel added that recycling through employees can lead to poor hires, and that keeping good employees can reduce incidents of employee violence through a healthy work environment. Bauer said violent and excessive force in North Idaho is very rare, while Nagel and Norris both agreed that excessive force is not necessarily a problem in the department.
"Kootenai County residents really love their law enforcement," Norris said. "During this period of time, since the George Floyd incident, we've had many applicants that have come from many departments throughout this country who have actually called us and said, 'Hey, you know what? We cannot work under these conditions without this support.' Here in Kootenai County, we do love the blue and we back the blue 100 percent."
The candidates also were asked their opinions about the emergence of militias and the armed resistance that appeared on the streets of Coeur d'Alene in early June. Nagel said communicating with community groups was critical to maintaining a continual peace.
"Getting coordinated with every single social group that's out there," Nagel said, "and that means not just the actual organizations, (but) socializing with the community, being part of the community, is probably the No. 1 thing you can do."
Bauer said the issue of social unrest likely wouldn't fall into Kootenai County's more rural jurisdiction, but he did say the sheriff's office had the responsibility to protect the public, adding that his political independence made him an asset.
"If I get elected sheriff, my door's open," he promised. "Anybody come in: Tell me your concerns about public safety. Tell me what you think. If you feel like we're not doing our job, if you feel like law enforcement's not doing our job, come in and talk to me. Any group can come in and talk to me, even those being labeled."
Norris, however, said his history in law enforcement in Southern California gave him experiences that sway his support toward citizens protecting their community.
"I was down on Sherman (Avenue) during that week," he recalled. "… The same (protesters) that were in Spokane the previous two nights were the same people that were here on Sherman. The only reason we didn't have any type of property damage, personal injury or violence was because they were not given the opportunity to do that."
Candidates also answered questions about managing growth, as well as their thoughts on the Black Lives Matter movement. The evening ended with Schroeder voicing his familiar plea for citizens to take part in their American birthright.
"The most important message, though, of this year," he said, "is, no matter what, just get out and vote."
Election Day is Nov. 3.
---