Virtual town hall gives locals lens into candidates for state Legislature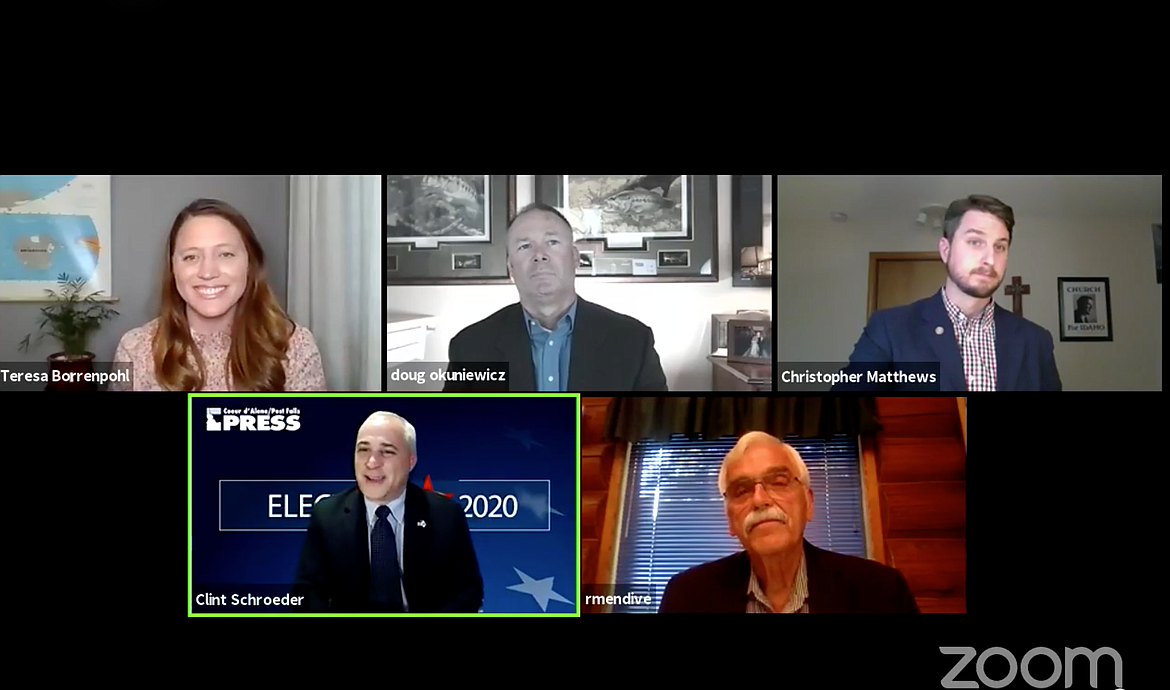 Clint Schroeder (lower left) welcomed state legislative candidates to the 2020 Town Hall forum Monday night. (Clockwise from left) Teresa Borrenpohl, Doug Okuniewicz, Christopher Matthews and Sen. Ron Mendive answered reader-submitted questions in the first of four town hall forums broadcast via Zoom.
by
CRAIG NORTHRUP
Staff Writer
|
October 6, 2020 1:09 AM
Click here to watch the Town Hall Forums
Four local candidates stepped forward virtually Monday night in their very real bids to pick up support before the November general election through the Coeur d'Alene Press 2020 Election Town Hall forum.
"It's been really important to me over these years, the difference between a statesman and a politician," incumbent Rep. Ron Mendive (R-Coeur d'Alene) said in the virtual forum, the first of four in the weeklong event. "That's stuck with me, and I do my level-best to always abide by this. Basically, the definition of a politician is a person who has his eyes on the next election. A statesman has his eyes on the next generation."
Moderated by publisher Clint Schroeder, candidates from three different races answered questions pre-selected from suggestions submitted by residents.
"This year's election is being called, 'The election of the century,' in terms of voter turnout and participation," Schroeder said in the Zoom-based town hall. "Really, for us, providing the electorate with the most relevant information possible is a job we at the Coeur d'Alene Press take very seriously. 2020 has certainly proven to be challenging in every way, not only for you as candidates, but for the constituents to have time with you, too."
The four candidates — Mendive and District 3A Democratic challenger Christopher Matthews, District 2A Republican candidate Doug Okuniewicz and District 3B Democratic candidate Teresa Borrenpohl — fielded pre-selected questions on a range of issues, from Idaho's handling of the COVID-19 crisis to the legalization of marijuana.
"The mask mandate that we have in place here in Kootenai County," Matthews said, "that was decided on by Panhandle Health, is not really a mandate. We're not really mandating it. The Sheriff's Office has said they can't really enforce it, and they're going to lean on education. One of the things we could be doing better is re-vamping our health districts. We need to look at this in the next session of the Legislature."
Okuniewicz said the state is in a much more informed condition today than it was in the early hours of the pandemic, and that the Legislature needs to be better equipped, constitutionally speaking, to grapple with the pandemic now and in the future.
"I believe the Legislature should be have the ability to call itself into special session," he stated, "so it can deal with issues like this. We need more local representation on some of these issues. We didn't have the same rates of infection around the state. It wasn't a one-size-fits-all issue."
Okuniewicz later argued the proliferation of the disease among the healthy population would be the best way to push through the pandemic, presumably to build antibodies. It was a position Borrenpohl disagreed with immediately.
"I don't believe everybody has to get this disease," she posited. "I do believe that, with great leadership, we can curb this virus, we can slow the spread and we can protect our community. I think that Gov. Little has done a pretty tremendous job of managing COVID at the state level."
When Schroeder pressed the candidates with Post Falls resident Tori O'Sullivan's question, "How do you plan to support charter schools and other educational options for Idaho families?", answers varied from Borrenpohl's push for STEM vocations and higher pay, Matthews' insistence on giving additional assistance to rural and remote education, and Mendive's plan to subsidize private options for parents of children with special needs.
"We've been educating children the same way for years and years," Mendive said. "You sit in a classroom, you look straight and you listen to the teacher. It worked for some; some we have to drug because of ADD or ADHD or different things. We basically have tried to make everybody fit in a mold where they don't fit: a square peg in a round hole."
The Zoom meeting was the first of four town halls broadcast this week. Tonight's town hall will feature Sen. Mary Souza and her write-in challenger for the District 4 Senate seat, as well as North Idaho College trustee incumbents Joe Dunlap and Paul Strum. Wednesday's forum features three candidates for Kootenai County sheriff: Bob Norris, Justin Nagel and Mike Bauer. Thursday's Zoom forum will feature U.S. Representative and Republican incumbent Russ Fulcher and his two challengers, Democrat Rudy Soto and Libertarian Joe Evans, as well as U.S. Senate candidates, Democrat Paulette Jordan and independent candidate Natalie Fleming, both of whom are fighting for the seat currently held by Sen. Jim Risch.
Each town hall, sponsored in part by TDS Fiber, begins at 5 p.m. each night through Thursday.
"I think the most important message we would all have to (impart)," Schroeder urged to end the evening, "is to just get out and vote."
Election Day is Nov. 3.
---