River City Pizza coming to northwest Cd'A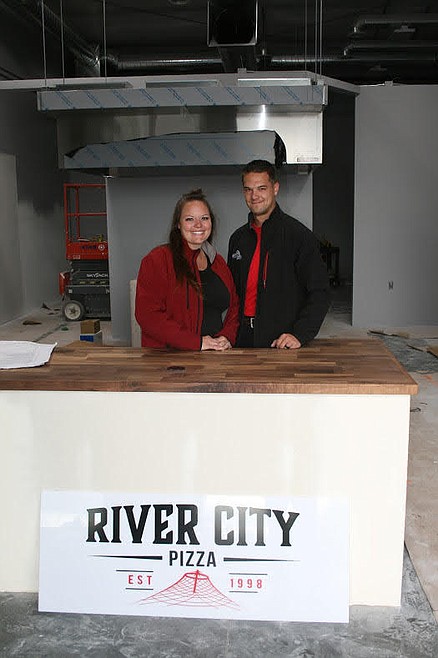 Courtesy photo Owners Jacqueline and Phillip Barnard at River City Pizza, which opens soon at 3270 W. Prairie Ave. (where it meets Atlas Road) in northwest Coeur d'Alene.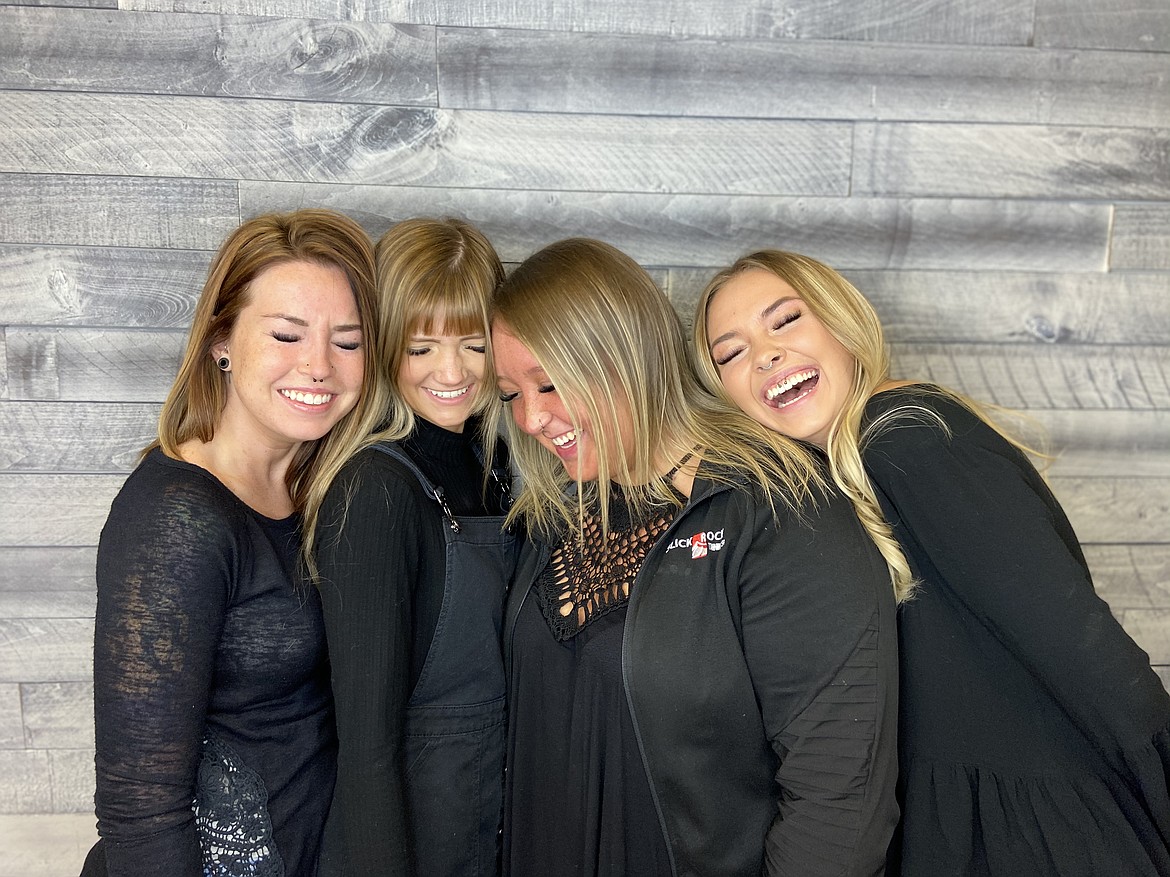 Courtesy photo Employees share a laugh at the new Slick Rock Tanning & Spa, now open at 281 W. Hayden Ave. (northeast corner with Highway 95).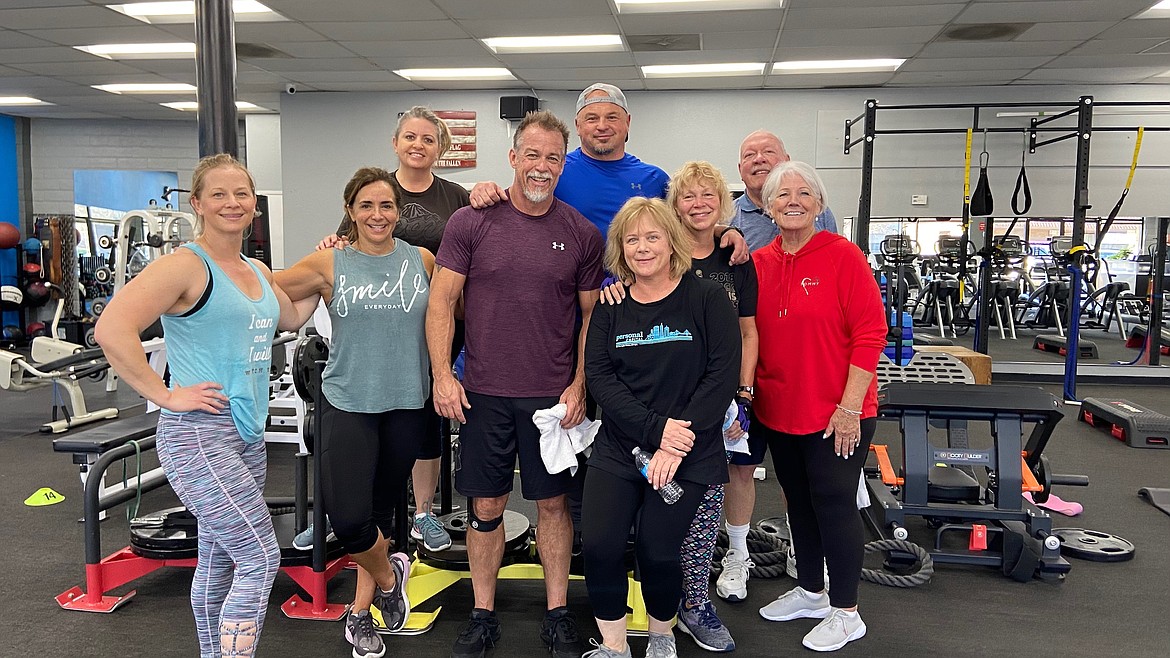 Courtesy photo Sammie Thomas, Trici Hinkel, Lisa Rinaldi, Randy Hinkel, Bob Wilber, Michelle Bennet, Carla Herbert, Joe Herbert and Michelle Smith work out at 5-in-1 Fitness, which just opened at 1631 W. Seltice Way in Post Falls.
Previous
Next
by
NILS ROSDAHL/Business Bits
|
October 4, 2020 1:10 AM
Unique pizzas and other options will be offered at River City Pizza when it opens soon at 3270 W. Prairie Ave. (where it meets Atlas Road).
With delivery and carry-out, the menu includes pizzas, pasta dishes, salads, appetizers, desserts and sodas. Owners Phillip and Jacqueline Barnard make their own dough and grate cheeses daily, They also have two places in Spokane and own Cutting Edge Landscaping.
Hours here are 11 a.m. to 8 p.m. Sunday through Wednesday and until 9 p.m. Thursday, Friday and Saturday.
Crumbl Cookies
in Costco Plaza
With 120 flavors of cookies rotating weekly, Crumbl Cookies is opening soon in the east end of the Costco Plaza shop building at Government Way and Neider.
Warm-milk chocolate chip and chilled sugar cookies will always be there with delivery, curbside pickup and shipping. The kitchen is open for viewing, and bakers and delivery drivers are being hired.
Watch for a grand-opening weekend and free chocolate cookies day on Fridays. Owners Lance Hemsley, Laken Hemsley and Adrian Naylor (also manager) have store hours of 8 a.m. to 10 p.m. Monday through Thursday and until midnight Fridays and Saturdays.
Crumbl Cookies started in 2017 in Logan, Utah, and has more than 100 stores in 11 states. Check www.crumblcookies.com. Phone 208-408-0685.
5-in-1 Fitness opens
in Post Falls
Customized multiple forms of training with five various options are offered at 5-in-1 Fitness that just opened at 1631 W. Seltice Way in Post Falls.
"Come for the workouts and stay for the results" is the theme of owners Robert and Robin Wilber, whose large gym is completely full of special fitness equipment. He has been in the fitness industry for 33 years.
Options include high and low intensity, exercise rehabilitation, small groups and seniors, private sessions and open gym.
Hours are 5 a.m. to 9 p.m. weekdays, 7 a.m. to 5 p.m. Saturdays and 8 a.m. to 5 p.m. Sundays. Phone 208-618-2889.
Slick Rock Tanning & Spa opens in Hayden
With many tanning and healthy skin options, Slick Rock Tanning & Spa has opened at 281 W. Hayden Ave. (northeast corner with Highway 95).
The www.slickrocktanningspa.com website lists 12 services offered from 8 a.m. to 9 p.m. weekdays and 9 a.m. to 5 p.m. weekends. Owners Paige and Adam Kaplan also have locations at 724 N. Highway 41 in Post Falls and 405 W. Neider in Coeur d'Alene and three in Spokane. Phone 208-665-7625.
And now the Tidbits
The Shanty Bar at Seltice and Huetter will have a major change.
A sign says "Hanks Hatchets" at 2506 N. Fourth.
Spies say a Family Dollar store will be at 317 E. Seltice Way.
The 10/6 eatery that used to be on Fourth Street will be at Seventh and Wallace in 2021.
Two Ravens Tattoo is new at 1119 E. Sherman.
Emerge is opening at 119 N. Second St.
Milk & Honey Coffee is "coming soon" to Mullan and Cecil in Post Falls.
Schmidty's Burgers will be at 1524 E. Sherman.
A 120-room boutique hotel will be where the Outback Steakhouse was off Northwest Boulevard and I-90.
A new restaurant will happen above the river in Riverstone.
A new Maverik gas and convenience store is under construction in the northwest corner of Highway 41 and Mullan Ave.
A new UPS distribution center is under construction at 192 N. Beck Road in Post Falls.
Metro Car Wash will be near Wendy's in Post Falls.
Watch for something new at 655 Best Ave.
The Hayden Dairy Queen will be at 513 W. Hayden Ave.
108 North is under construction connected to the Moose Lounge downtown.
La Cabana Mexican Food on Seltice Way is adding a new place in Riverbend Commerce Park.
The Union Gospel Mission Thrift Store is under construction on Government Way.
Something new is going into 413 Sherman beside the Art Spirit Gallery.
Adam & Eve will move next door to a bigger space at 348 W. Bosanko.
Trademark Mechanical is building a new place in Hayden.
The new Hardwick Hardware is under construction at 3820 E. Mullan in Post Falls.
A new motel is under construction on CdA Lake Drive between Mullan Ave. and Michael D's Eatery.
A Chase Bank is being built in front of Tractor Supply on Neider Ave.
A Starbucks Coffee building is under construction kitty-corner from the Kroc at Ramsey and Maria.
Vicio Pizza will be in the former Bullman's pizza location in Riverstone.
In last Sunday's Business page, the fellow in the Mangia Wood-Fired Pizza photo is Thomas Cook, general manager. And the location of Hasani Coffee is 14780 Highway 41 in Rathdrum.
Whoa. So many babies are born in late September. Maybe because it's nine months after the Christmas-New Year's week.
*Contact Nils Rosdahl at nrosdahl@cdapress.com.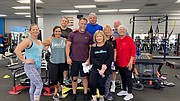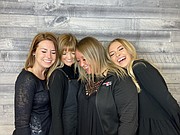 ---