Josh Suhr is CDA Association's Realtor of the Year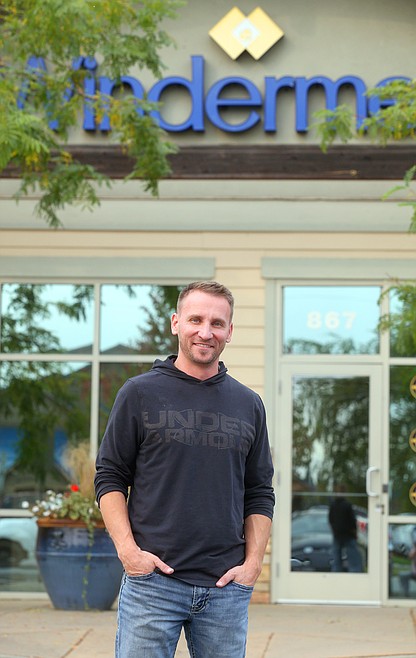 Josh Suhr with Windermere Coeur d'Alene Realty is the Coeur d'Alene Association of Realtor's Realtor of the Year.
BILL BULEY/Press
by
BILL BULEY
Staff Writer
|
October 3, 2020 1:08 AM
COEUR d'ALENE — Josh Suhr's goal for 2020 was $10 million in real estate transactions.
Before this year is over, the agent with Windermere Coeur d'Alene Realty will have more than that, perhaps closer to $12 million.
"It's been a very busy year for all of us in real estate," he said Thursday.
But his recent selection as 2020 Realtor of the Year by the Coeur d'Alene Association of Realtors is not based on his listings and sales, as good as they are.
Other factors come into play, such as involvement with his community and the association.
The 35-year-old volunteers with the ski patrol at Lookout Pass, helps with ElderHelp of North Idaho, and contributes to fundraisers.
He is president of the Coeur d'Alene Association of Realtors, is on the government affairs committee, and monitors state and national issues that affect the real estate industry.
So while he was surprised to be chosen Realtor of the Year, he was also honored.
"There's so many awesome people that work in the industry, so to be selected, I'm flattered and humbled," he said.
Suhr, a 2003 Coeur d'Alene Charter Academy graduate, grew up in North Idaho and has family in Harrison and the Silver Valley.

His secret to success since 2013 isn't really all that secret: Treat people right, follow through on what you say you're doing to do, be honest and work hard.
"It all falls into place," he said.
Suhr enjoys real estate — seeing properties built out from vacant lots, piecing transactions together, helping people find the right home and witnessing them moving in.
"That's probably the most fulfilling part of it," he said.
He also attributes his success to lasting relationships and people in the industry sharing their knowledge and experience with him.
Many clients, he said, are fantastic at referring him to others.
"I've been lucky to work with a lot of awesome real estate agents," he said.
The real estate market in North Idaho — and all of Idaho — is hot and he expects that to continue as more people leave big cities and head for rural lands.
Areas in particular demand include downtown Coeur d'Alene and north, where buyers can find more space.
"Everybody that's coming from a more densely populated area, they want space," Suhr said.
Houses are selling quickly.
"If you price a house right when it goes on the market, it's gone within a matter of days, if not hours sometimes," Suhr said. "It goes so fast. And you're seeing people buy sight unseen."
To relax, Suhr likes to ski and rock climb. But as a father of two, free time is limited. He and his wife, Kelly, have a teenager and an infant at home.
"One in high school, one in diapers," Suhr said, laughing. "It makes an interesting household."
Asked the standard question, is it a good time to buy or sell, Suhr smiled.
"Great time to sell. It's a seller's market right now, there's just no inventory," he said.
It's a competitive time to buy, with rising prices, but low interest rates.
"It's definitely easier on the selling side than the buying side," Suhr said. "If buying, be prepared to go to battle on a lot of these."
But the fight, he added, will be worth it.
"Idaho is one of the best places in the world to live in, in my opinion," Suhr said.
Recent Headlines
---