GONZAGA NOTES: Zags' Nembhard can play right away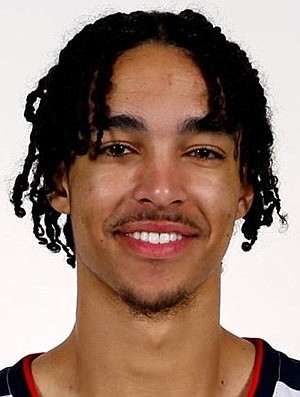 |
November 25, 2020 1:25 AM
From wire and news services
SPOKANE — Gonzaga junior transfer Andrew Nembhard's waiver to become eligible immediately has been approved by the NCAA, Bulldogs coach Mark Few announced Tuesday.
Gonzaga opens Thursday vs. Kansas in Fort Myers, Fla.
Nembhard averaged 33 minutes per game for Florida in 2019-20. The 6-foot-5, 193-pound guard averaged 11.2 points, 5.6 assists, 3.0 rebounds and 1.1 steals last season as a sophomore. The native of Aurora, Ontario, he totaled 636 points (9.5 ppg) and 367 assists (5.5 apg).
Nembhard helped Montverde capture the 2018 Geico High School Nationals title. Nembhard was ranked No. 20 nationally by 247sports coming out of high school.
Nembhard has played on the Canadian senior national team alongside former Zags Kelly Olynyk, Kevin Pangos and Kyle Wiltjer. He appeared in all five games for Canada at the 2019 FIBA World Cup in China, after playing in the World Cup qualifying games during the Summer of 2018. He led Canada to a silver medal at the 2018 FIBA U18 Americas, averaging 15.7 points and 8.8 assists over the course of six games. He scored 28 points vs. Argentina and had 17 assists in the semifinals vs. Puerto Rico.
Nembhard joins an already talented — and now potentially crowded — backcourt at Gonzaga, which includes junior Joel Ayayi, grad transfer Aaron Cook and freshman phenom Jalen Suggs.
Zags' foe in Jimmy V Classic next week pulls out
No. 12 Tennessee won't play No. 1 Gonzaga in the Jimmy V Classic on Dec. 2 in Indianapolis, after coach Rick Barnes was among those in the men's program testing positive for COVID-19.
Tennessee also canceled the three-team Volunteer Classic, and won't play Notre Dame on Dec. 4.
It is possible another team can be found to replace Tennessee and play the Zags next week.
Bulldogs will wear unity badge on uniforms
SPOKANE — The top-ranked Gonzaga men's basketball team will wear badges on its uniforms that showcases the team's pledge to unity.
Student-athletes throughout the three divisional Student-Athlete Advisory Committees (SAAC) and the Board of Governors Student-Athlete Engagement Committee collaborated to create the national Unity Pledge and logo, a symbolic gesture to continue generating stronger unity among the NCAA's 1,100-plus schools and nearly 500,000 student-athletes.
The entire GU men's basketball roster recently signed the NCAA Unity Pledge, as a way to bring student-athletes together to strive for better on their team, on-campus and in their communities.
"We are happy and proud to be able to wear the 'unity patch'," Gonzaga junior guard Joel Ayayi said. "As a team I think that it was important for us to make a statement using our platform. We need to fight hate with love. We are all in this fight."
The logo includes three different colored hands holding one another's wrists inside a circle with "United As One" at the bottom. The mark was sent to all NCAA schools in the form of a patch to consider placing on uniforms.
"We're so excited to show our unity as a team and as a school with the unity patch," Gonzaga senior Corey Kispert said. "Hopefully we can use this as a small step in replacing hate with love and ending racism in our country as a whole."
The NCAA Student-Athlete Advisory Committee released the following statement regarding the Unity Pledge:
"The Unity Pledge has been months in the making. Through the challenges that student-athletes have faced in the COVID-19 pandemic, Division I SAAC, Division II SAAC, Division III SAAC and the Board of Governors Student-Athlete Engagement Committee have come together to lead and advocate for our nearly half-million peers across the country. In light of the social injustice and hate our country has experienced, we wanted a unified statement written by student-athletes, for student-athletes. We encourage student-athletes, coaches and administrators to use this statement in your conference, campus and with your teams as we push forward for change as a collective group, united as one."
---