THE CHEAP SEATS with STEVE CAMERON: Zags' roster lookahead; Cougs open sans coach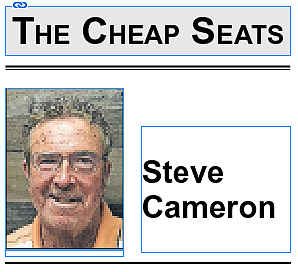 |
November 25, 2020 1:30 AM
Sorry, but there are no shopping days left until my birthday.
Yes, today marks one more trip around the sun for your humble columnist.
And I'm truly hoping — no, begging — that the country and the world will be in much better shape on my birthday next year.
Heck, I'll even try to get in better shape, too.
Now then, let's get on with our weekly notes and quotes…
ITEM: Lost in the hoopla over Gonzaga opening the season against Kansas on Thanksgiving was an intriguing piece of recruiting business.
The Zags have snagged a firm commitment from Chinese teen Fanbo Zeng, a 6-9 stretch forward who has played one year of high school ball in Orlando.
Zeng, who can play inside but has a sweet lefty shot from deep, was called the best Chinese prospect in a decade by ESPN.
Zeng came to the States three years ago when he was 14.
Zeng currently is considered part of the class of 2022, but the player said he intends to reclassify to 2021 and begin classes at Gonzaga next summer.
Landing Zeng, who had multiple offers from major schools, is another coup for Zags assistant coach Tommy Lloyd — the man who seems to be everywhere on the planet.
If Zeng actually becomes part of the Zags' 2021 recruiting class — joining Kaden Perry and Ben Gregg – there are things to consider.
We could have an interesting dynamic at play here, since Gonzaga is still actively recruiting 7-footer Chet Holmgren and guard Hunter Sallis.
If they were to sign both, it indicates the coaches feel there will be scholarship spots for everyone – likely because Jalen Suggs will opt for the draft and Joel Ayayi would be headed off to play pro ball in the NBA or elsewhere.
ITEM: Sure, Gonzaga gets most of the headlines, but there's another exciting program kicking off the hoop season tonight.
Washington State, which features an outstanding freshman class that was considered a recruiting bonanza, hosts Texas Southern this evening — then Eastern Washington on Saturday.
Coach Kyle Smith, who is quarantined after testing positive for COVID-19, continues to coach the Cougs from home.
Relentlessly.
"I think I've heard from him more now than when he's actually here," assistant coach Jim Shaw said during a Zoom interview on Monday.
Shaw, who has done stints as an assistant at both Washington and Saint Mary's, will call the shots (or listen to Smith calling the shots) while the boss is unavailable.
Shaw came to Wazzu last year after a spectacular run at Western Oregon, including appearances at the NCAA Division II national tournament.
Even if Smith can't make connections during the game tonight, the Cougars will be in safe hands.
ITEM: Speaking of Washington State, AD Pat Chun says he hasn't given up hope of playing the Apple Cup this season.
The game was scheduled for this Friday, but had to be called off because WSU couldn't meet the 53-man minimum of scholarship players.
Chun deserves applause for trying to keep alive a shot at the Apple Cup, which has been played continually since 1944.
Chun and Washington AD Jen Cohen have discussed the possibility of playing on Dec. 19.
That's the date of the Pac-12 title game, though, so any hope of an Apple Cup would depend on whether or not the Huskies are North champs.
Honestly, the Cougs deserve a game with UW after everything they've endured so far this season.
Coach Nick Rolovich has stayed remarkably upbeat during the whole ordeal.
"I'm just so amazed and impressed by what these kids have been through," he said.
Bravo, coach.
Email: scameron@cdapress.com
Steve Cameron's "Cheap Seats" columns appear in The Press on Mondays, Wednesdays and Fridays. "Moments, Memories and Madness," his reminiscences from several decades as a sports journalist, runs each Sunday.
Steve also writes Zags Tracker, a commentary on Gonzaga basketball which is published each Tuesday.
---