LESSONS in GIVING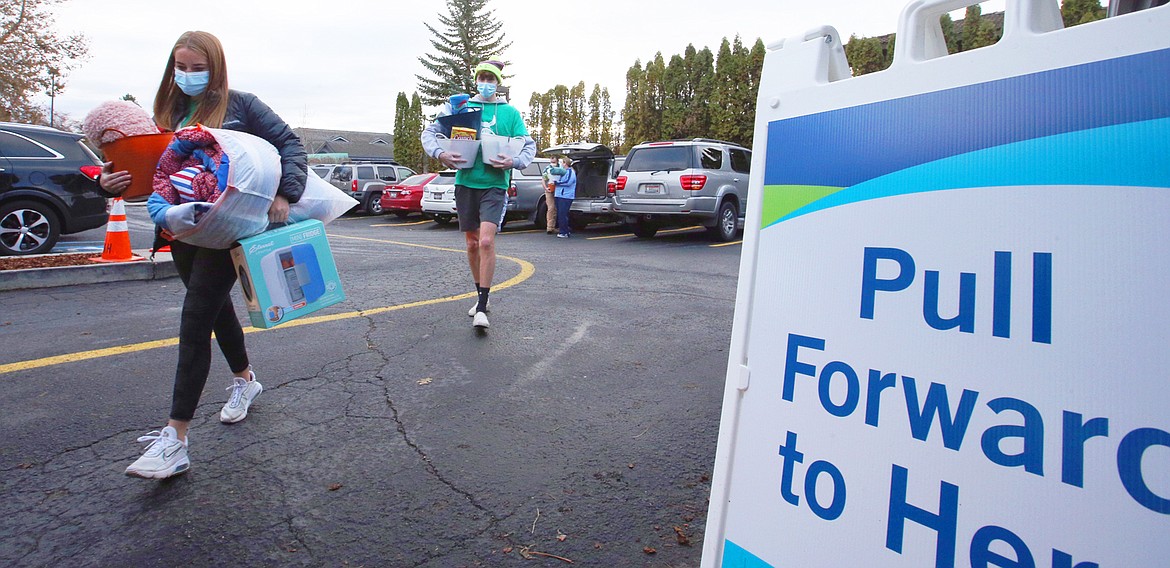 Post Falls High School students Reagan Hartzell and Ryan Sorensen carry gift baskets into the Kootenai Health testing center on Friday.
BILL BULEY/Press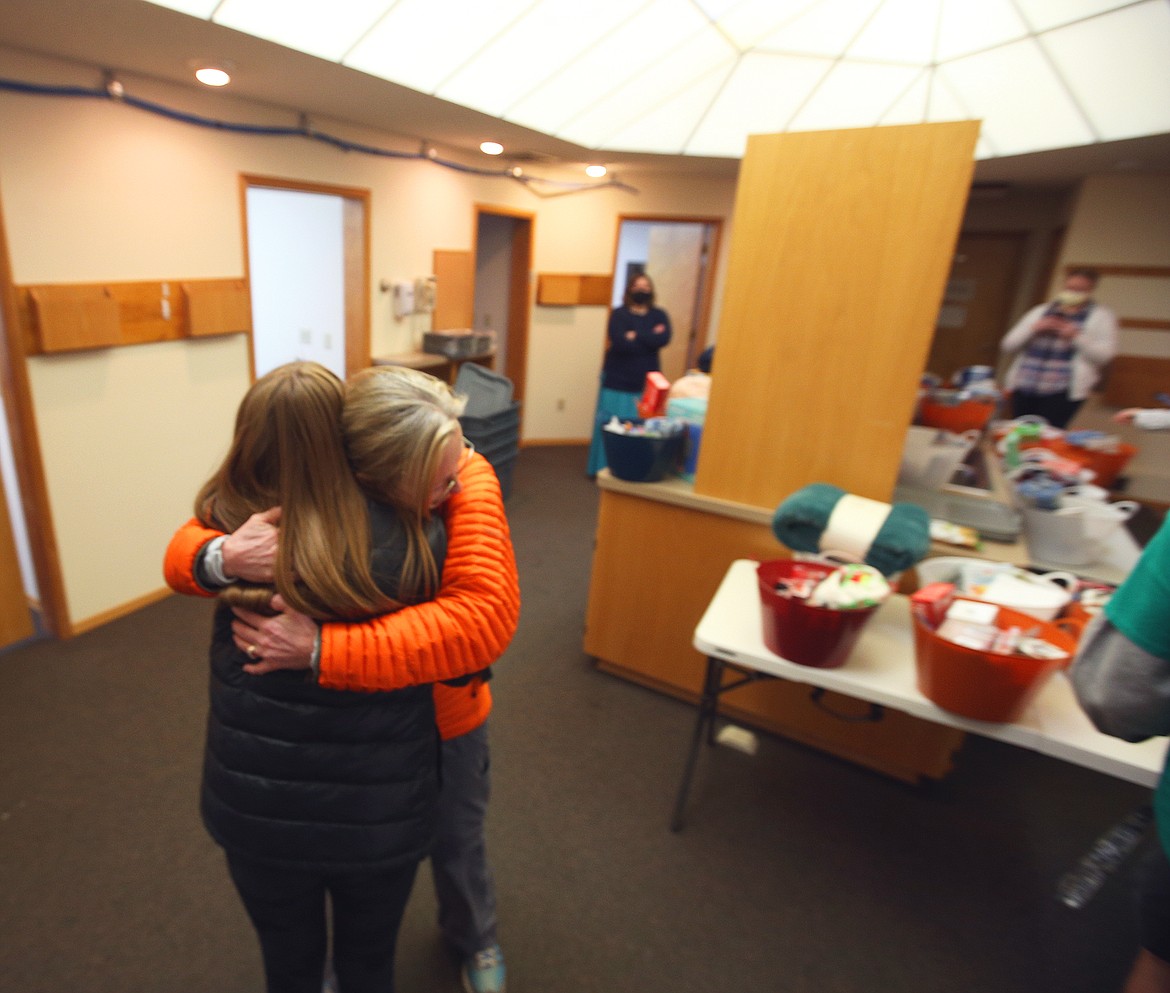 Kootenai Health nurse Sandra Dolyniuk hugs Post Falls High School student Reagan Hartzell as she and classmates delivered gifts to the testing center Friday morning.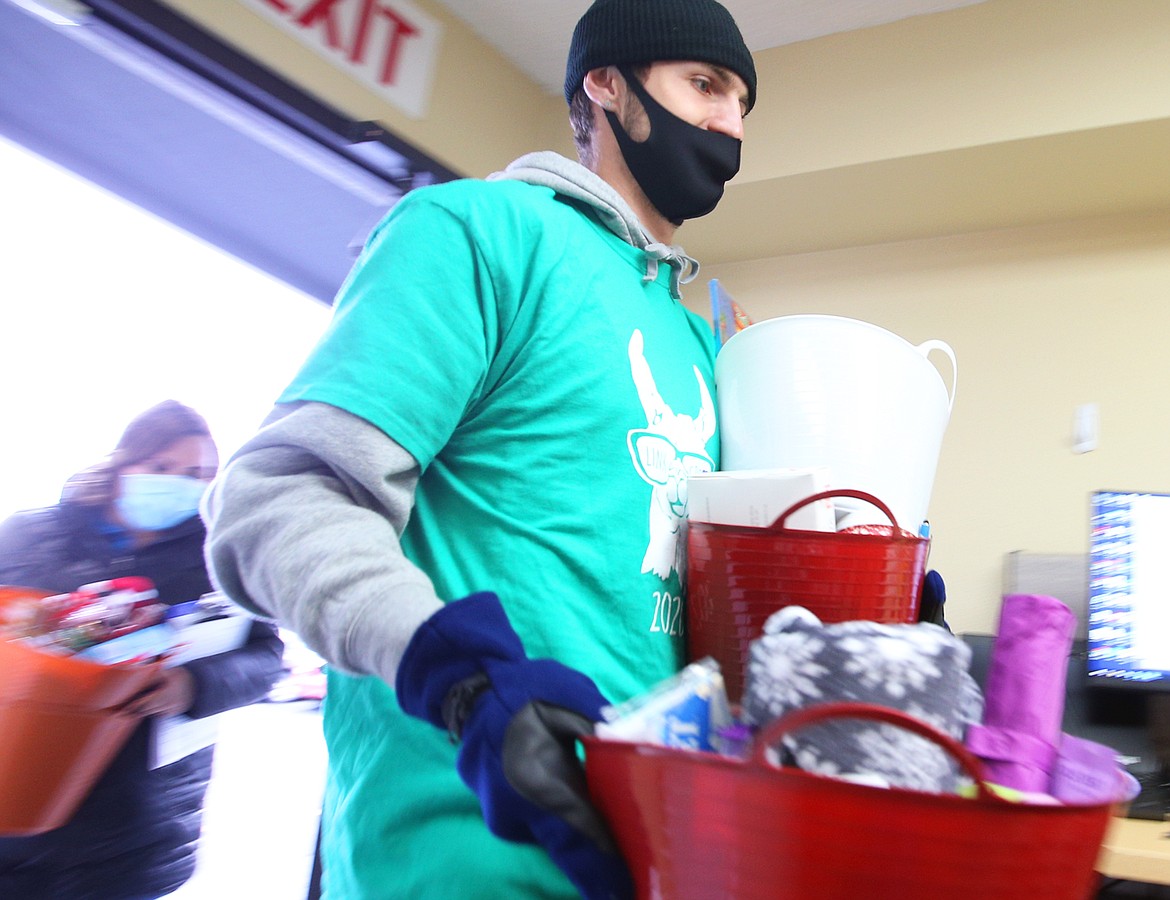 Post Falls High School student Alex Horning carries gifts collected at the school into the coronavirus testing center at Kootenai Health on Friday.
Previous
Next
by
BILL BULEY
Staff Writer
|
November 21, 2020 1:09 AM
COEUR d'ALENE — It was a hug that said a thousand words.
In the midst of a busy Friday morning at the Kootenai Health coronavirus testing center, nurse Sandra Dolyniuk wrapped her arms around Post Falls High School senior Reagan Hartzell.
For several seconds, they just held each other. The coming and going in the room slowed. One woman wiped away tears.
"Thank you. You do not know how much this means to our team," Dolyniuk said.
Hartzell nodded and smiled.
She and her classmates delivered about 80 gift baskets to the testing center. In just two weeks, the Link class, which pairs seniors and juniors with freshmen to help them adjust to high school, organized and oversaw a schoolwide drive to honor and encourage Kootenai Health workers on the front lines.
The response from PFHS students and staff was stronger than expected.
Candles, blankets, lotion, hot chocolate and facemasks were just some of the items they carried inside while a long line of vehicles with people waiting to be tested for the virus wrapped around the building.
"We wanted to do this because we know how difficult it is right now for hospital workers, under a lot of stress and working long hours," Hartzell said. "Just to help out a little bit, give them a break, I guess."
Senior Kasey Wood agreed.
"I know it's hard on everyone. I think it's good to show we actually support them."
Lori Ritchart, clinic coordinator, was overwhelmed.
"Wow, thank you guys," she said as she talked to students waiting at their vehicles loaded with the gift baskets.
"This means a lot to us," she said. "Thank you so, so much. It means a lot to our team, for sure."
Later, as she carried baskets across the parking lot, Ritchart said, "I really probably am going to cry. This is so exciting for my team."
Kali Singleton, development and event specialist with the Kootenai Health Foundation, was among those who greeted the students on a chilly Friday morning.
She said what they did was "amazing, especially during this time when our spike has come back."
Singleton noted that the testing center has been very busy as people seek COVID-19 tests after being referred by their physicians. Staffers, she said, are exhausted.
"It's rough over there on them right now. That line is at least a couple hours long every day," she said.
"It's a morale booster to know that our community is still thinking about them," Singleton added.
Senior Alex Horning credited Crumbl Cookies and Gross Donuts for donating prizes for the classrooms that brought in the most gifts for health care workers.
"That was a big push for why everyone wanted to donate," he said.
After the students returned to their cars, Dolyniuk reflected on the significance of their actions.
"My heart is about ready to burst, it's pounding so fast," she said.
Dolyniuk said many people are worn down by the virus. They're tired and have been swabbed two or three times.
"They're over it," she said. "So, we're having to go out there and make this a positive experience."
But try as they may, long days of testing are draining. So the surprise visit from students, their generosity, came at a time when the staff needed a boost — and got it.
"We lift other people's spirits," Dolyniuk said. "This has lifted ours."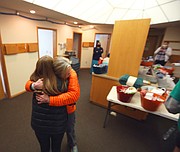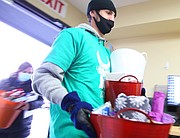 ---