THE FRONT ROW WITH JASON ELLIOTT: From Division I to a small school in Idaho; the new fish knows his stuff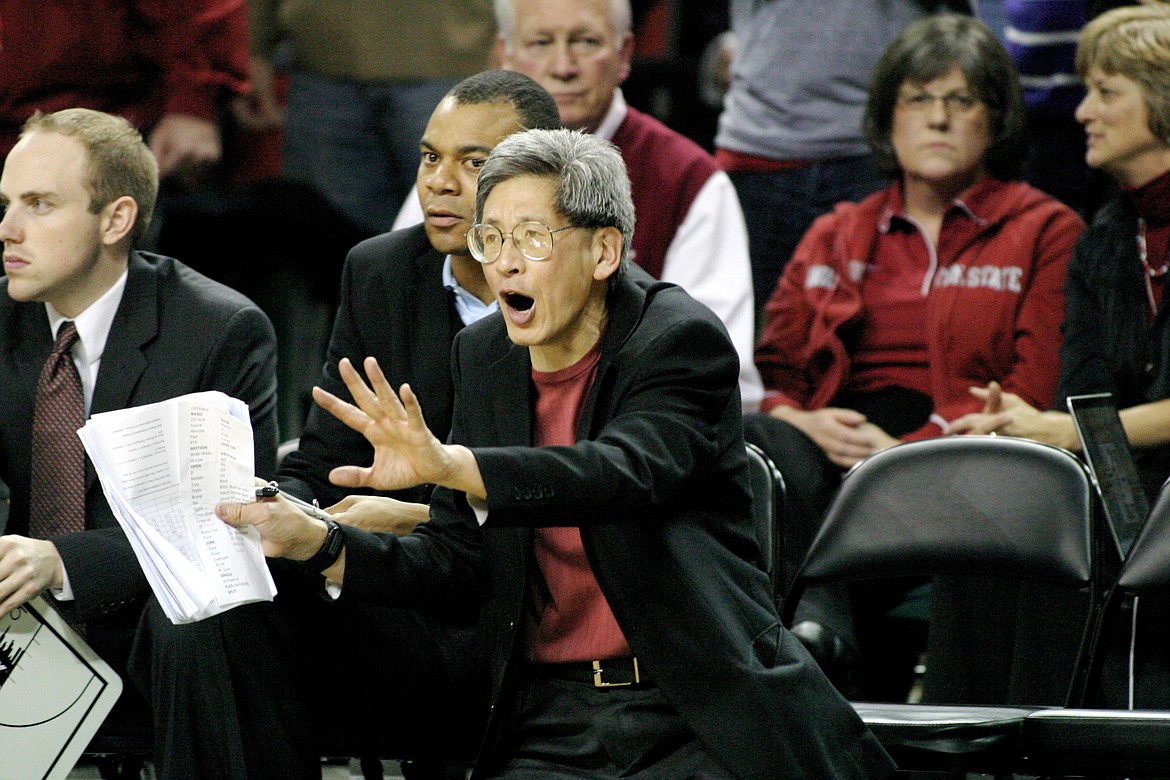 Photo courtesy WASHINGTON STATE ATHLETICS New Genesis Prep Academy boys basketball coach Jeff Hironaka was formerly an NCAA Division I assistant coach, and a Division II head coach. He is pictured here while serving as an assistant at Washington State, yelling out instruction during a Dec. 22, 2009 game against LSU in Seattle. Hironaka was named the Post Falls school's boys basketball coach earlier this year, replacing Marsell Colbert, who stepped down last summer.
|
November 21, 2020 1:25 AM
After being let go by NCAA Division II Colorado Christian University in Lakewood, Colo., at the conclusion of the 2019-20 season, Jeff Hironaka, 63, wasn't quite ready to retire from coaching basketball.
That was after stints as head coach at Seattle Pacific from 2002-09, working as an assistant coach at Washington State from 2009 to 2011, and spending another 20 years at various schools around the northwest starting in 1979.
His next stop will include Genesis Prep Academy of Post Falls, and the brand new Scenic Idaho Conference. Genesis Prep is in 1A Division I, the second-smallest of Idaho's six classifications.
SO COACH, why Genesis Prep?
"When I was let go by Colorado Christian, I could have taken retirement," said Hironaka, who lives in Spokane. "But I didn't want to retire quite yet."
Hironaka took a job teaching middle school math at Genesis Prep. When Marsell Colbert, who started the program at Genesis Prep in 2015, stepped down last summer, officials went to Hironaka to see if he'd be interested in coaching as well.
"I kept my teaching certificate throughout my coaching days, but hadn't used it in 33 years," Hironaka said. "Genesis Prep contacted me about coaching and I talked to them. I told them I'd do it for a year."
At Colorado Christian, Hironaka went 6-22 during the 2019-20 season, and was 16-68 in his three seasons there. During his time at Seattle Pacific, his teams went 134-67 and appeared in the Division II playoffs five times.
"I wish I could say we won at Colorado Christian, but having just one full scholarship available, it was hard to get the quality of players that I needed to compete," Hironaka said. "We had some tuition money, but could only give one scholarship. We were competitive, but it just didn't work out."
Hironaka's first head coaching job was boys basketball at Weiser High from 1980-85.
"When I first started, I was teaching middle school math and was the middle school basketball coach as well," Hironaka said. "It's definitely changed a lot in the 40 years in between."
GENESIS PREP won state 1A Division II titles in 2017 and 2018 and finished third in 2016 and '19.
"I don't know that much about them yet," Hironaka said of his new team. "But I'm getting to know them. I've never coached at this small school level. In my eyes, I don't know how it's going to go and don't know how anyone else is going to be. The kids have told me there's a couple of games from last season on YouTube, but that's about it. Right now, we're just seeing what we've got to work with."
As far as coaching, it's just Hironaka to complete all the tasks that a coach takes care of.
"After practices, someone has to do the wash, sweep the floor and since I'm the only coach, with no assistant, I'm the only one that can do it," Hironaka said. "I'd hate to ask someone to volunteer right now, but it's just part of the job. The biggest thing is that I love to coach, so we'll see how it goes. If I lose the passion, I'll step aside. But I still want to impact the kids' lives."
Hironaka hasn't coached Klay Thompson since his time at Washington State, but reached out to the NBA star after learning of his season-ending Achilles injury on Wednesday.
"I texted him that I was sorry to hear that," Hironaka said. "I loved coaching him and he became a bigger player than anyone could have imagined. I haven't heard back from him yet, but he's got bigger fish to fry than me."
Jason Elliott is a sports writer for The Press. He can be reached by telephone at (208) 664-8176, Ext. 2020 or via email at jelliott@cdapress.com. Follow him on Twitter @JECdAPress.
---