Blue light special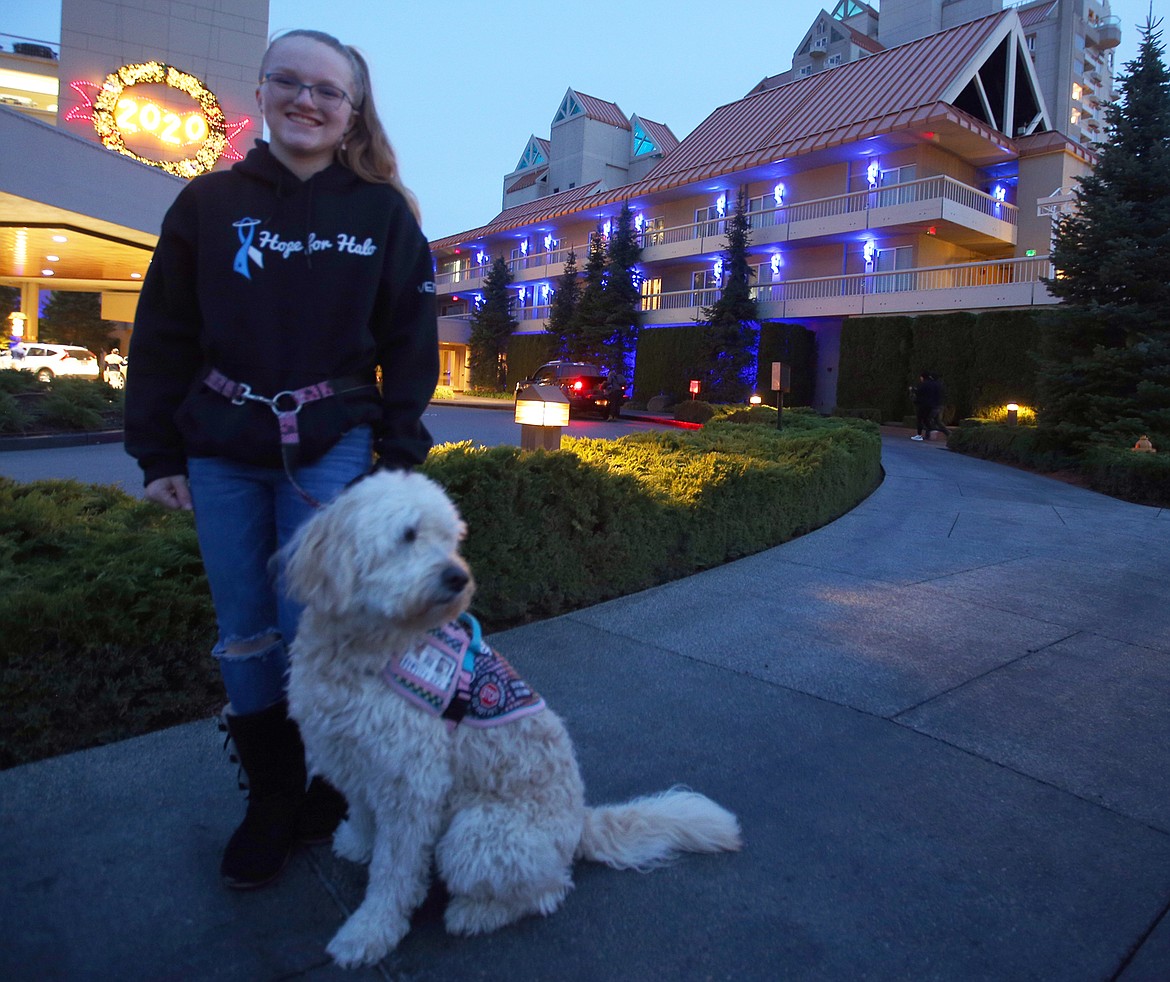 Hailie Velasco and Rory stand together in front of The Coeur d'Alene Resort Friday night, with blue lights glowing in the background.
BILL BULEY/Press
by
BILL BULEY
Staff Writer
|
November 21, 2020 1:00 AM
COEUR d'ALENE — Lyndsey Neufeld and her daughter, Hailie Velasco, were disappointed they couldn't "Light Up the Town Blue" Friday night, but The Coeur d'Alene Resort is going blue for them, anyway.
And that made them smile.
"This would have been the fifth year for the ceremony," Neufeld said as she and Hailie stood outside The Resort and admired the blue lights glowing amid hundreds of Christmas lights.
In years past, the event has attracted about 100 people and the Coeur d'Alene Fire Department to raise awareness of Type 1 juvenile diabetes and for National Diabetes Month in November.
It's estimated that about 200,000 people in the U.S. under age 20 have diabetes.
"We want to let them know they are not alone," Neufeld said.
And Neufeld and Velasco of Coeur d'Alene are still raising money for Halo's One Hope, their local nonprofit that raises money for families of newly diagnosed Type 1 diabetic youth.
Hailie was diagnosed as diabetic six years ago, which caught her mom by surprise.
"I had no clue about diabetes in children," she said. "I didn't even know what we were up against."
Hailie was hospitalized for a week.
"That's when our new journey began," said Neufeld, a single mom at the time.
Diabetes, to summarize, is a chronic condition that affects how a body turns food into energy. It's tough on youth and families can live in constant fear about their child's health, which can suffer eye, kidney, nerve and nerve damage if blood sugar levels are not monitored carefully.
"These kids go through a lot," Neufeld said.
Dealing with it was and still is challenging, but together, and with community support, they have managed it well.
A fundraiser brought in $10,000 to buy a service dog, Rory, a golden doodle, who alerts Hailie when her blood sugar is low.
"I'm doing a lot better," Hailie said.
Rory is always at her side, sleeps next to her and even goes to school with her.
"During class I don't pay a lot of attention to blood sugar," she said. "When I don't, she does."
Rory raises an alert if something is wrong by pawing at her.
"It's really cool," said Hailie, who responds by drinking fruit juice or some other high-carbohydrate, high-sugar food or drink.
Hailie said she doesn't really remember much about life before diabetes.
"I just knew I could eat whatever and whenever and not worry about blood sugar," she said
Now, she must be aware of her diet and activities and how they can affect her health — which she does well, as she has earned a second-degree black belt.
Meantime, Neufeld said while they had to cancel this year's Light Up the Town Blue ceremony and haven't been able to raise a lot of money, they still hope to help a few families.
The Resort will keep the blue lights on each night through Nov. 27 as a community reminder.
"We know some people must be struggling," Neufeld said. "We want them to have a good Christmas."
To help, check out Halo's One Hope on Facebook or email halosonehope@gmail.com
---