THE CHEAP SEATS with STEVE CAMERON: Seahawks looking like contenders once again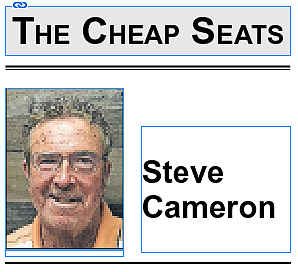 |
November 20, 2020 1:30 AM
To steal a phrase from Mark Twain…
Reports of the Seahawks death have been greatly exaggerated.
Twain famously sent a telegram from London when his obituary was mistakenly published back home in the United States.
Now let's put that all in 2020 football terms.
The Seahawks sent a very physical message to the rest of the NFL with that resounding 28-21 victory over Arizona on Thursday night.
They are not only alive, but very much in the hunt for a spot atop the NFC.
Having halted the hype — at least for now — that Kyler Murray is a magician who is wondrously taking over pro football, the Seahawks turned a lot of theories upside down.
They ran the ball. They played old-fashioned, hard-knocks defense. They made plays in the clutch.
And most important of all, they stopped Murray on a potential game-tying drive in the final minute.
The little wizard finished the game on the seat of his pants, having been unceremoniously sacked by Carlos Dunlap on a final fourth down.
THAT last sack actually had more meaning that simply closing out this critical win, a result that bumped the Seahawks to 7-3 — and first place in the NFC West.
Dunlap's body slam on Murray symbolized both the mindset and often the execution that the Seahawks had been missing for a couple of weeks.
All those things that naysayers were saying or writing about this Seattle team…
You know, that the defense can be shredded at will.
That DK Metcalf can be neutralized by a shutdown cornerback.
That Russell Wilson has begun to panic, forcing bad throws and getting stung by bad decisions.
That the Hawks can't even run the ball anymore, despite the glaring need for some ground power to help take the heat off Wilson.
Yes, all those things — and more — have been written and said about the Seahawks.
Basically, that they were dead as a true contender for NFC supremacy.
Well, it's time to think this through again, gang.
Seattle beat the Cardinals man-to-man in a chippy game that saw both teams commit personal foul penalties, each contributing to scoring drives for the other team.
Pete Carroll always has preached a type of football that is all about imposing your will on your opponent.
And the Seahawks did that to Arizona, from Wilson's first TD pass to Metcalf all the way to Dunlap's final sack.
They ran for 165 yards on 5.3 per carry, and defensively, they held Murray to a skimpy 15 yards rushing — keeping Murray without a score for the first time in six games.
WE SHOULD know by now that the NFL is a league of parity.
You are never as good as you look when you win, and you're never as bad as you look when you lose.
The Seahawks that went 5-0 before hitting some bumps needed a re-set.
They played a couple of stinkers, true, but that's going to happen.
Teams that suffer through that need good coaching and solid leadership on the field — and the Seahawks have that.
They still also need to get some key players back on the field.
They won on Thursday night with a patchwork offensive line that featured rookie guard Damien Lewis playing center for the first time.
There were several other backups out there, too.
The hint I'm taking from all that is that Seattle — which plays the easiest remaining schedule in the entire NFL — will be an awfully tough out when all those first-teamers return to the lineup.
The Seahawks are an awfully good team that went through a tough stretch, then looked at what was wrong and fixed it.
That's good stuff.
Ask the Cardinals.
Email: scameron@cdapress.com
Steve Cameron's "Cheap Seats" columns appear in The Press on Mondays, Wednesdays and Fridays. "Moments, Memories and Madness," his reminiscences from several decades as a sports journalist, runs each Sunday.
Steve also writes Zags Tracker, a commentary on Gonzaga basketball, published every Tuesday.
---