Dr. Ronald Raymond Hoye, Sr., 87
|
November 19, 2020 1:00 AM
A giant of a man has passed. Dr. Ronald Raymond Hoye, Sr. N.D. ("Doc"), left this world on Nov. 8, 2020, at the age of 87.
Ron loved telling stories and singing. He unapologetically did his thing, and he will live on within the hearts, minds and spirits of a great many people for generations.
Born July 20, 1933, in Chicago, Ronnie's mother passed when he was 3 years old and he lived in the back of a curtain cleaners with his grandmother until he was 14. He called her mom and he loved telling stories about being a kid selling newspapers on the corner during depression era life in the streets of Chicago.
Ron moved to Burbank, Calif., at age 14, and had many stories about racing cars and motorcycles in his teenage years. Ron joined the Air Force at 18 and met the love of his life, Viola June Seidler ("Vi"), a German farm girl from Brady, Mont., while stationed in Great Falls in 1951. The first night they met, while at the movie theater watching "My Friend Flicka," he told her that he'd bet they'd end up getting married and as he said, "You never heard such a horse laugh," from Vi. Doc and Vi were married 69 years. Their love brought them seven children, 18 grandchildren, and more great-grandchildren than you can count.
After the Air Force, Ron sang for the Mandrakes and other bands. His voice was beautiful and powerful, even at his last singing performance at age 80 in Spokane, Wash. Ron also flew airplanes and became a naturopathic doctor, chiropractor, and iridologist.
Doc and Vi moved the family to North Idaho in 1972. Doc co-founded and was the president of the National Association of Naturopathic Physicians, 1976-1977. Together, Doc and Vi owned and operated Hoye's Naturopathic Center for decades, where they served their local communities healing people.
Ron was preceded in death by his daughter, Laura Hoye. He is survived by his wife, Viola Hoye; his children, Catherine Morales-Lash, Larry and Cheryl Hoye, Ronald Hoye Jr., Steven and Terri Hoye, Clifford and Irene Hoye and Gigi and Chuck Alcock, and 18 wonderful grandchildren and many great-grandchildren.
Doc was filled with heart, intellect and a rebellious spirit. His life brimmed with passion, warmth, conviction of purpose, and all the things one might say to offer a life value. Doc lived a full and happy life. We are honored to celebrate the time between the day he entered this world and the day he left it. Doc always did his thing. It was important to him, and if he could say one thing, I think it'd be to encourage you to do your thing, too.
Because of COVID-19 there will be no memorial service at this time. In lieu of flowers and or gifts, please donate to your local Hospice and S.P.C.A.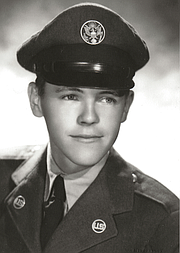 ---