Parade pays tribute to longtime logger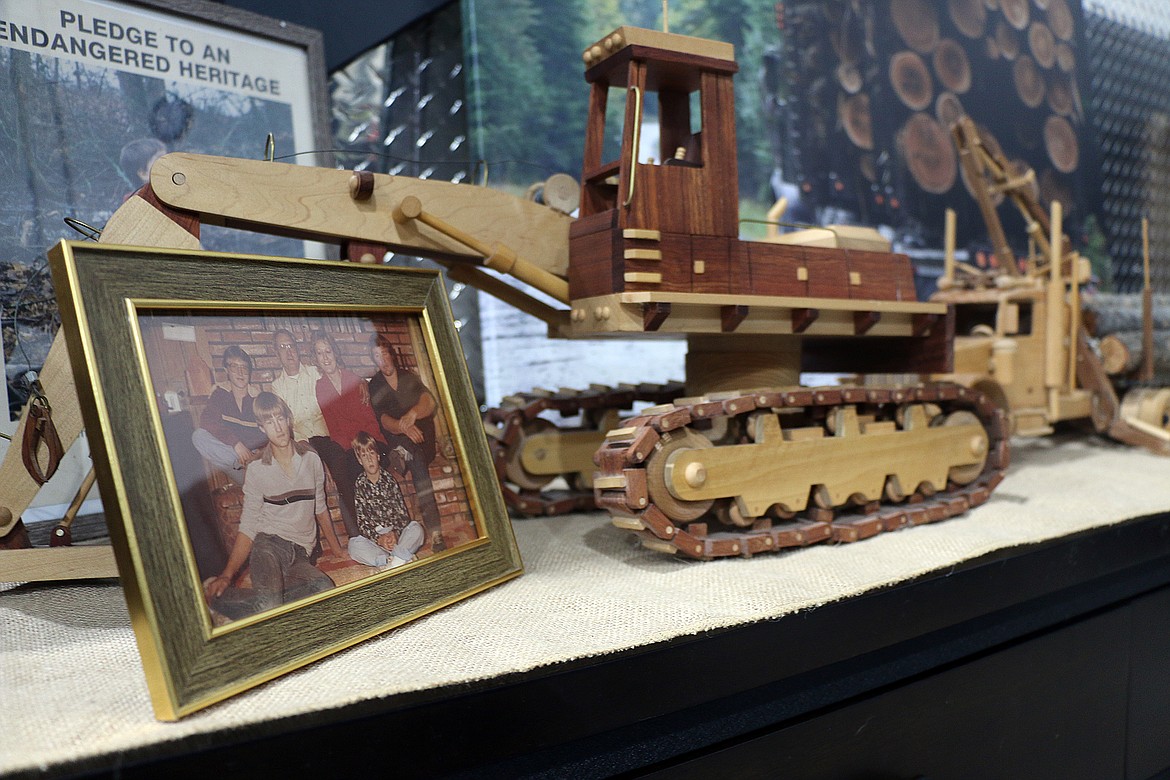 An early photo of Pat Mason and his family sits among a photo display of the longtime logger's life and two intricately crafted logging trucks and equipment crated by Mason. Pictured in the family photo in the back row are brother Ron Mason Jr., parents Ron Mason Sr. and Juanita Mason, and Pat Mason. Pictured in the front row are brothers Jim Mason and Jerry Mason.
(Photo by CAROLINE LOBSINGER)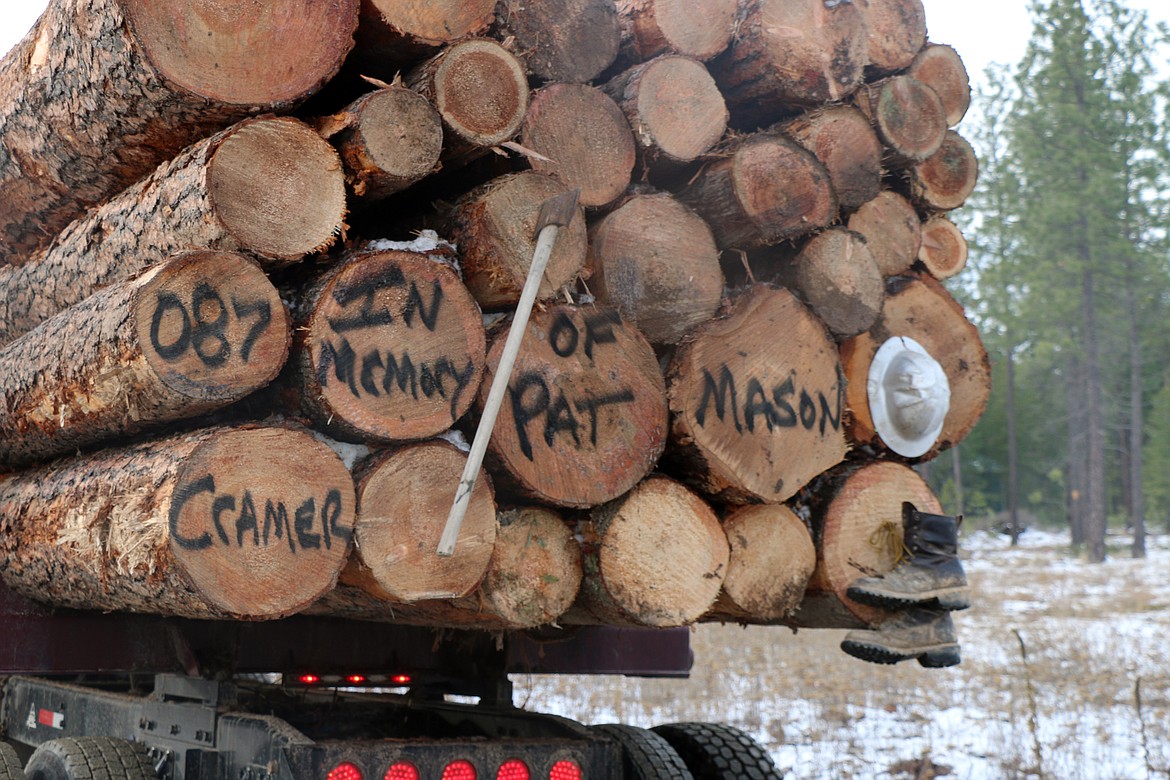 Kraig Watson's log truck features a tribute to longtime friend Pat Mason, who died in a logging accident on Nov. 5. In addition to a message painted on the logs, Watson tacked on his boots, axe and hard hat to honor his friend. The truck was one of several dozen which took part in a parade through the region where Mason lived and worked.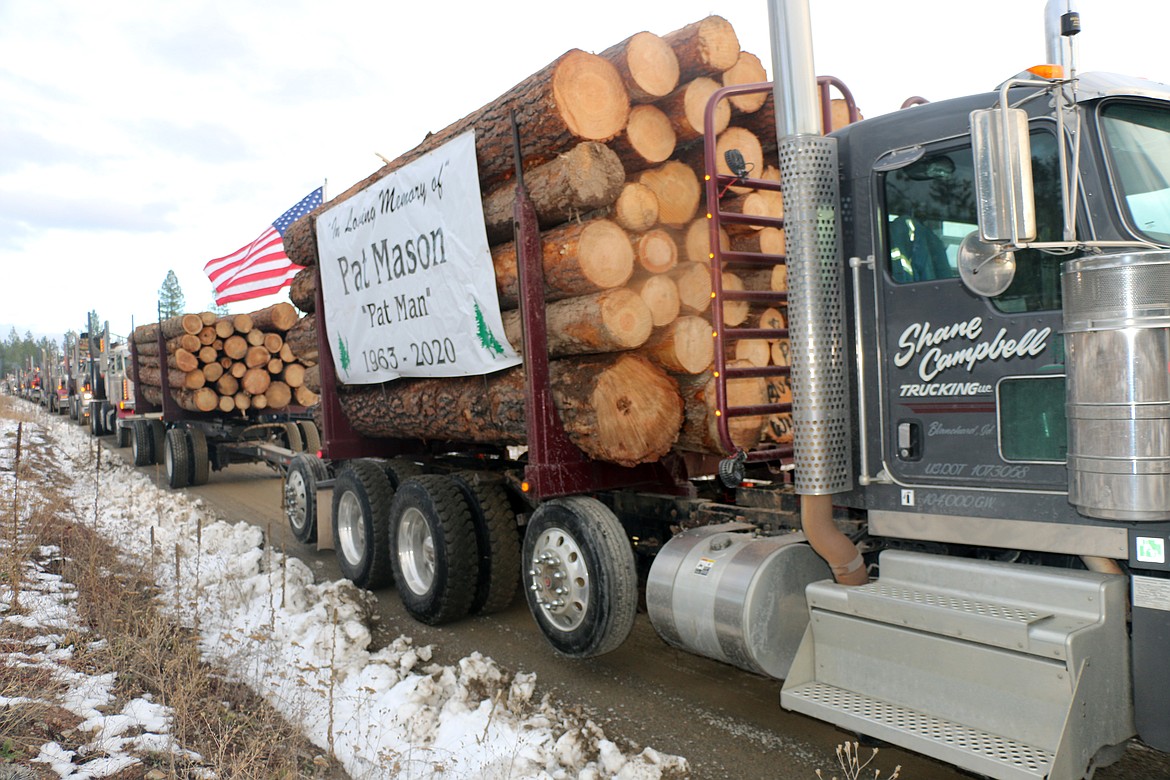 A tribute to Pat Mason adorns the side of a logging truck taking part in Saturday's parade in honor of the longtime logger.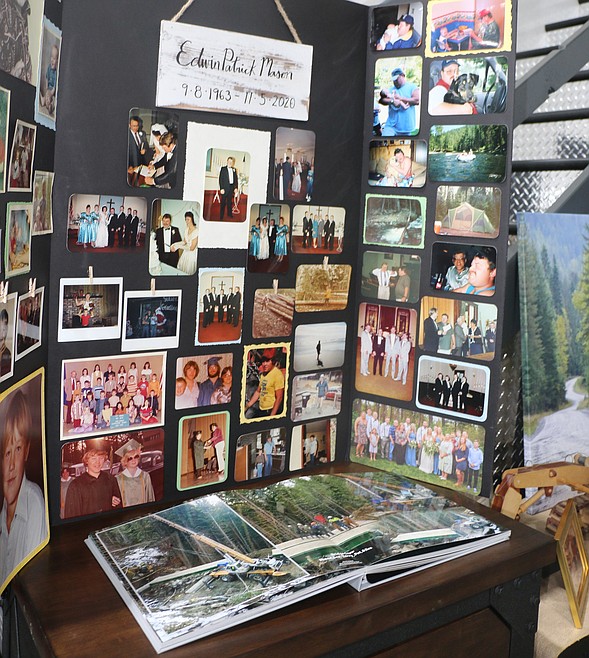 A photo collage celebrates longtime logger Pat Mason.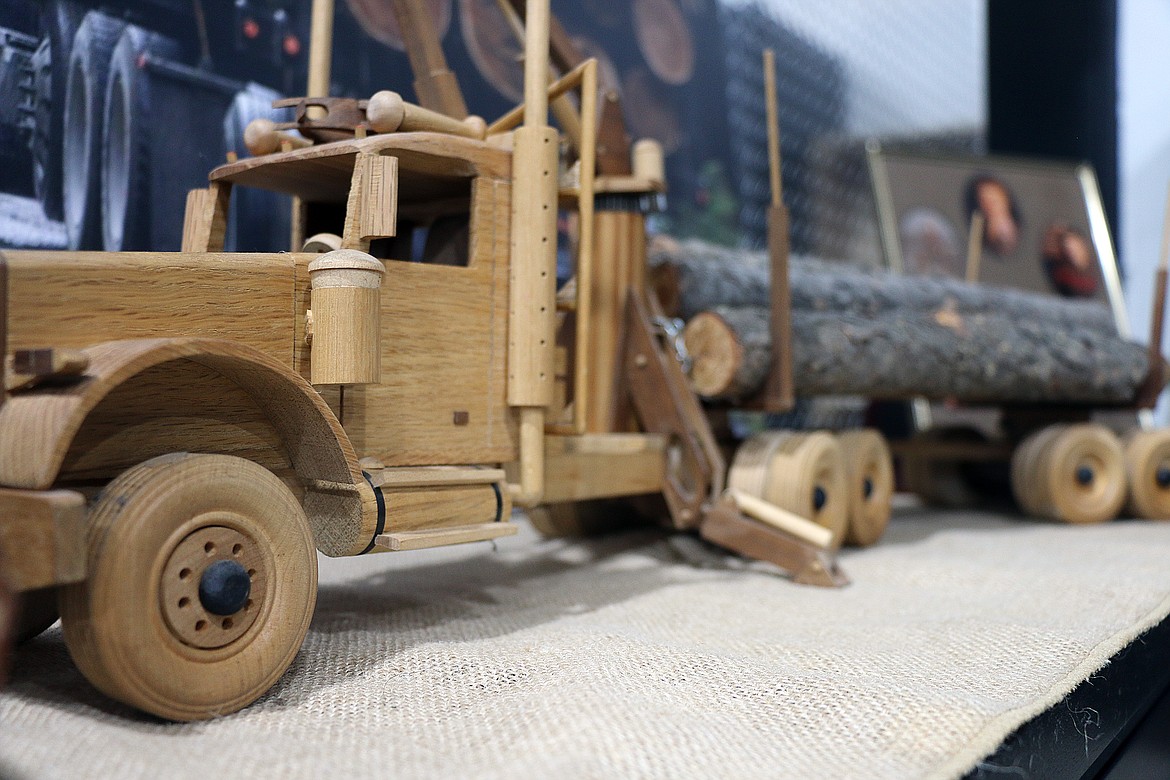 A close-up look at a model log truck created by Pat Mason, a longtime logger whose life was honored through a parade through the region where he lived and worked. In addition to being a master woodworker, Mason also was an artist whose work was treasured by family members.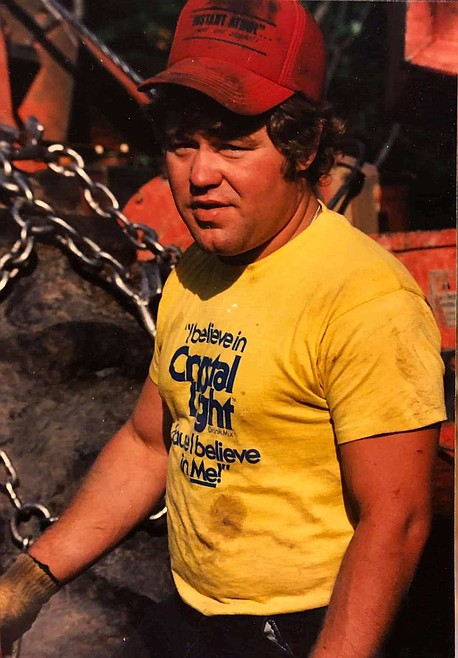 Edwin "Pat" Mason is pictured working in the woods in this undated photo shared by his friends and family.
Friends and loved ones sound their horns as they pass Stimson Lumber in Priest River after taking their logging trucks on the road Saturday to pay tribute to Pat Mason, a longtime logger who died in a logging accident on Nov. 5
Previous
Next
by
CAROLINE LOBSINGER
Hagadone News Network
|
November 17, 2020 1:00 AM
BLANCHARD — Prankster. Artist. Logger.
Both in the woods and with his family, Edwin "Pat" Mason was a redwood of a man — quiet and serious one minute, then booming with laughter the next. He loved the outdoors and was a skilled logger, but he also was a man of faith who cherished his family and friends and would do anything for those he loved.
Mason, who died in a logging accident Nov. 5, loaded log trucks in the area for more than 30 years. His death hit hard for both his family and his logging family, said those who turned out for Saturday's log truck parade — with his ashes along for the ride on the front seat of one of the pickup trucks leading the lengthy procession.
"In the logging nation, when you lose one it's hard," said Kraig Watson, a friend of Pat's who helped organized the tribute along with Dusty Bame and Gregg Mason.
A friend since high school, Watson said there was never a doubt that some kind of tribute would be held and conversations quickly began with other friends to put together a celebration of Pat's life that was as special as the person. It didn't take long to decide that that meant a parade through the area where Pat lived and worked in the same vehicles in which Pat spent his days.
The parade came together pretty quickly as word spread on social media. As folks gathered inside to remember Pat and share their favorite stories, the line of log trucks, pickup trucks and cars grew longer and longer — lining the entire length of Flying Geese Way, the road leading to Shane Campbell Trucking, where Pat worked.
Once on the road, the mile-plus-long procession wound its way from Blanchard, up to Newport, over to Priest River and past the Stimson Lumber mill where the passing log trucks sounded their horns in tribute to Mason before winding their way down Dufort Road to Spirit Lake and back to Blanchard.
Raised in a logging family, Pat had worked in the woods since he was a teen. He worked for his family's business for a number of years but for the past few years worked for Shane Campbell Trucking in Blanchard.
"Pat touched a lot of people," Watson said. "He was a pretty special guy."
A big man, quick with a joke or a prank, Pat loved his family and the woods. He liked to fish and go camping. He was a master craftsman, building intricately detailed logging trucks and model cars. And he was a man of faith.
Pat worked in the woods since he was a teen, loving the outdoors, Jerry Mason said. He could appear gruff, but for family and friends, he had a heart of gold and would do everything he could for them.
"He was a special guy, absolutely," Jerry Mason said.
Growing up in a logging family, it was only natural that Pat would follow suit. "It's what we've known," he said as he pointed to a photo of Pat with their father in the woods when his brother would have been about 14 years old. "It's kind of like that old saying, 'got sawdust in your blood.'"
As plans came together for the parade, Jerry Mason said the family was both honored and touched by the tribute to honor Pat.
"It was very humbling," he said. "It was very neat."
Knowing that others cared about their brother and wanted to honor him and his life means a great deal to the family, agreed brother Ron Mason.
"It's huge," he added. "It shows the family of loggers is still sticking together."
Pointing to the intricate wooden logging equipment parked near photos showcasing his brother's life — from early childhood to a family photo taken just a few months ago, Jerry Mason said the images captured who his brother was: pictures with loved ones, pictures working in the woods and pictures with friends.
A bit wild in his younger days when he loved to have fun — and encouraged his brothers to follow suit - Pat would also look out for them and take the blame for any trouble caused, Ron Mason said.
"He was definitely a rebel," Ron said with a laugh. "He did mellow out but he did love having fun."
Pranks and practical jokes were a specialty, said friend Terry Pedersen, recounting a recent prank where Pat Mason placed a pink princess sign on the passenger side of Pedersen's log truck.
"It was on there for a week before I found it," Pedersen said, shaking his head. "One of the guys at the mill who was unloading my truck said, 'See you later, Princess.' I was like, 'What did you call me?' 'Well that's what it says on the side of your truck.' "
Pedersen got out and sure enough, there was a pink sign, big as life, with the word "princess" emblazoned on it. "I knew immediately it was Pat so I called him and he was just laughing."
Laughter, not drama, filled Pedersen's memories of their work together. So much so that Pedersen said it seems they laughed more than they worked, but Pat Mason knew what he was doing in the woods and was a good logger and a hard worker.
"That guy could do anything," Pedersen said. "He was a great guy and I loved him like a brother."
---