UPS store, distribution center opens in Post Falls
|
November 15, 2020 1:10 AM
A huge new UPS store and distribution center has opened at 192 Beck Road close to the state line.
The place has many "garage" bays for distribution vehicles serving all of North Idaho except Coeur d'Alene and Sandpoint that have their own.
The "store" on the northwest corner of the place offers labels and is the space for shipping and picking up packages. Store hours are 1 to 5 p.m. weekdays, and package pickup is 5:30 to 8 p.m. Phone UPS at 1-800-742-5877 and 208-981-4395 (208-981-4402 after 5:30).
UPS (United Parcel Service) began in New York in 1907. The new place is hiring personal vehicle drivers. Check UPSJOBS.com.

Riverside Coffee
opens on Seltice
Offering different types of espressos, bagels, muffins, protein pucks and other snacks, the drive-through at Riverside Coffee opened this week at 6707 E. Seltice Way.
Owner Bob Sisson and his baristas offer buy-5-get-1-free punch cards and are open 5 a.m. to 7 p.m. daily with limited hours on holidays.
Riverside Coffee is on Instagram and soon to be on Facebook.
Several places
delay openings
Several other new businesses were going to be opening this week but have delayed the timing due to construction, weather and COVID. We should have their details next Sunday.
Meanwhile, it was an interesting Veterans' Week with good publicity and offerings despite the COVID.
It was my 50th anniversary as a veteran. But I had a memorable four years in the Coast Guard that had come to the University of Montana looking for a graduating journalist-public relations person.
I said "yes" because my Vietnam draft number was "12" and they told me that I would be stationed in San Francisco.
My first day in boot camp (on Government Island in Oakland Bay) I was lined up with my platoon when the leader yelled "Eyes Front, Whitey!" and gestured at me and my blond hair.
It went well, living mostly in the barracks and commuting to the downtown office by driving the mail truck. I was the admiral's aide, wrote news releases and took photos.
After two years I was transferred to the Great Lakes (Chicago) center and was in charge of a typing line that wrote and distributed hometown news releases. I worked weekends as a sports writer for the Waukegan News-Sun and even covered the Chicago Cubs home Sunday games.
I had it pretty good in the military. And I salute those who served. Thank you.
And now the Tidbits
Panhandle Cone & Coffee will be at 849 N. Fourth.
Westside Pizza is coming where Grabba Green was in the strip mall northwest of Neider and Highway 95.
Something new will be at 450 W. Prairie Ave.
A Union Gospel Mission thrift store is under construction at 7761 N. Government Way.
Gathered will be a new restaurant.
The Blue Shell will be at 1903 Sherman.
A Family Dollar store will be at 317 E. Seltice Way.
A four-story apartment complex will be built at 1940 W. Riverstone Dr.
Bossy B's Coffee will be at The Plaza on North Cecil in Post Falls.
Emerge is opening at 119 N. Second St.
Milk & Honey Coffee is "coming soon" to Mullan and Cecil in Post Falls.
Schmidty's Burgers will be at 1524 E. Sherman.
A 120-room boutique hotel will be where the Outback Steakhouse was off Northwest Boulevard and I-90.
A new restaurant will happen above the river in Riverstone.
A new Maverik gas and convenience store is under construction in the northwest corner of Highway 41 and Mullan Ave.
The huge One Lakeside project will open in January.
Metro Car Wash will be near Wendy's in Post Falls.
Watch for Inland Northwest Veterinary & Oral Surgery at 655 Best Ave.
The Hayden Dairy Queen will be at 513 W. Hayden Ave.
108 North is under construction connected to the Moose Lounge downtown.
La Cabana Mexican Food on Seltice Way is adding a new place in Riverbend Commerce Park.
A High Society Brewery will be next to Two Wheeler Dealer in the southwest corner of Highway 95 at Hayden Ave.
Something new is going into 413 Sherman beside the Art Spirit Gallery.
Northwest Group will be selling cars at 2995 E. Mullan.
Trademark Mechanical is building a new place in Hayden.
The new Hardwick Hardware is under construction at 3820 E. Mullan in Post Falls.
A new motel is under construction on CdA Lake Drive between Mullan Ave. and Michael D's Eatery.
A Chase Bank will open Dec. 11 at 143 W. Neider Ave. and replace the one in the Fred Meyer complex.
See's Candies will be in Suite 1117 in Silver Lake Mall until Dec. 28.
Safe Splash is under construction on Kathleen Avenue.
"Ough" can be pronounced cough, though, rough and through.
*Contact Nils Rosdahl at nrosdahl@cdapress.com.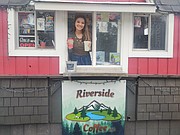 ---