Malek launches lieutenant governor campaign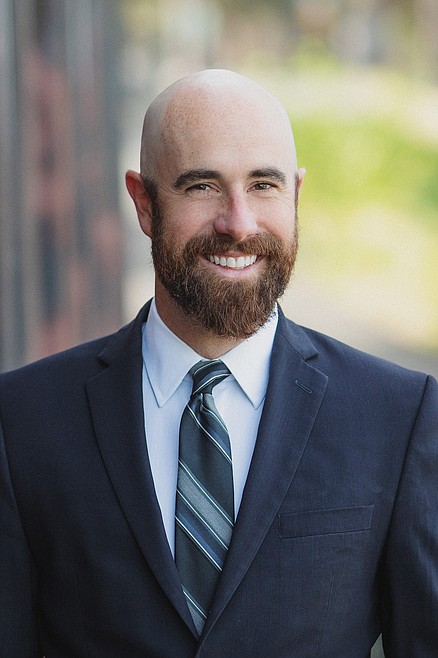 Luke Malek, a North Idaho lawmaker confirms his upcoming campaign for the Lieutenant Governor election in 2022. Photo courtesy Luke Malek.
by
MADISON HARDY
Staff Writer
|
November 13, 2020 1:00 AM
COEUR d'ALENE — Former state Rep. Luke Malek filed Thursday to run for the lieutenant governor's office.
Malek, 39, served as the District 4 A-seat representative from 2012 to 2018. After he ran but lost in the 2018 campaign for Idaho's 1st Congressional District seat, Malek took a two-year hiatus, focusing on his family and legal practice Smith+Malek. Malek said Thursday he knew he would return to the statehouse.
"I learned a lot running for Congress, and my passion for being part of a conservative solution for the future of our state has not been dampened," he said. "We need good, young, strong Republican leaders, and I have a very strong desire to be part of Idaho's future."
Malek was only 30 when he held his first seat on the statehouse floor, but his experience in politics and representing North Idaho preceded his time in Boise. Starting his journey under then-Gov. Jim Risch, Malek worked for the Office of the Governor as the regional director for Northern Idaho.
"The whole reason Risch has that office was so that people of North Idaho could reach out to the governor," Malek said.
Issues like job security, education and improving the quality of life for Idaho's families are at the forefront of his upcoming campaign, Malek said.
"We have no idea how long this pandemic is going to last and the long-term effect it will have on the economy," he said. "If I'm elected, I plan to play a critical role in helping make sure we continue to have the resources to support childhood education."
It's still early for other contenders for the 2022 lieutenant governor race to file, including the current office holder, Janice McGeachin.
During his time in office, Malek served on the Joint Finance-Appropriations Committee, acted as the vice chairman for the Judiciary, Rules and Administration Committee and the Environment, Energy, and Technology Committee.
He said the lessons he learned from these experiences and his role as a Kootenai County deputy prosecuting attorney would influence his campaign platform.
"Criminal justice is a passion of mine, and being on the judiciary committee allowed me to work closely on issues we face regarding criminal legislation but, most importantly, supporting law enforcement officers," Malek said.
Malek said people are needed in office who understand there is more to Idaho than the Boise valley.
"Coeur d'Alene will always be my home," he said. "North Idaho will always be my home, and that is something that I will definitely hold in my heart as I'm serving this great state."
---