Little orders Stage Two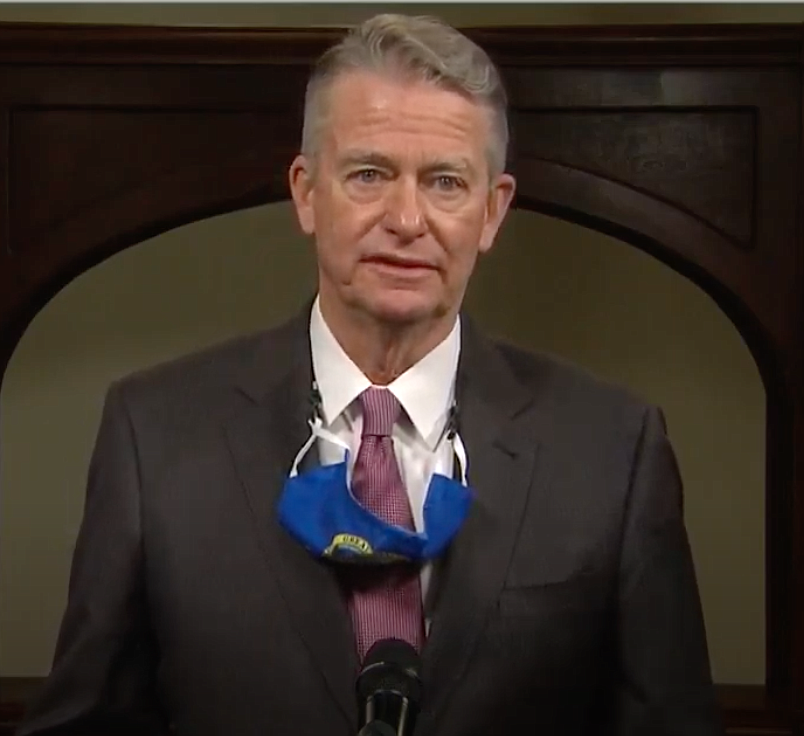 Gov. Brad Little ordered Idaho to roll back into a modified Stage Two Friday, limiting all gatherings — indoor and outdoor alike — to 10 people or under. (Courtesy Idaho Public Television)
by
CRAIG NORTHRUP
Staff Writer
|
November 13, 2020 1:00 AM
Gov. Brad Little ordered Idaho to return to a modified Stage Two of his Idaho Rebounds plan Friday, limiting most indoor and outdoor gatherings to 10 people and under.
The move exempts places of worship and political assembly. Church services and protests may continue as scheduled, though social distancing is required statewide.
Little's decision comes as COVID-19 continues to spread across Idaho. Wednesday's 1,693 new cases shattered the state's record of 1,403, set November 7. Coronavirus numbers have steadfastly risen since mid-September in Idaho, as well as around the nation.
"With every day that passes we are breaking records in the number of COVID deaths, the number of overall hospitalizations and the number of new cases all across our state," Little said at the virtual announcement,
Little's original Stage Two order in mid-May opened many businesses from his original stay-home orders. Under that plan, bars and nightclubs were not able to open. Little's Friday order did not close any businesses already open, bars and nightclubs included.
The first-term governor also mobilized the National Guard Friday to assist the health care system. Little's executive order called up 100 men and women from within the Guard to possibly assist in mobile testing support, COVID-19 screenings, decontamination and logistical planning.
Little cited the state's precarious health care system — which he said was mere weeks away from rationing care for inbound patients — behind the decisions to limit gatherings and call up the National Guard.
"Our hospitals and other health care providers are telling us too many health care workers across Idaho are out sick with COVID, and they are contracting them within the community," he said. "Doctors and nurses who are healthy are overworked and burned out. This is the biggest challenge facing health care right now: the availability of trained, heathy doctors and nurses to care for all patients, not just COVID patients."
Little stopped short of issuing a statewide mask mandate but said the population's lack of adherence to the Idaho Department of Health and Welfare's recommendation to wear masks is troubling.
"Half of Idaho's population is under a current local ordinance requiring masks," he said, "but we are seeing non-compliance with these local orders. Or people wearing masks in public but taking them off in social settings, such as parties or other gatherings with friends, where the virus is more likely to spread."
Little pointed out that law enforcement has the ability to cite individuals for violating local ordinances but added that law enforcement can't be everywhere at once, the reason behind his urgings for personal responsibility, rather than a statewide mask mandate.
"Please wear a mask when you're around another person who's not in your household," Little said. "It will protect you and your loved ones. It will slow the COVID spread. It will keep people employed and protect our economy, and it will preserve health care access for all of us."
---