Mask charges pending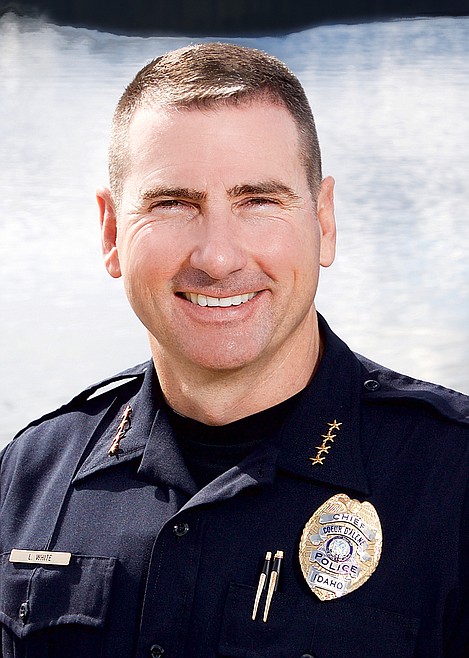 by
CRAIG NORTHRUP
Staff Writer
|
November 10, 2020 1:09 AM
The first caseload of COVID-19-related violations since the third wave of the virus struck is on its way to the Coeur d'Alene prosecuting attorney's office.
The Coeur d'Alene Police Department has referred four individuals to the city for consideration of charges for allegedly violating the city's mask resolution.
Furthermore, Cd'A PD has also referred five cases to the prosecuting attorney's office for businesses allegedly violating health protocols mandated by Gov. Brad Little's stage three of his Idaho Rebounds plan.
Police chief Lee White said Monday the cases of the four individuals all occurred in one instance on Friday.
"These were individuals who were blatantly not following the mask mandate," White said.
While White said he wouldn't comment on specifics at the time, he called all four cases "egregious" violations, a term he later qualified as openly defiant, a factor that went into the reason behind not writing tickets on the spot.
"Typically, if an officer observes a violation, he would write a ticket," he said. "But you've got to remember: These are trying times. We're just trying to keep our community safe. We were able to, through other means, identify these four individuals and deliver our reports to the prosecutor's office."
The mask resolution passed by the Coeur d'Alene City Council Oct. 26 went into effect the following day, carrying with it a $100 fine along with the weight of a civil infraction, not unlike a speeding ticket. White has said, per council's instructions, handing out tickets wasn't the primary goal of enforcing the resolution, a message he reinforced Monday.
"Ever since the mask mandate has been passed by council, we spent the past week focusing on education," he said. "We want to let people know, 'Hey, there's a mask resolution in effect.' We're educating them on the rules in place. That's our focus, and that's what we'll continue to do."
Cd'A PD also referred five businesses to the city for consideration of misdemeanor violations of Little's Idaho Rebounds health protocols. All five, White said, involved bars downtown. While White wouldn't specify the exact nature of the infractions, he did point out the state's protocols cover more than just masks.
"Some of those require not following social distancing when you're not sitting at a table," he said, "standing-areas, nightclub activity, wearing masks. We've referred those cases, as well."
White said his department observed one case on Nov. 1, three cases on Nov. 3 — Election Night — and one on Saturday. When asked how the establishments in question responded, he said he was pleasantly surprised.
"By and large, when we came back the next night(s), we found that those businesses were extremely compliant," he said. "It's not the kind of behavior you'd usually expect to see in an atmosphere where people might be slightly inebriated."
After a summer stuck in stage four — a stage that offers few restrictions to individuals but still keeps health protocols for businesses in place — Idaho was unable to clear from COVID-19. A third wave of the virus compelled Little to revert the state back to stage three, which, among other protocols, prohibits dancing in nightclubs and rewinds bars back to table-only service. Nightclubs can still function as bars, so long as they follow Little's health protocols.
Violating the state's health protocols carries the potential for legal fines and, in the cases of bars and other establishments that sell alcohol, the possible risk of losing liquor licenses.
"From my perspective, this is about education," White said. "We're doing what we can to help people comply, through education first and foremost. We're even handing out masks to individuals as we were trying to educate them in the establishments, and they were then putting them on. We're really trying to drive home education through all of this."
Recent Headlines
---