STATE HIGH SCHOOL VOLLEYBALL: Lakeland romps in 4A for first state title; Coeur d'Alene third in 5A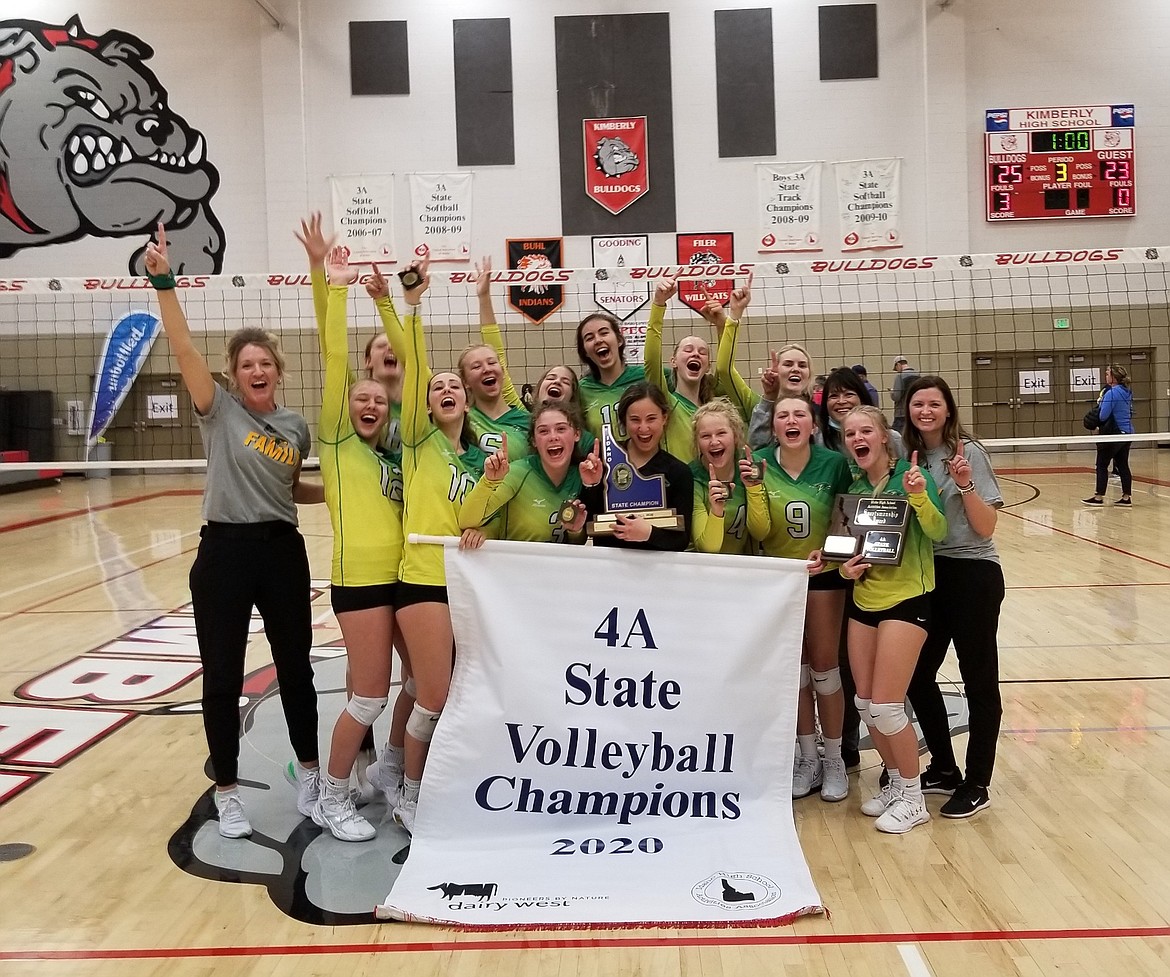 Courtesy photo Lakeland celebrates after winning the state 4A volleyball championship Saturday night at Kimberly High. In the front row from left is junior varsity and assistant coach Jennifer Lang-Weil, Lila Kiefer, Abbey Neff, Samantha Daniels, Olivia Cooper, Olivia Staudinger, Ellie Carlson, Emily Morlan and head coach Kelsie Badger; and back row from left, Bethany Johnson, Addie Kiefer, Addie Raebel, Katy Ryan, Kenna Simon, Jozee Russell and "C" team coach Jackie Henry.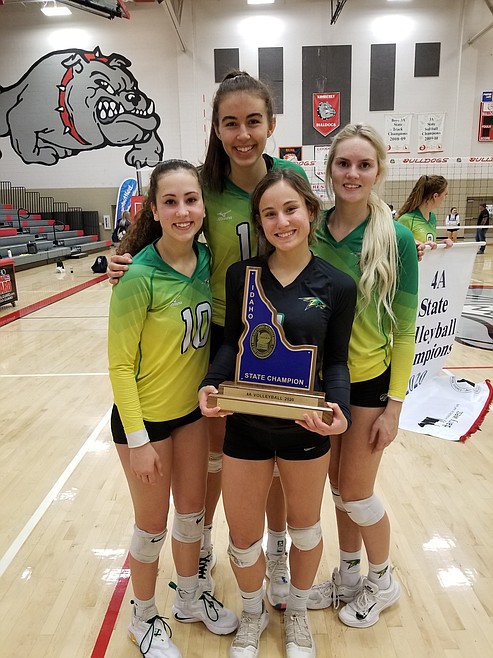 Courtesy photo Lakeland's four seniors pose with the trophy after winning the state 4A volleyball championship Saturday night at Kimberly High. Clockwise from upper left: Katy Ryan, Jozee Russell, Olivia Cooper and Abbey Neff.
Previous
Next
|
November 1, 2020 2:30 AM
4A
Watching her team warming up in the hitting line before its first match at state against Preston on Friday morning, Lakeland volleyball coach Kelsie Badger said she had a feeling come over her — "This is our state championship."
"You just get that feeling that, 'yep, we're going to win it,'" Badger explained Saturday night after the Hawks won their first state volleyball title in school history, beating Middleton 25-18, 26-24, 25-23 in the state 4A championship match at Kimberly High.
"It's surreal, really; all the hard work has finally paid off," said Badger, in her third year as head coach, after two seasons as junior varsity coach at Lakeland, and one with the "C" team before that. "Just an overflowing amount of emotions. Happy, and so much joy for the girls."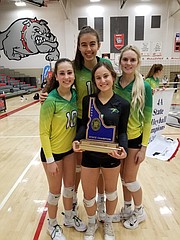 Katy Ryan's 23rd kill of the championship match, a left-handed blast down the line from her customary spot on the right side, sent the Hawks into delirium.
"It was like a flood of emotions for me," said the 6-foot-5 Ryan, a Washington State commit. "It was just a relief; we earned it."
Ryan was one of three returning seniors from last year's Lakeland squad that placed fourth at state in its first trip since 2005.
"The trophies will be in my bed tonight — sportsmanship and state," senior setter Abbey Neff said. "I'll be holding them tight."
Lakeland (13-6) also won the sportsmanship trophy in 4A.
Last week, after the Hawks won the Region 1 title, senior libero Olivia Cooper all but predicted a state title this week.
"I had a lot of people laugh at me for saying that," Cooper said Saturday night. "But I believed it, and it happened."
Lakeland, which rolled past Burley 25-19, 25-19, 25-21 in the semifinals late Saturday morning, did not drop a set in its three matches. Due to COVID-19, and the extra time needed to keep the gyms safe for matches, the tourney was modified from a true double-elimination to single-elimination with a consolation bracket, meaning a team needed three wins for a title instead of four.
"These girls showed up to compete; they showed up to win," Badger said. "All year, we'd win the first two and lighten up and lose the third. That was our goal, to not lighten up."
Neff had 23 assists and 10 digs, Cooper 11 digs and three aces for Lakeland against Middleton. Senior Jozee Russell added seven kills, Ryan had 14 digs and three blocks, sophomore Kenna Simon four blocks.
When the third set got tight, "I told Abbey to give it to Katy every time," Badger said. "Let her finish the game."
"It's really easy to set Katy," Neff said. "She can pretty much destroy everything I can give her."
Against Burley, Ryan had 17 kills and four blocks for the Hawks. Russell and junior Addie Kiefer each had six kills, Neff 24 assists, Cooper 17 digs, junior Bethany Johnson three blocks, sophomore Ellie Carlson 15 digs, junior Samantha Daniels three aces.
Russell transferred to Lakeland last year from Coeur d'Alene High, where she played on the Viking junior varsity as a sophomore, then was called up to the varsity for the postseason. Russell played on the Lakeland JV as a junior.
"She was really lights out," Badger said of Russell. "She made some big plays when we needed them. She had a great tournament."
"I played with this team (in club) my sophomore year, so I knew quite a bit of the girls," said Russell, an outside hitter. "It was really nice coming to this school. I felt like I fit in; the girls were super nice and welcoming."
"I want to give a shout-out to Jozee Russell; she stepped up," Ryan said. "She has improved so much this season."
Prior to this season, Lakeland's best finish at state in volleyball was second in 1988 in the A-2 division to St. Maries, while the Lumberjacks were on their run of 10 straight state titles, and 11 in 12 years.
Middleton (10-1) was bidding for its first state title since 2005, its last year in 3A before moving up to 4A.
Defending champion Bonneville of Idaho Falls, which lost in five sets to Middleton in the semifinals, finished third, beating Burley.
5A
Coeur d'Alene bounced back from a semifinal loss to eventual champion Skyview of Nampa, beating Timberline of Boise in the third-place match at Skyline High in Idaho Falls.
It was Coeur d'Alene's best finish at state since 2014, when the Vikings finished second to Idaho Falls.
"I'm proud of the girls," Coeur d'Alene coach Carly Curtis said. "Skyview's a tough team, they're big, and tough all the way around. The girls kept fighting; we had some long rallies, so they were pretty heartbroken, but they regrouped."
Coeur d'Alene lost to Skyview 25-15, 25-15, 19-25, 25-16, before beating Timberline 22-25, 25-16, 25-13, 25-21 to finish 13-4.
In other years, the Vikings would have had the chance to play their way back through the losers bracket for another shot at Skyview in the finals. But because of COVID-19, with matches 2 ½ hours apart rather than the usual 90 minutes for safety reasons, the Idaho High School Activities Association changed the bracket from double-elimination to single-elimination with a consolation bracket.
"I wish we could have played our way back in, because the word down here was we were the two best teams," Curtis said.
Against Skyview, Sarah Wilkey had 10 kills and 16 digs for Coeur d'Alene. Madi Symons had eight kills, Lauren Phillips 17 assists, Courtney Garwood 12 assists and three aces, Maggie Bloom 24 digs, Kate Phillips five blocks, Angela Goggin four blocks.
"Skyview, their outside (hitter) is 6-3, and their middle (blocker) is 6-4," Curtis said. "They're big, and they're hard to get around. We didn't have an answer for their big outside."
In the third-place match, Coeur d'Alene dropped the first set to Timberline before taking control.
Wilkey, one of nine seniors, had 12 kills, 23 digs and six aces for the Vikings. Symons had 12 kills, Skylar Burke five blocks, Garwood 23 assists, Lauren Phillips 19 assists, Bloom 32 digs, Goggin two aces.
"Our defense was awesome," Curtis said. "Maggie Bloom (libero) had a phenomenal tournament. Wilkey had a great tournament. Our setters did an awesome job running our offense. Our outsides played well, and both our middles blocked well."
Timberline finished 8-7.
While she would have liked to see her team get a chance to play its way back into the title round, Curtis also looked at the big picture.
"I'm just happy that we actually got to have a season, so I'm not going to complain," she said.
In the championship match, Skyview of Nampa won its first 5A title since moving up from 4A in 2018, beating Boise 25-19, 25-21, 24-26, 19-25, 15-6. Skyview won back-to-back 4A titles in 2016 and '17.
It was the best finish ever at state for Boise. The Brave placed third three times, most recently in 2010 — the last time Boise won a match at state.
Leyah de Souza, a senior outside/right side hitter for Skyview, played at Lakeland as a freshman.
3A
Kellogg, the District 1 champions, lost to Filer 25-15, 25-17, 23-25, 23-25, 16-14 in the consolation championship match Saturday morning at Twin Falls High.
Kellogg, trying to win its first trophy in its sixth trip to state in school history, finished 14-4.
Sugar-Salem won its second straight state title, and fourth in five years, beating Kimberly 25-9, 25-13, 25-14.
2A
West Side won its first state title since 2011, beating Bear Lake 22-25, 25-15, 20-25, 25-17, 15-12.
1A Division I
Wallace, the District 1 champs, lost to Lighthouse Christian of Twin Falls 25-14, 25-9, 25-12 in the consolation championship match Saturday morning at Jerome High.
Wallace finished 12-6.
Grace won its first state title, beating Genesee 25-16, 26-24, 25-18. Genesee was trying for its sixth state title in school history.
1A Division II
Tri-Valley beat Castleford 25-27, 27-25, 25-21, 25-17 in the championship match.
---