A tale of two mandates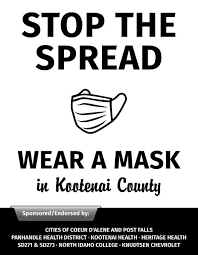 by
CRAIG NORTHRUP
Staff Writer
|
November 1, 2020 2:30 AM
In the five days since the Coeur d'Alene city council passed its mask resolution, the Coeur d'Alene Press has received multiple messages and questions about the law, comparing it to the now-defunct mask mandate passed in July by the Pahandle Health District.

"I don't know what law I'm supposed to be following," one reader said.
"Do I have to wear a mask outside?" another asked.
"It's not like they're going to enforce it," a third said.
We decided to deliniate the similarities — and differences — between the two for our readers, starting with the roots of the laws themselves.
The "What"
The Panhandle Health mandate was implemented by the Panhandle Health District's board of health on July 23 and went into effect immediately. It required the wearing of a face mask that completely cover the nose and mouth in all public spaces, with certain exceptions. (The mandate also required six feet of social distancing at all times in public places, though that item got far less fanfare than the mask.) The mandate was rescinded by the board in its entirety on Oct. 23.
The mask ordinance, on the other hand, was passed by the Coeur d'Alene city council on Monday, Oct. 26, and went into effect the next day. It requires people to wear masks indoors or outdoors, again with certain exceptions. That ordinance remains in effect.
The "Where"
The Panhandle Health mask mandate, while it was in effect, covered all of Kootenai County. While the health district oversees the five northern-most counties, at the time, Kootenai was the county experiencing the highest amount of community spread in mid-to-late July, when the mandate was approved.
Coeur d'Alene's mask mandate, on the other hand, covers people within the city limits of Coeur d'Alene, as council's jurisdiction doesn't encompass any further than the city. It's worth noting that other cities — including neighboring Post Falls and Hayden — are considering their own mask ordinances, though nothing has been voted on at this time.
The "Yeah, But What About"
Both the Coeur d'Alene resolution and the since-rescinded Panhandle mandate share nearly identical exceptions. The Panhandle mandate exempted household and family members, children under the age of two, the deaf and hard-of-hearing, law enforcement, people eating or drinking at restaurants, and the incarcerated, as well as a few other exceptions.
The Coeur d'Alene ordinance exempts children under the age of 10, people who cannot wear a face mask for medical reasons, first responders, people eating or drinking at restaurants, and anywhere — inside or outside — where social distancing can be practiced.
The "Who"
The Panhandle Health District's executive team, contrary to the belief of some, neither installed nor rescinded their mask mandate. Those decisions came from the public health district's board, which consists of Boundary County Commissioner Walt Kirby, Shoshone County Commissioner Mike Fitzgerald, Benewah County longtime public servant Marlow Thompson, Bonner County at-large representative Allen Banks, Bonner County's Glen Bailey, Kootenai County nurse Jai Nelson and Kootenai Health M.D Richard McLandress.
Nelson, McLandress, Thompson and Kirby voted for the mask mandate in July. Kirby, Banks, Bailey and Fitzgerald all voted to rescind the mask mandate in October.
After both decisions, the Panhandle Health District's employees at the Hayden location took the brunt of complaints, from mask-burning barbecues in July and August to angry calls in October after the mandate was rescinded, even though district employees have virtually no say whatsoever in the board's decisions.
Coeur d'Alene's resolution was passed Monday by its city council in a 4-2 vote. Council members Kiki Miller, Amy Evans, Dan English and Christie Wood voted to approve the measure, while council members Dan Gookin and Woody McEvers voted against it. While many have voiced support in favor of the four 'yes' votes, some are now organizing a recall effort.
The "Why"
While public health was the driving force behind the decisions to implement mask mandates, these two laws came about for two very different reasons.
Panhandle Health District cited what is now colloquially referred to as the "second wave" of COVID-19, a summer surge brought on by pristine weather and Gov. Brad Little's staged re-opening of the Idaho economy in May.
The initial wave of coronavirus topped out at 13 new cases in Kootenai County on March 28; the county eclipsed that number all but two days between June 23 and July 24, peaking at 83 cases on July 16. The board voted to rescind the order Oct. 23 among a swell of complaints to its board members. The board's decision, ironically, came the same day Panhandle Health District's staff moved Kootenai County into its substantial "Red" risk category.
The Coeur d'Alene mask resolution, on the other hand, was voted into existence not only for public health reasons, but in direct response to Panhandle Health's rescinding. It was approved Oct. 26, three days after Panhandle Health vacated their mandate and five days after Kootenai Health, the local hospital, warned it was nearing capacity as cold-and-flu season was fast-approaching.
While those on the city council cited the dangers of COVID-19, they also cited the health board's decision.
"We shouldn't have been put into this position," Mayor Steve Widmyer said at the Oct. 23 special council meeting. "It could've been handled and should've been handled elsewhere."
"I 100 percent agree," Gookin said.
The "What If I Don't"
The difference in enforcement between the defunct county-wide mandate and the city's current mandate couldn't contrast any further.
No Kootenai County or Idaho law exists specifically spelling out that a person has to wear a mask. However, Idaho Code does empower a public health district to pass mandates over its citizens through its boards. Failure to comply with a board mandate is itself a misdemeanor, punishable by fines up to $1,000.
But in practicality, that language was essentially where the health district's mandate ended. Before the Panhandle Health board's July decision, Kootenai County Sheriff Ben Wolfinger testified that any county-wide mask mandate would be unenforceable, and that his office would focus on education. No fine was ever written, and no mandate was ever enforced.
Coeur d'Alene's mask resolution is different. Instead of a misdemeanor offense that would stick on a criminal record, the city is treating the matter as a civil infraction — something akin to a traffic ticket — with a $100 fine. During council deliberations, Police Chief Lee White said he required clear direction on enforcement, saying that his department would enforce the law if instructed to, marking a dramatic turn from Wolfinger's county approach.
"You can expect some citations to be written," White told the council. "Look, we're going to be the bad guys in this, the police department. They're going to be mad at us over this, and we're fine with that. I just want to make sure everybody understands that. When it's in the (news)paper we wrote X amount of citations last weekend ... because people were not complying with us after a warning, that is a very, very likely scenario in this go-around."
Council gave White his marching orders: Focus on education, give warnings, and write infractions to repeat and egregious violators. While no citations have been written as of Friday afternoon, approximately 20 warnings have been issued.
Coeur d'Alene's mask resolution remains in effect until late January, though that timetable could be reduced or extended, based on COVID's impact on the community.
---