THE FRONT ROW with MARK NELKE: Oldies still goodies during these trying times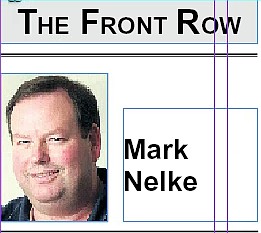 Other networks seem to have gotten the hint.
Since there are no (or very little) live sports for us to watch these days, we don't mind watching games on TV that we've already seen before, and/or games we already know the outcome of.
("Why would you want to watch a game when you already know who won?" some people used to ask me.
I crossed them off my list.)
Anyway, last weekend we got to see a few old NCAA basketball tournament games.
That was nice, but we needed more.
Now, the other sports-specific networks are getting into the act.
NBA-TV already shows a lot of classic games. But for some reason, watching (again) Game 7 of the 1988 NBA Finals the other day was particularly riveting.
"Are the Lakers going to be able to hang on and beat the "Bad Boys" and repeat as champions?"
And ...
"So that's what a fast break used to look like."
Fortunately, the Lakers did hang on, thanks to 36 points from James Worthy.
YOU CAN also find old baseball games, old NFL and college games, old tennis matches and golf tournaments, old boxing matches and even old auto races.
Granted, some of these oldies were already being shown, but there's much more of an appetite for them now.
So in the spirit of re-airs of games being quite popular these days, we wondered, what else would you like to see?
So we asked for your suggestions.
Here are some of them:
• Olympic gold-medal swims from the likes of Michael Phelps and Katie Ledecky.
• And while we're at it, a medley of men's and women's finals in the 100-meter dashes.
• Heck, don't stop there. From the Atlanta Games, Michael Johnson's world-record 200-meter dash, and Dan O'Brien's gold in the decathlon.
• And maybe trot out a few Dream Team games from 1992.
• NCAA games featuring Michael Jordan. They already showed the 1982 NCAA finals where he hit the game-winning shot against Georgetown as a freshman, but perhaps show some others.
• I know the NFL Network has shown several of the Super Bowls over the last 20 years. But don't stop there. Go ahead and trot out the Super Bowls that were played following the 1981, '84, '88, '89 and '94 seasons while you're at it. No particular reason why. :)
• More NCAA games featuring Steph (or Stephen, as they called him them) Curry, when he was at Davidson.
("He went to Davidson?" someone asked me incredulously the other day, as in, how could such a future talent play college ball at a school like ... well, Davidson).
They did show his team's first-round game from 2008, when the Zags allowed Curry to score 30 of his 40 points in the second half and single-handedly beat Gonzaga. And they also showed his encore from two days later, when he led a second-half charge that beat Georgetown.
(Apparently one of the qualifications for a "classic" game is beating Georgetown. We won't even bring up the 1985 tragedy).
• The final two laps of Indy 500 races.
SO WHAT if there were video recordings of "classic" high school games in North Idaho over that last few decades?
What would you like to see?
A few that come quickly to mind:
• Volleyball, St. Maries at Sandpoint, 1994 season opener: Sandpoint ended St. Maries' 145-match winning streak in a five-set thriller/marathon played under the old sideout scoring rules. Actually, there were several Sandpoint-St. Maries matches in the 1980s and '90s that would qualify as "classics," and I know there was at least one Coeur d'Alene-St. Maries match during that era that would fit the description.
• Football, Coeur d'Alene vs. Rigby, 2019 state championship: Yes, I know it didn't end the way Viking fans had hoped, but a 57-56 double-overtime game for the state title still qualifies, even though the Trojans from eastern Idaho won.
• Boys basketball, Sandpoint at Lake City, A-1 Region 1 championship game: Actually, this one could be a two-part series, as Lake City had to beat Sandpoint the night before to force an if-necessary title game. Both games, played at Lake City, were sold out, with nearly 3,000 fans each night jammed into the Timberwolves' gym.
And the finish — a chance for Sandpoint to win, but a Bulldog turnover, followed by a half-court heave by Lake City with a few seconds still on the clock, a try that bounded off the backboard and into the hands of a Lake City player standing under the basket, with just enough time for Jeff Schuh to lay it in off the glass at the buzzer.
Bedlam.
• Legion baseball, Lewis-Clark at Coeur d'Alene, 2006: Remember when they used to play baseball at McEuen Field? It became somewhat of a launching pad, especially with the improvements in aluminum bats. Lewis-Clark led by eight runs heading into the bottom of the seventh inning before Coeur d'Alene rallied with 10 runs, capped by a game-winning grand slam by Mike Estrada to win 27-25.
And there's way more classics out there, I'm sure.
Mark Nelke is sports editor of The Press. He can be reached at 664-8176, Ext. 2019, or via email at mnelke@cdapress.com. Follow him on Twitter@CdAPressSports.
---