Organizations preparing for surge of needs amid pandemic closures, layoffs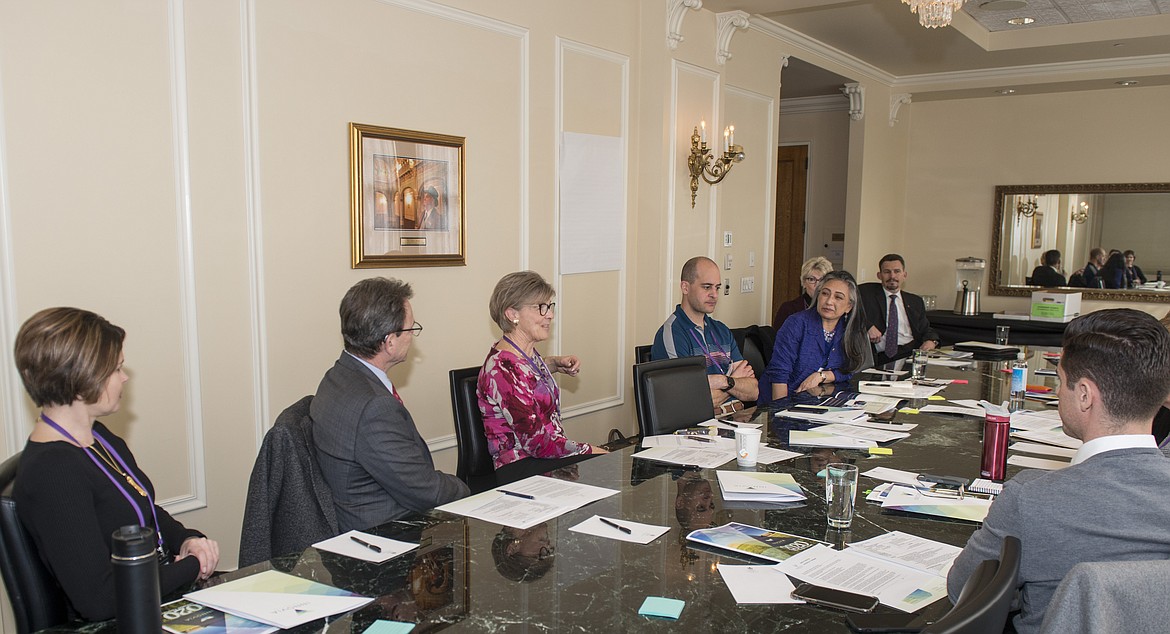 The Innovia Foundation has launched the COVID-19 Community Response and Recovery Fund - North Idaho to help those most impacted by the economic effects of the virus in Idaho's 10 northern counties. Members met during the Innovia Foundation's Leadership Summit in early March. From left: Jody Azevedo, Rick MacLennan, Janice Baldwin, Troy Braga, Gynii Gilliam, Sandy Patano and Charles Buck. Derrell Hartwick is on the right facing away from the camera. (Courtesy photo)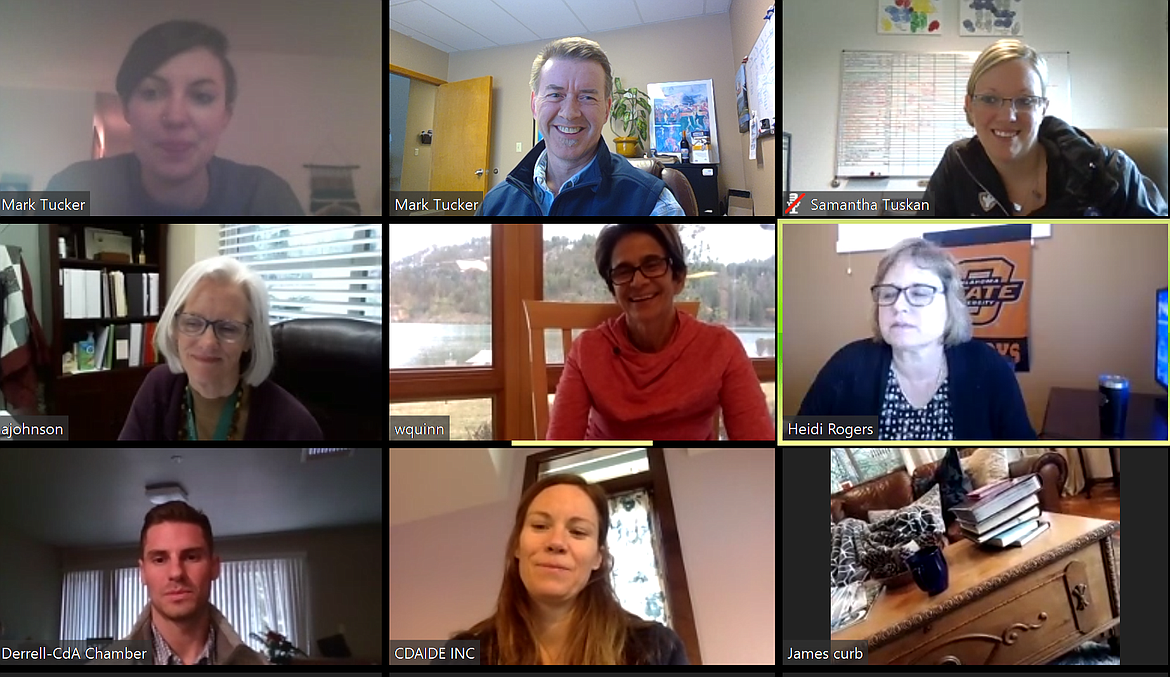 Liaisons to the Coeur d'Alene COVID-19 Relief Fund meet in a video chat Thursday afternoon to discuss plans for supporting those hit hardest by economic fallout of coronavirus. Top row, from left: Keri Stark, Mark Tucker, Samantha Tuskan. Middle row, from left: Ann Johnson, Wanda Quinn, Heidi Rogers. Bottom row, from left: Derrell Hartwick and Rebecca Smith. Not visible, bottom right: James Curb.
Courtesy photo
Previous
Next
by
DEVIN WEEKS
Staff Writer
|
March 29, 2020 1:30 AM
A wave of displacement and uncertainty is crashing over America as unemployment spikes in correlation with the coronavirus pandemic.
While society braces for impact, leaders in North Idaho are gathering funding and resources to cushion the blow for those hardest hit.
"Since the government just announced to stay home (on Wednesday), before that people were really uncertain of what this was going to look like and what the impact would be," said United Way of North Idaho executive director Mark Tucker. "I think now people realize it's going to be big."
Last week, UWNI announced that it had activated the Coeur d'Alene COVID-19 Relief Fund, an organization of eight entities to address the impending surge of needs: United Way, the City of Coeur d'Alene, Coeur d'Alene Chamber of Commerce, Panhandle Health District, CDAIDE, St. Vincent de Paul, Coeur d'Alene School District 271 and Orchard Ridge Senior Living.
The CDA COVID Relief Fund will coordinate with agency representatives serving the greater Coeur d'Alene area. Representatives are working with agencies serving the following: Hospitality industry grant funding will be managed through CDAIDE, a nonprofit that serves food service and hospitality workers; vulnerable senior grant funding will be managed by Orchard Ridge Senior Living; pre-K children grant funding will be managed by PHD Child Care Resource Center; and K-12 youth grant funding will be managed by the Coeur d'Alene School District.
The fund has just over $3,400. Assistance will be distributed through these agencies, not directly to individuals.
"There's really a challenge with funding like this where individuals or companies would like to just give directly to an agency instead of a fund for the entire community," Tucker said. "Even though it seems like an indirect method, it is really the most effective."
A major focus is ensuring resources and funding are not duplicated. Administrative fees have been waived so all funds go to fill these needs.
"There is good communication between these groups to target these relief funds," said Charity Reimagined founder Maggie Lyons.
Charity Reimagined, a nonprofit that works with other nonprofits and ministries to maximize impact of resources and assistance, is working with local COVID relief groups to streamline the process.
The Innovia Foundation, which works to improve access to education and promote health and overall well-being, has launched the COVID-19 North Idaho Community Response Fund. Leading the charge on this are chief strategy officer Aaron McMurray and Opening Books, Opening Doors program manager Amy Voeller.
This fund will also operate without administrative fees. It's anchored by $50,000 from Innovia Foundation, $30,000 from Equinox Foundation and $50,000 from Avista Foundation (allocated between the eastern Washington and North Idaho funds).
"The purpose is to go to populations disproportionately impacted by the virus and the economic fallout — elderly, homeless, residents without health insurance or sick days, health care, hospitality and gig economy workers, low wage employees," to name a few, Voeller said.
With an even broader reach, the Idaho Community Foundation has partnered with United Ways of Idaho and the Idaho Nonprofit Center to create the COVID-19 Response and Recovery Fund for Idaho, a charitable fund that will provide philanthropic support to organizations that provide support and services to low-income, vulnerable people and families.
These funds will also be distributed to nonprofits through a grant process.
Avista and Kootenai Electric Cooperative have also been proactive in helping members. On March 19, Avista announced it stopped utility disconnects, will honor its nonprofit and sponsorship commitments, and has committed through the Avista Foundation to the COVID-19 Eastern Washington Community Response Fund hosted by Innovia Foundation. Those experiencing hardships can call Avista at 800-227-9187.
KEC is encouraging its members affected by COVID-19 or any other hardship and unable to pay their bills to call 208-765-1200. It has also suspended all fees during this time.
"We understand that many of our members will face financial challenges as the coronavirus impacts our area and economy," said Erika Neff, KEC communications coordinator.
Resource and Service Navigation through the Idaho Department of Health and Welfare is another resource for individuals, children and families. Call 2-1-1 Monday through Friday between 7 a.m. and 5 p.m. PDT and ask to be referred to Navigation Services.
North Idaho Connections (www.northidahoconnections.org) is another way people can match needs to resources. Just type in a zip code and see what's available in that area.
To donate to the Coeur d'Alene COVID-19 Relief Fund, visit bit.ly/2Up5Qye or text CDACOVID to 40403.
Visit www.innovia.org/covid19 and click on "COVID-19 Community Response and Recovery Fund — North Idaho" to support efforts in the 10 northern counties.
Go to www.idahocf.org/covid-19 for information and to donate to the Idaho Community Foundation.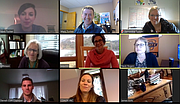 ---