Governor orders 1% cuts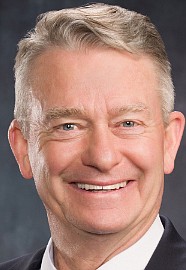 by
CRAIG NORTHRUP
Staff Writer
|
March 28, 2020 1:09 AM
Move frees up $40M to fight coronavirus
Gov. Brad Little said Friday he is ordering 1 percent rollbacks on most state agency budgets.
The cost-cutting move will save roughly $40 million, funds Little said will boost Idaho's coronavirus response.
"I want to assure Idahoans that although the state budget will be impacted, we have a plan to meet our constitutional requirement for a balanced state budget without having to raise taxes," the governor said during a press conference.
Only departments that deal directly with coronavirus relief are exempt from the cutbacks.
The move comes on the heels of a dire weekly update from the state's Department of Labor, which reported a 1,200 percent spike in unemployment claims. While the jump was expected, it nonetheless spurred a quick response from the governor's office.
Aside from the proclamation, Little also ordered an additional $39 million from emergency funds to aid Idahoans.
"These actions help people get the financial help they need as quickly as possible and provide more flexibility for businesses impacted by the sudden change in our economy," he said.
Little's order releases funds for the quick purchase of personal protective equipment, rapid testing kits, ventilators and other needs.
On top of the additional funding, Idaho is expected to receive $1.25 billion in federal aid to combat the coronavirus's physical and economic toll, which has infected at least 585,000 worldwide, killing at least 26,827. Though the virus began in Wuhan, China, in December, the United States now holds more infected residents than any other country, with at least 90,700. In the U.S., 1,347 have died, including three Idahoans.
Little continued to address the unemployment spike by waiving the one-week waiting period for those eligible and filing claims, which will include employers who temporarily lay off employees to provide a reasonable assurance the employee will return to work once the pandemic has passed.
The proclamation also clarifies who is eligible to return to work if they're isolated or sickened as a result of the coronavirus. Furthermore, it doubles the appeal time for parties to appeal claim decisions, extending those deadlines from 14 days to 28.
"This is challenging to all of us," Little said, "but we will get through this."
---