Dementia patients cut off in midst of COVID-19 crisis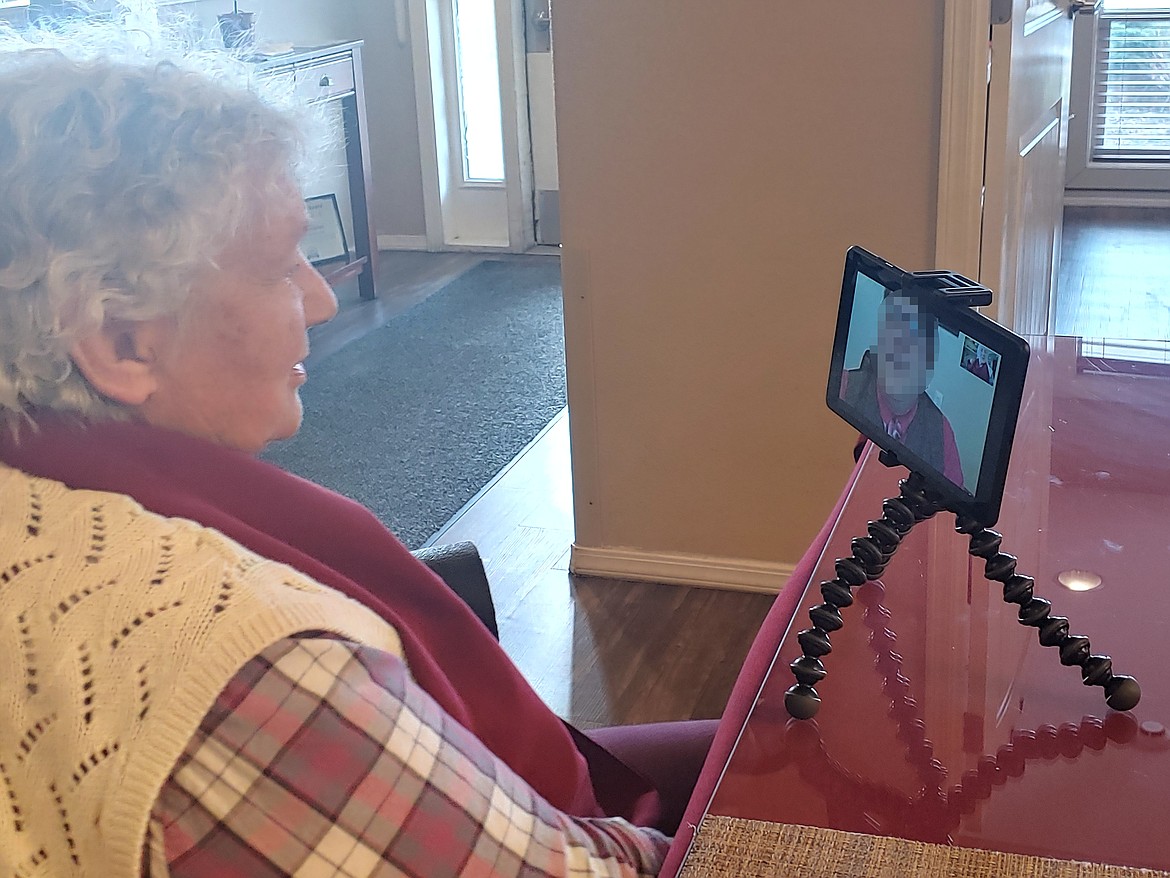 A resident at Guardian Angel Homes in Post Falls visits with a family member through virtual communication.
Photo courtesy of Guardian Angel Homes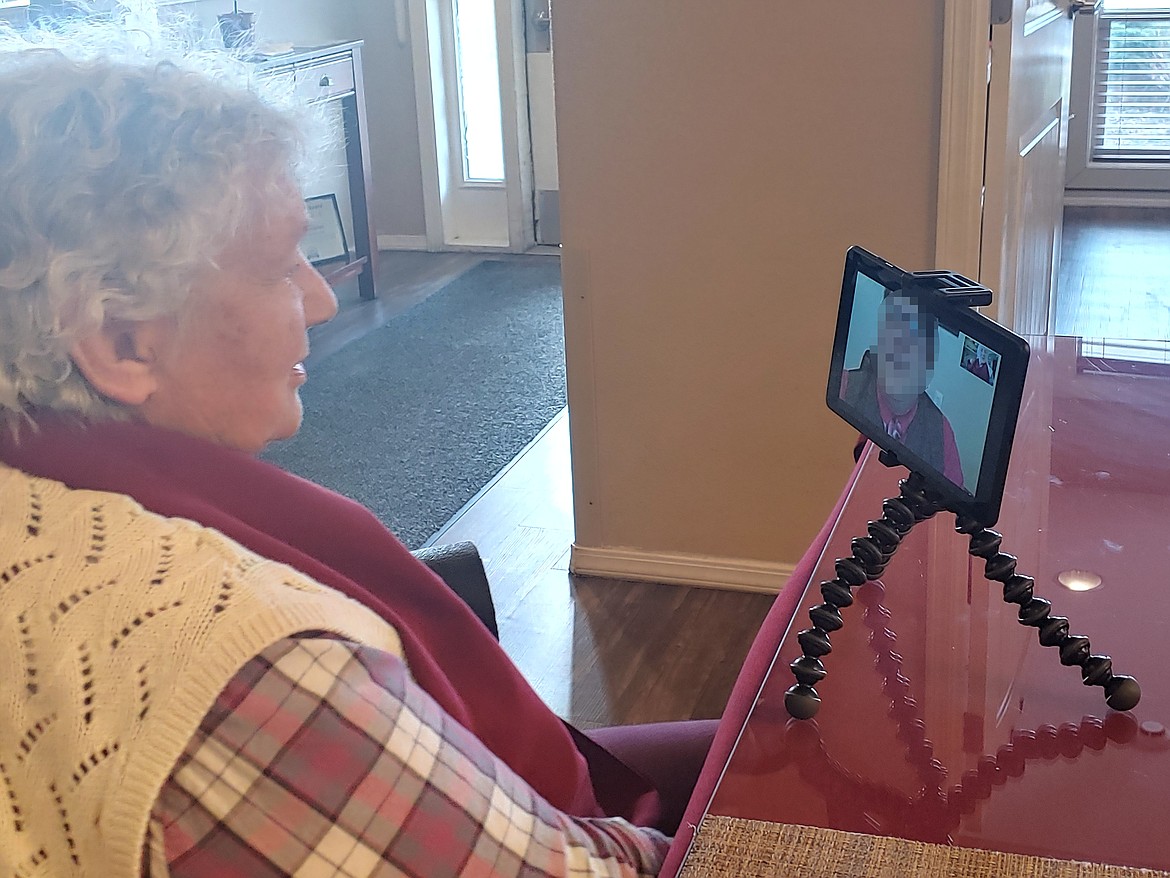 A resident at Guardian Angel Homes in Post Falls visits with a family member through virtual communication.
Photo courtesy of Guardian Angel Homes
Previous
Next
by
JENNIFER PASSARO
Staff Writer
|
March 27, 2020 1:13 AM
For most dementia patients, physical and emotive communication becomes increasingly important as the disease progresses.
"Dementia patients pick up on the emotion of the room, whether conveyed by a facial expression or a touch on the arm," Dr. Susan Melchiore said. "They pick up on the mood of the details, but not the facts."
Melchiore operates a nonprofit, faith-based medical house-call and senior advocacy program called On Site for Seniors in Coeur d'Alene. She has also worked as a geriatric doctor for North Idaho Memory Clinic since its inception in the 1990s.
She said physical touch reassures dementia patients when what's happening around them becomes incomprehensible. In the new realm of COVID-19 social distancing, requirements for the physical well-being of many dementia patients can be emotionally traumatic.
"We as human beings need to be touched, we need to be held," said Kelly Rey, social services director for Hospice of North Idaho.
Rey's employees have been turned away from several facilities in Kootenai County as directors have deemed chaplaincy and social work services non-essential during the pandemic.
Rey said nurses within those facilities have had to add those services to their workload.
"Because of this virus, human contact is being taken away from these people," Rey said. "Someone with dementia won't be able to feel the touch of their loved one."
Some facilities have taken up telehealth services and virtual communication platforms to keep residents and their doctors and families in touch. Paying attention to or understanding how a screen operates can be difficult for someone with dementia.
"When we are doing telemedicine, some of my patients look at me kind of funny, like I know you, but why are you on TV?" Melchiore said.
Tyson Frantv, one of the partners and managers at Guardian Angel Homes in Post Falls, said he believes the communication platforms provide more comfort for family members than they do for residents. He said being able to see their loved one on the screen eases their anxiety.
Guardian Angel Homes has increased staffing to make up for the loss of visitation and volunteers in its assisted living facilities. Additional safety protocols from Panhandle Health District require the facility to ask more of its staff.
"They have risen to the occasion," Frantv said.
Guardian Angel Homes recently launched an online portal that allows registered family members to stay updated on their loved ones.
"We do have a restriction on all visitation with the exception for compassionate care visitation for end of life," Frantv said.
Radiant Senior Living, the Renaissance at Coeur d'Alene has restricted visitation to medical and state agency personnel only. Anyone who enters the building is screened.
Orchard Ridge, in Coeur d'Alene, suspended all visitation, including family, volunteers, and all unnecessary medical personnel on March 12. All staff are screened upon building entry.
Several adult day cares remain open in Kootenai County, including a program run by Melchiore. They have had to cut back drastically, she said, providing relief only for caregivers still leaving during the day to go to work.
Melchiore expressed concern for family members and caregivers unable to seek assistance in caring for a loved one with dementia during the pandemic.
As caregivers stress or facilities attempt to isolate residents in their rooms for their safety, dementia patients often feel as though they've done something wrong.
"They feel guilty, but they don't know why," Melchiore said.
On Site For Seniors has volunteers calling all homebound patients and caregivers, offering support, prayer, and emotional support via Skype.
Within the United States, approximately 5.7 million people are living with dementia, according to the Alzheimer's Association.
While there are no confirmed cases of COVID-19 in nursing homes in Idaho, 140 nursing homes in the United States have at least one resident who has tested positive for coronavirus. Federal officials will not release the locations of those facilities.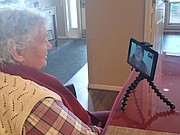 ---