Parson, a former assistant, now head Card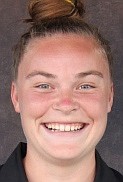 by
Jason Elliott
March 26, 2020 1:12 AM
Former midfielder named interim coach, replacing longtime coach Hogan
Kellsi Parson enjoyed her time at North Idaho College as a player on both the school's soccer and softball teams.
Now, she'll get the opportunity to pass that on to players of her own.
Parson, who played at NIC in 2012 and 2013, was named the interim women's soccer coach at NIC. She officially took over as coach on March 17.
Before returning to NIC, Parson was an assistant coach at Lewiston High in 2014 and 2015. She has been the assistant coach at NIC the past three years.
"I'm just looking forward to continuing my time here," said Parson, a 2012 Lewiston High graduate. "I loved it as a player, as an assistant and hope to continue that as a head coach."
Parson replaces Dan Hogan, who went 171-86-46 as women's coach in 17 seasons, including winning the 2003 Northwest Athletic Conference championship.
"I'm hoping to come in and do as good of a job as he did," Parson said. "I'm going to try to keep it at as high of a level as he had it."
Hogan was also 35-12-12 in three seasons as men's coach from 2003-05.
NIC finished 8-6-5 and missed out on the conference playoffs in 2019.
"The conference is tough," Parson said. "The teams in the East are also teams that could compete in the NJCAA. It's going to be a challenge to get out of our conference again this year."
Parson was a four-year starter at Lewiston and a four-time All-5A Inland Empire League selection.
NIC has 10 freshmen on its roster.
"It takes a committee to win, and a committee around me to do the job," Parson said. "I can't just rely on myself to get it done. It's going to take everyone."
---