Locals take stimulus promise to the bank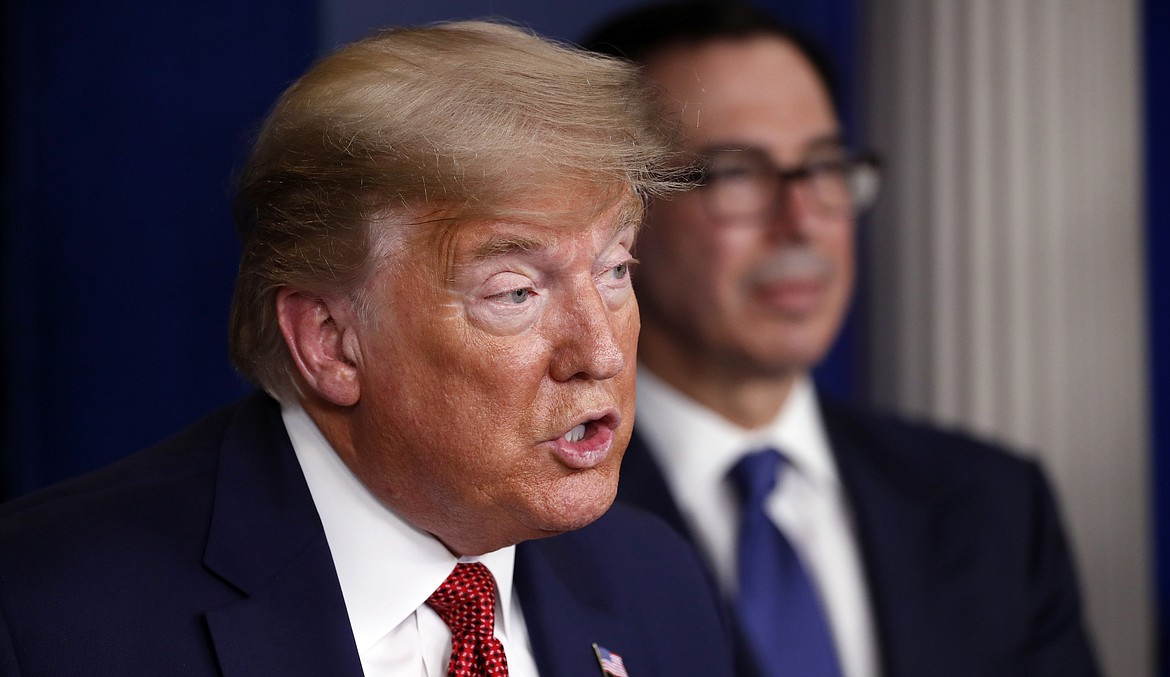 President Donald Trump speaks about the coronavirus in the James Brady Briefing Room, Wednesday in Washington, as Treasury Secretary Steven Mnuchin listens.
AP Photo/Alex Brandon
by
CRAIG NORTHRUP
Staff Writer
|
March 26, 2020 1:15 AM
With Congress greenlighting a new stimulus package to jumpstart the economy through the coronavirus crisis, the Coeur d'Alene Press asked residents in Kootenai County through social media and in-person interviews — while practicing a safe 6-foot social distancing barrier — how they will best use their newfound money, once it's approved.
With some income limits, individual adults will receive $1,200, while married couples will see a check for $2,400. A household with kids will see a $500 check for each child. Once signed into law, the measure will also extend unemployment benefits by 13 weeks, as well as provide loans for businesses big and small.
While the aid package is earmarked to, at least in part, help Americans pay their bills, some North Idahoans said the money won't likely go where it was intended.
"I'll probably keep it in my bank until I need it," said Taylor Gilleland of Coeur d'Alene. "Probably [use it] for rent since my fiancé isn't allowed to work during all this."
Gilleland's fiancé works in construction but was sent home after the coronavirus pandemic ballooned domestically. He joins millions of Americans with bills to pay and no reliable income, a number that will likely spike in Idaho after Gov. Brad Little issued a 21-day stay-home order Wednesday for most Idahoans.
Gilleland wasn't alone in her desire to save the money.
"I'm going to save it until I need it," former Rathdrum resident Mandy Sarner said.
"I'm going to hang onto it as long as I can," retiree Bette Blair of Hayden said. "I'm on a fixed income, but I'm paying what I need right now. It might come in handy later on."
"Later on" is a crucial factor toward the stimulus proposal's future. The $2 trillion bill passed the U.S. House, but a Senate vote has not yet been set. President Trump said he would sign the measure immediately after it clears Congress, but as of press time, the stimulus is still hypothetical. Even so, experts believe if the bill became law today, Americans might not see their checks until May — or later.
Of the 18 respondents, 12 said they would save the money. Only one said he was looking at paying rent. One said she wasn't convinced she would even see the money. The uncertainty the pandemic has brought to the country hasn't fazed the thriftier among us in Kootenai County.
"[I'll] put in it the bank and see how things go," Jason Collins of Rathdrum quipped. "If things go bad, food. If things go good, landscaping. If things go really bad, ammunition."
---