ZAGS TRACKER with STEVE CAMERON: Beware the Zags in 2020-21 — no matter who stays, comes or goes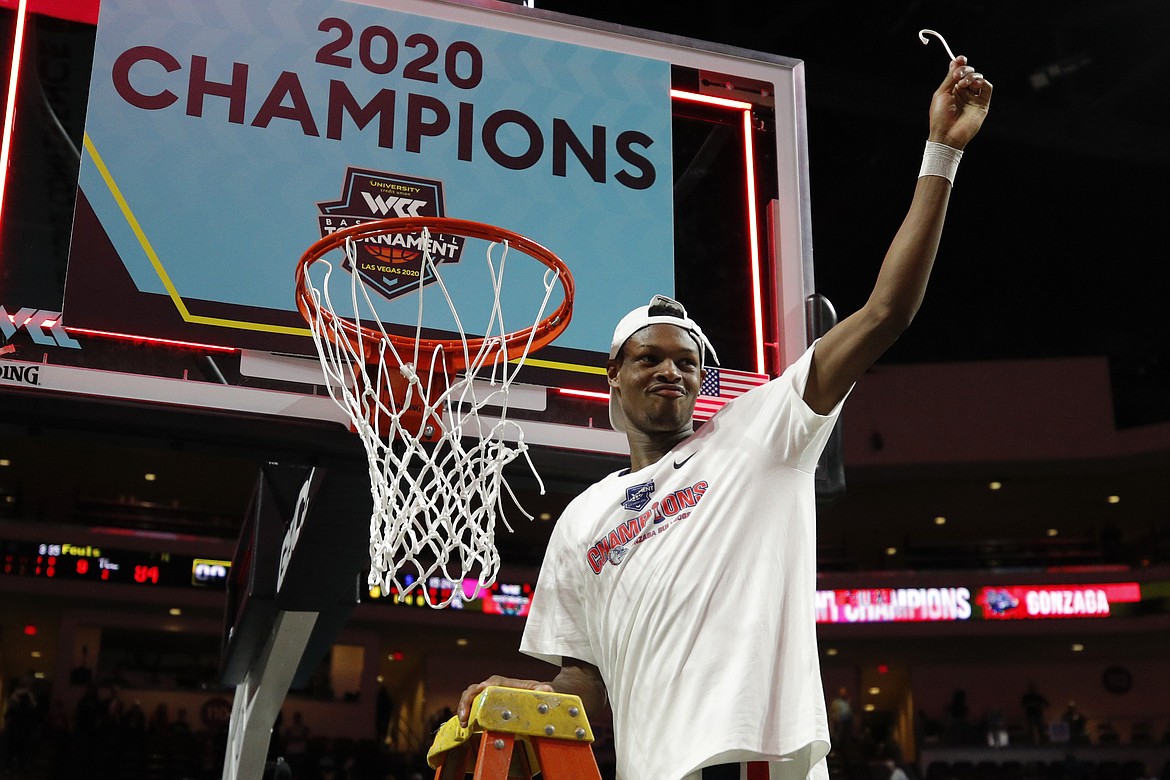 JOHN LOCHER/Associated Press Joel Ayayi (11) made big strides in his sophomore season, helping the Zags win the West Coast Conference regular season and tournament titles.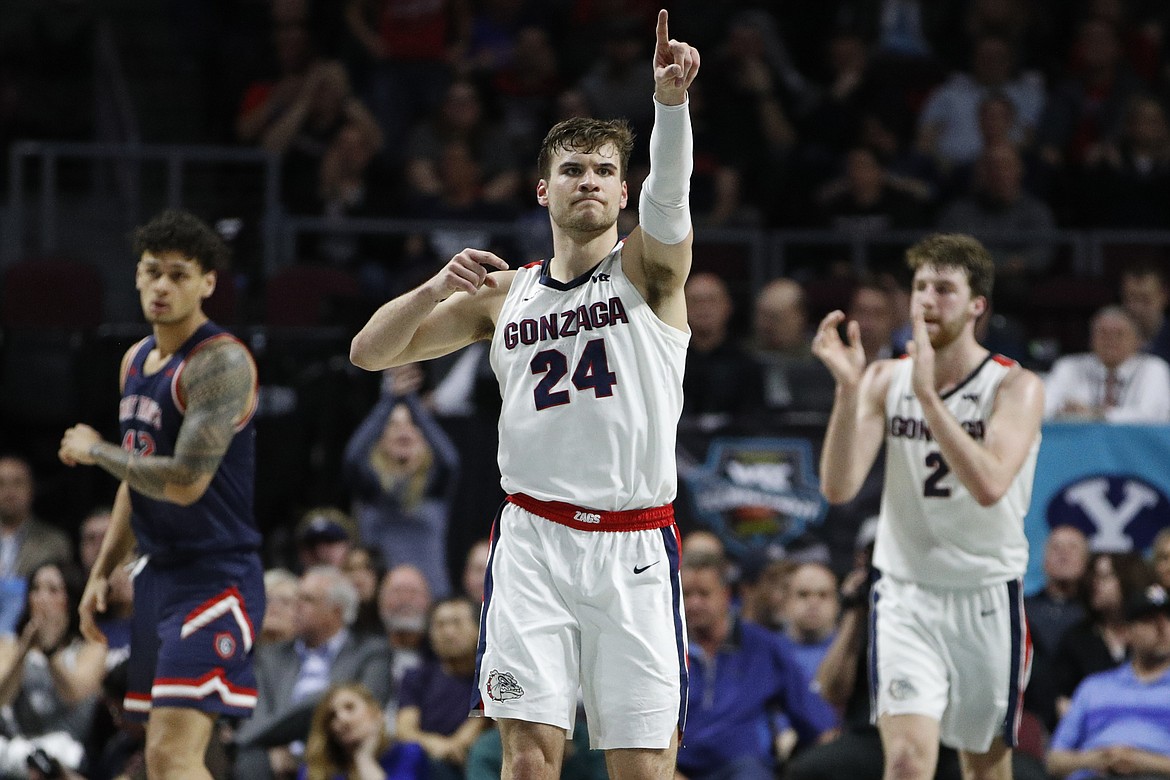 JOHN LOCHER/Associated Press Gonzaga junior Corey Kispert (24) also has an NBA decision to make.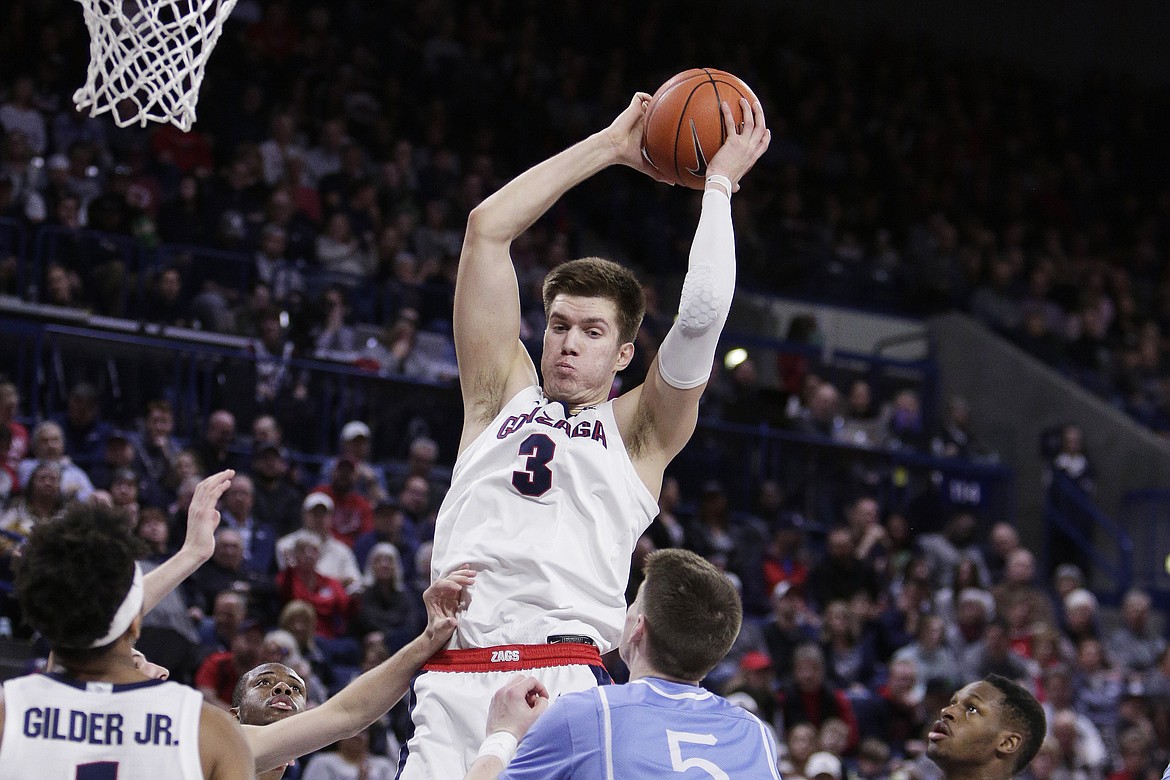 YOUNG KWAK/Associated Press Filip Petrusev went through the NBA evaluation process after last year, his freshman season. If he opts for the NBA draft this season, he's projected as a late second-rounder.
Previous
Next
Let's go way out on a limb and say the 2020-21 Zags will be good.
Really good.
In way-too-early betting news, one Las Vegas bookmaker installed Gonzaga as the favorite to win next year's national championship.
The odds were 9-to-1, if you're interested.
Another spot listed the Zags as co-favorites with Virginia.
ESPN (which has no money at stake) dropped the Zags in at No. 3, behind Villanova and Creighton.
Here's the thing about the Zags, though…
Nobody, not even Mark Few, has any definite idea which current players might still be around — or for that matter, who exactly will be joining the program.
Let's start with how it looks on paper.
Gonzaga returns three lock starters: Corey Kispert, Joel Ayayi and WCC Player of the Year Filip Petrusev.
Center/forward Drew Timme is almost certain to be a star, so count him in that top group.
Next, we add the now-healthy Anton Watson, who actually was a starter for the first five games this year, until his shoulder required surgery — and massive Oumar Ballo, the 6-11, 265-pound man-child from Mali who sat out this season as a redshirt.
LET'S NOT forget a couple of this year's "apprentices," swingman Martynas Arlauskas and Russian center Pavel Zakharov.
For what it's worth, bench players tend to improve dramatically after some time at Gonzaga, as both Petrusev and Ayayi proved.
Still on paper now, there are two high school signees and one commit.
Julian Strawther, a 6-7 wing who was more advanced than Ayayi at the FIBA U-19 World Cup in the summer of 2019 (and the tourney's leading scorer), is a cinch to see playing time.
Ditto for Dominick Harris, a dynamic shooting guard from southern California.
That brings us to Jalen Suggs, a 6-3 point guard from Minnesota who will play at Gonzaga — if he plays college ball at all.
Suggs is still considering a year of pro ball in Australia, but he's very tight with both Harris and Strawther, and he's made no secret that it would great to play for the Zags.
So…
That would be 11 of the allowable 13 scholarships if all the current Zags stick around and Suggs turns up on campus.
There are rumors that Erik Stevenson, a productive 6-3 guard transferring out of Wichita State, has Gonzaga on his radar.
Stevenson, who is from Lacey, Wash. (on the coast south of Tacoma), would have two years of eligibility and perhaps could be cleared to play immediately.
One sticking point could be Stevenson's reason for leaving Wichita. It involved serious disagreements with Coach Gregg Marshall — and Gonzaga has almost no history of recruiting players who have had discipline issues.
THE GRAD transfer Gonzaga might love to snag is Bryce Aiken from Harvard.
Aiken is a bona fide star and leader at point guard (the Zags don't have one yet, unless Suggs arrives and is too special to ignore), and he's listed the Zags among six final choices, but…
Aiken is from New Jersey, and has played exclusively on the East Coast. Still, it's worth a shot and Few reportedly is pursuing him.
As we noted, on paper this looks like a deep and powerful team — as long as the point guard spot can be sorted out (Ayayi, Suggs, maybe Aiken).
Unfortunately, there's no guarantee ANY of those three candidates will be around next season.
Ayayi is one of three undergrad Zags who has been mentioned as toying with a shot at the NBA.
Predictably, Petrusev and Kispert are the others.
None of the three seem to be particularly high on the NBA's scouting radar, however, and travel restrictions imposed by the coronavirus pandemic mean that players will have limited opportunities (if any) to show off their skills for scouts and execs.
THERE ARE plenty of mock drafts around, and none feature any Zags as more than very low second-round picks.
The highest number you can find on any popular mock drafts is Kispert at No. 48 with ESPN (which has Petrusev at No. 58).
That's normally the G-League level, at best.
One wild card might be Frenchman Ayayi getting homesick and returning to play in Europe — but he has a legit shot at the NBA if he stays in college to polish his game.
Few will be watching, waiting and discussing all of this with his guys.
My guess: Petrusev leaves, the others stay.
Obviously, that pick comes right out of the clouds.
And then there's Suggs, who probably won't make a decision until mid-summer.
However it shakes out, though, the Zags won't be hurting.
NEXT WEEK: We'll imagine just how the 2020-21 team could look when we finally see the next gang of Zags on the floor.
Email: scameron@cdapress.com
Steve Cameron's "Cheap Seats" columns for The Press appear on Monday, Wednesday and Friday. He also contributes the "Zags Tracker" package on Gonzaga basketball each Tuesday.
Steve's various tales from several decades in sports — "Moments, Memories and Madness" — run on Sundays.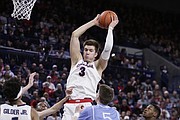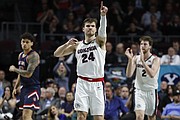 ---