Youth Sports March 25, 2020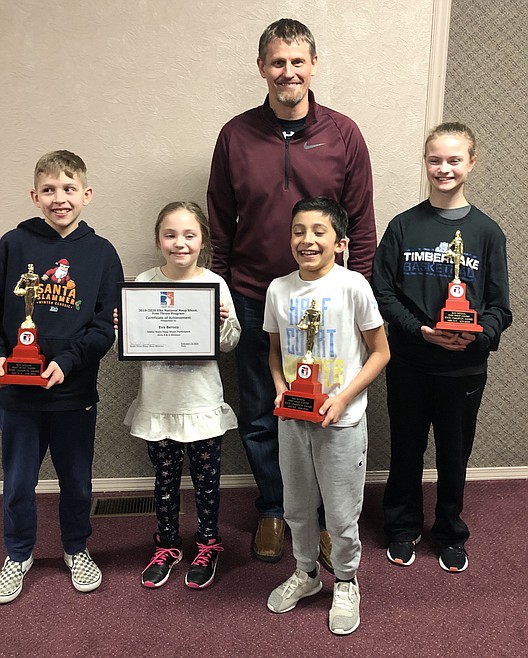 District champions from the Coeur d'Alene Lodge to compete at the state Elks Hoop Shoot in Grangeville were, from left, Micah Hodges, Eva Barzoza, Cruz Andrich and Malia Miller. At rear is Todd Stoddard, Coeur d'Alene Elks Hoop Shoot director.
Courtesy photo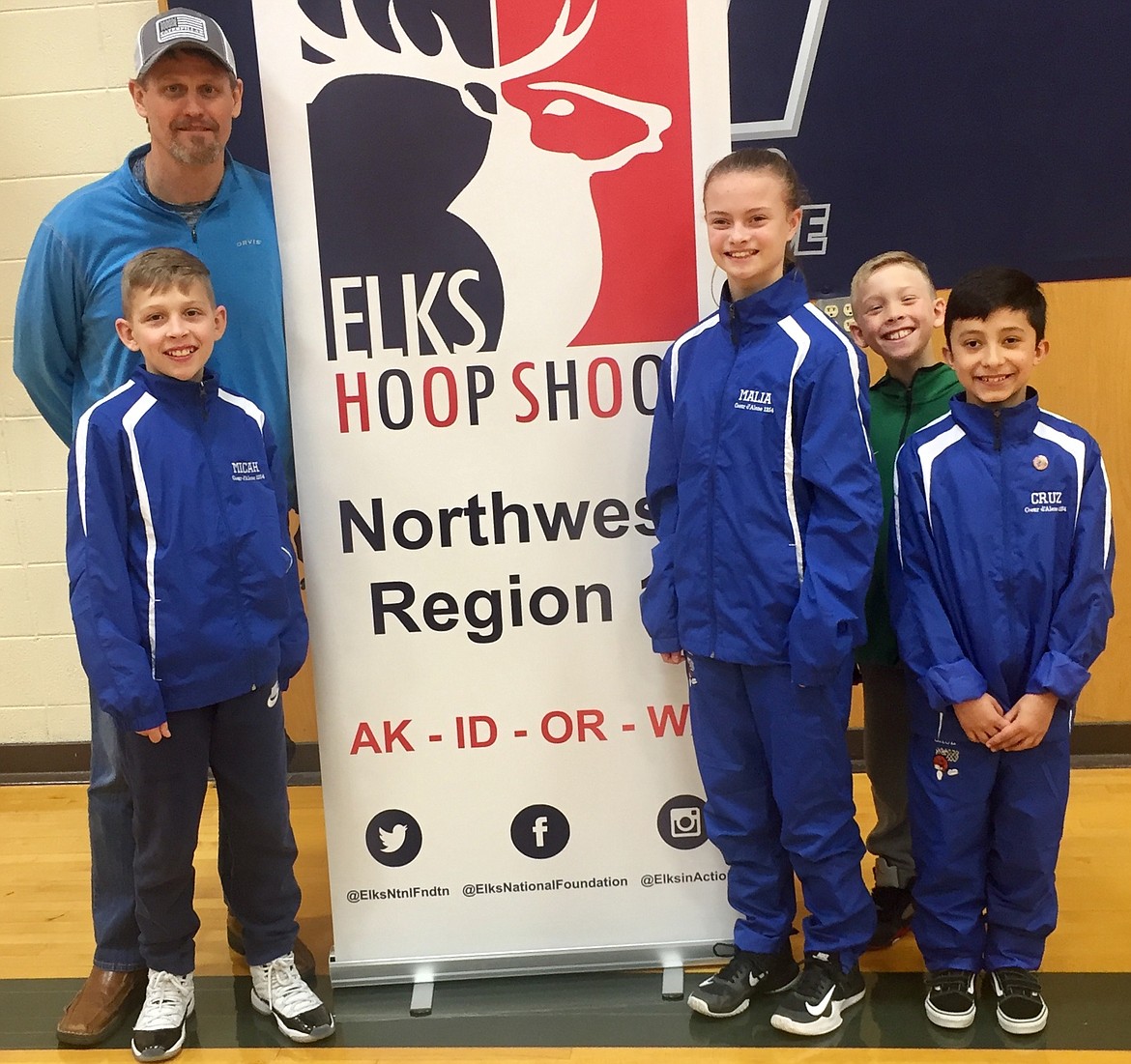 State champions from the Coeur d'Alene Elks Lodge who competed at the regional Elks Hoop Shoot in Pasco, Wash., were, from left, Micah Hodges, Malia Miller and Cruz Andrich. Back left is Todd Stoddard, Coeur d'Alene Elks Hoop Shoot director.
Courtesy photo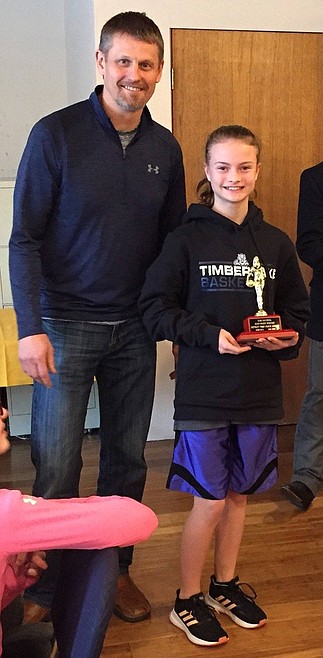 Malia Miller won the girls 10-11 age division at the Coeur d'Alene Lodge Elks Hoop Shoot on Jan. 5 at Lakeland High in Rathdrum. At left is Todd Stoddard, Coeur d'Alene Elks Hoop Shoot director.
Courtesy photo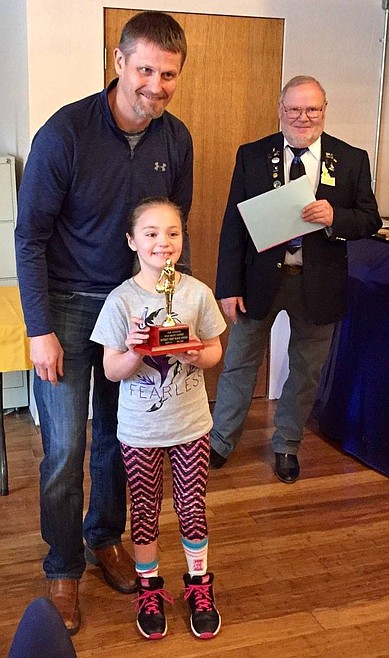 Eva Berzoza won the girls 8-9 age group at the Coeur d'Alene Lodge Elks Hoop Shoot on Jan. 5 at Lakeland High in Rathdrum. At left is Todd Stoddard, Coeur d'Alene Elks Hoop Shoot director. At right is Harley Birchmier, Kellogg Elks and state Elks Hoop Shoot director.
Courtesy photo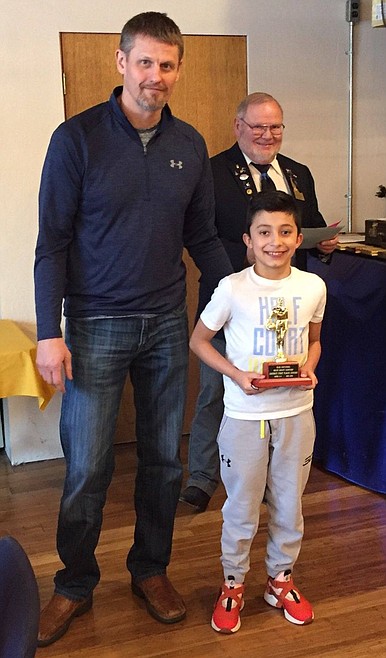 Cruz Andrich won the boys 8-9 age division at the Coeur d'Alene Lodge Elks Hoop Shoot on Jan. 5 at Lakeland High in Rathdrum. At left is Todd Stoddard, Coeur d'Alene Elks Hoop Shoot director. At rear is Harley Birchmier, Kellogg Elks and state Elks Hoop Shoot director.
Courtesy photo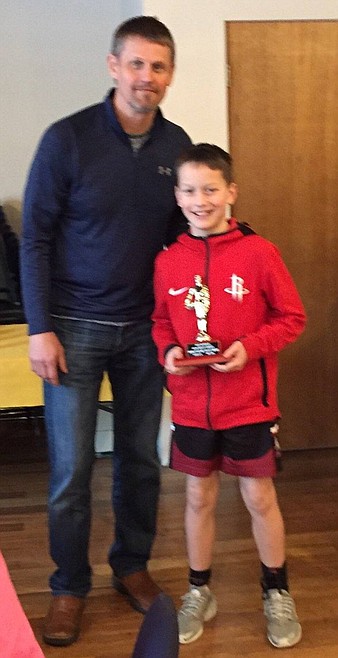 Benjamin McElvany won the boys 12-13 age division at the Coeur d'Alene Lodge Elks Hoop Shoot on Jan. 5 at Lakeland High in Rathdrum. At left is Todd Stoddard, Coeur d'Alene Elks Hoop Shoot director.
Courtesy photo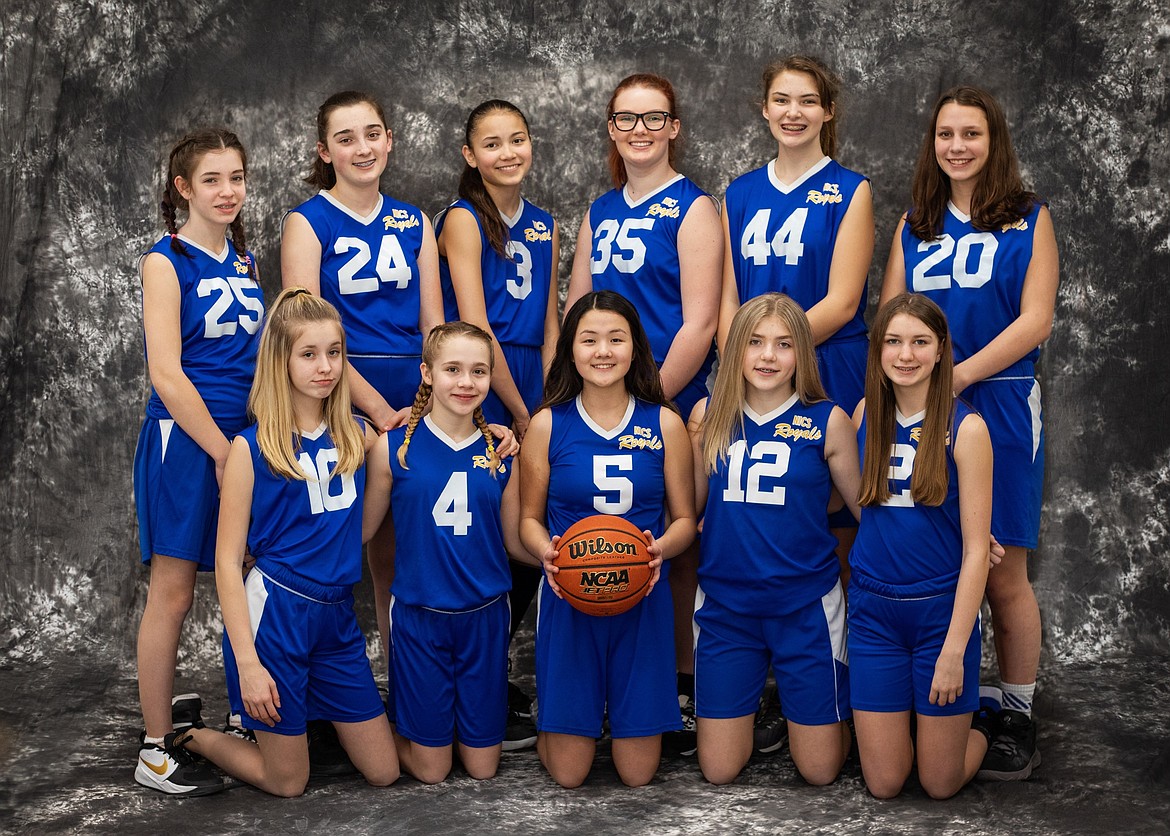 Courtesy photo The North Idaho Christian School junior high girls basketball team recently won the Mountain Christian League championship. The Royals went 10-0 in league play, but the league tournament was suspended. NICS has won 60 straight games and are 91-1 over the last six seasons. In the front row from left are London Lynch, Madison Salaiz, Pearl Covey, Maddie Cooper and Danica Kelly; and back row from left, Delaney Chadwell, Maddie Daigle, Chelsey Cate, Kimmie Williams, Yesie Cisneros and Symone Pilgrim. Not pictured are coaches Jerry Bittner, Dave Kelly and Rylee Overturf.
Previous
Next
ELKS HOOP SHOOT
The Coeur d'Alene Elks Lodge No. 1254 invited 38 local Kootenai County schools to our annual Hoop Shoot tournament on Jan. 5.
Each school held its own in house free-throw competition between boys and girls ages 8-13.
The winners of each competition came to compete at the lodge event at Lakeland High School in Rathdrum.
A total of 62 local contestants came to compete, with first-, second- and third-place medals given to each winner in their age division, and an overall trophy given to the contestant with the most free throws made of 25 attempts.
Local winners were:
Boys 8-9: 1st place Cruz Andrich 21/25, 2nd place Madox Hodges 20/25, 3rd place Wesly Trost 19/25
Girls 8-9: 1st place Eva Berzoza 20/25, 2nd place Brynlee Johnston 11/25, 3rd place Camille Thomas 10/25
Boys 10-11: 1st place Benjamin McElvany 23/25, 2nd place Brett Johnson 21/25, 3rd place Rylan Braga 18/25
Girls 10-11: 1st place Malia Miller 20/25, 2nd place Tabitha Lopez 15/25, 3rd place Courtney Johnson 15/25
Boys 12-13: 1st place Micah Hodges 25/25, 2nd place Stockton Montague 19/25, 3rd place Paxton Winey 19/25
Girls 12-13: 1st place Adilyn Murphree 21/25, 2nd place Bailey Berger 16/25, 3rd place Marissa Needs 15/25
Overall Trophies:
Boys: Micah Hodges 25/25
Girls: Adilyn Murphree 21/25
The three boys' and three girls' age-group winner advanced to the District Hoop Shoot in Kellogg on Jan. 25, with first-place winners advancing to state in Grangeville on Feb. 8.
Winners representing the Coeur d'Alene Lodge at districts were:
Boys 8-9 Cruz Andrich
Girls 8-9 Eva Berzoza
Girls 10-11 Malia Miller
Boys 12-13 Micah Hodges
Four contestants representing Coeur d'Alene competed in Grangeville and three of them took first place to continue on to regionals in Pasco, Wash., on March 14.
Those were:
Boys 8-9: Cruz Andrich
Girls 10-11: Malia Miller
Boys 12-13: Micah Hodges
At Pasco, first-place state winners from Alaska, Washington, Oregon and Idaho competed for a chance to go to Chicago for nationals.
Coeur d'Alene results from this event were:
Cruz Andrich 3rd Place
Malia Miller 2nd Place
Micah Hodges 1st Place, qualifies for nationals April 18 (nationals ppd., coronavirus outbreak)
---