GET OUT! Hiking local trails to be socially apart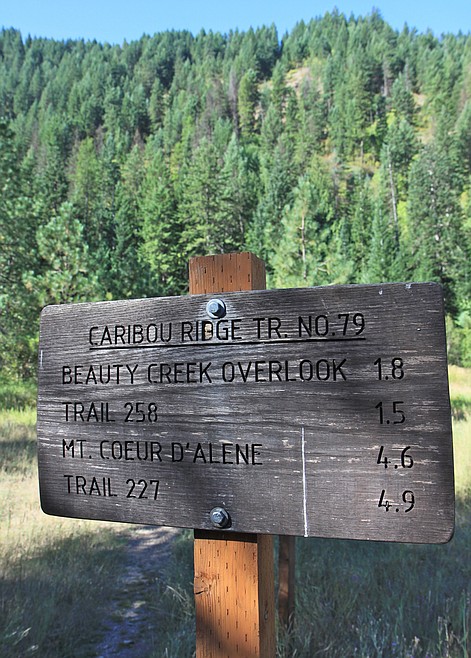 The Caribou Ridge Trail, east of Coeur d'Alene is used for hiking, trail running and birding, and is best used from March until November.
Ralph Bartholdt
by
RALPH BARTHOLDT
Staff Writer
|
March 25, 2020 1:00 AM
— happy and healthy
It happened because Shelly Johnson wanted to take a hike.
As part of her job at the University of Idaho extension office, Johnson had the hankering to strap on her boots and head for the hills to promote exercise and fitness.
She quickly learned there's an app for that.
The AllTrails app that she still refers to, showed her the plethora of trails near her Hayden home.
"People come to us for that kind of information," Johnson said.
She refers them to the app.
As part of her job, Johnson is again reminding area residents that getting out on the trails is a good way to turn cabin fever — and coronavirus social distancing — into a different kind of sweat.
"The app shows running and hiking trails and rates how difficult they are, if they are paved, whether pets are allowed," she said.
Johnson's two favorite local trails are at English Point and Tubbs Hill.
The English Point trails are located at East English Point Road. Take Lancaster Road three miles east from U.S. 95. Trails include the 3.2-mile Yellow Loop Trail, and the 1.6-mile Red Loop Trail.
"The trails are great for all skill levels and (offer) year-round accessibility," Johnson said.
The trail is among several maintained by the U.S. Forest Service.
"Our trails are open," Forest Service spokesperson Michelle Norton said. "We just want people to recreate safely."
Dogs are allowed at English Point, but must be kept on leash. Activities include walking, hiking, trail running, mountain biking, and in times of adequate snow, cross country skiing.
The Tubbs Hill trail is a 2.4-mile loop trail that can be accessed at McEuen Field at 210 S. Third St. in downtown Coeur d'Alene. It features beautiful views of the lake and is good for all skill levels. Dogs are also able to use the Tubbs trail, and activities include hiking and trail running. The trail system also includes beach access.
Kiwanis Park Loop is a 1/2 -mile loop trail near Post Falls at 4176 E. Weatherby Ave., and is good for all skill levels. It is primarily used for hiking, trail running, and nature trips, Johnson said. The trail winds through a canopy of pine and accesses the Spokane River. Dogs are allowed, but must be kept on leash.
Many of us are looking for ways to stay active with many of our gym closures due to the COVID-19 outbreak," Johnson said. "Hiking is a great way to keep fit, mentally healthy and allows you to practice social distancing."
Other trails Johnson recommends are the Higgens Point Trail, a mile-long moderately trafficked out-and-back trail east of Coeur d'Alene at the end of Coeur d'Alene Lake Drive and on the eastern end of the North Idaho Centennial Trail. The paved Centennial Trail starts at Higgens Point and heads west for 24 miles.
Fernan Lake Natural Area at 2747 E. Potlatch Hill Road is a 1.3-mile loop trail located above Fernan Lake that is open to all skill levels.
The main trail on the Canfield Mountain Trail system is a 5.3-mile loop trail that is most often accessed from the end of East Nettleton Gulch Road or via a trailhead at East Mountain Vista Drive.
The Old Wagon Loop Trail at Q'emiln Park in Post Falls is a 2 ½-mile moderate-skill loop trail located on the south side of the Spokane River. It features views of the river and is used for walking, nature trips, and birding.
For hikers who want a challenge, the Caribou Ridge Trail, which leaves the Beauty Creek Road 3/4-mile east of Highway 97, is a 10-mile round trip trail rated as difficult. The trail is used for hiking, trail running and birding, and is best used from March until November.
---