Writing in the digital noise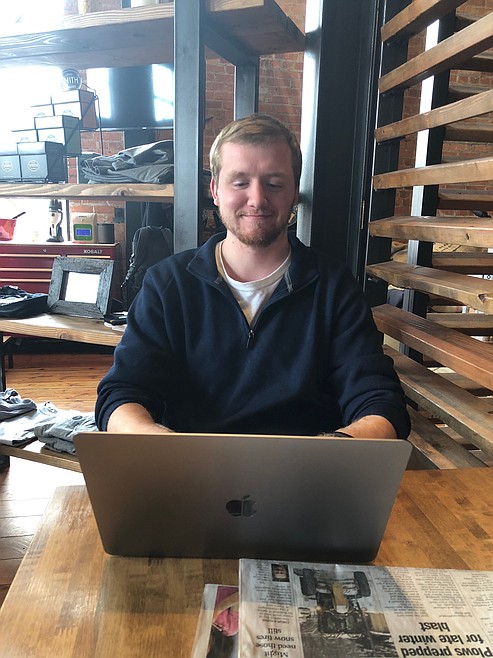 Local writer and author Nick Oetken makes his living writing his own ebooks as well as for businesses online. He prefers working from his laptop to a traditional office job.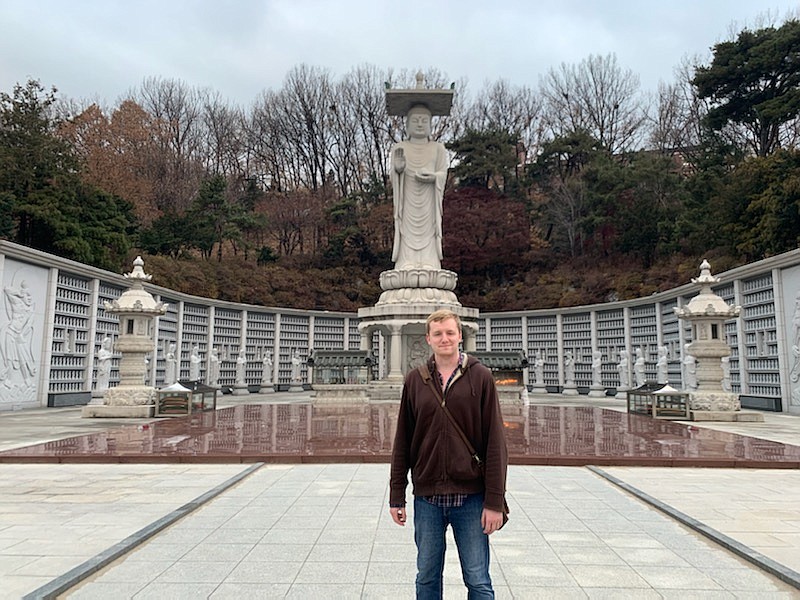 Oetken at a Buddhist temple in Seoul, South Korea in December. Photo courtesy of Nick Oetken.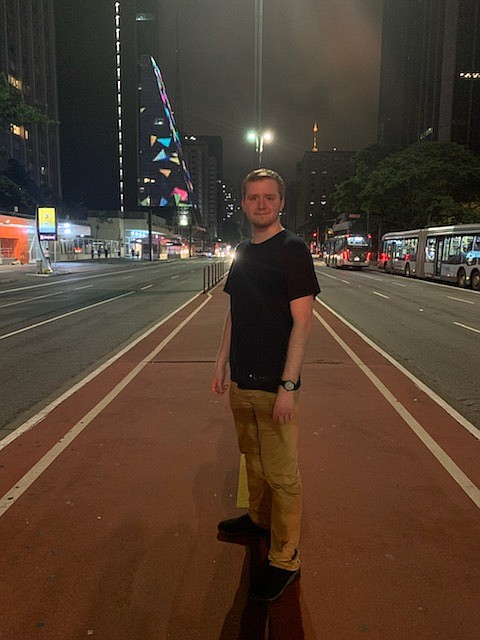 Nick Oetken in Paulista Avenue in Sao Paolo, Brazil last February.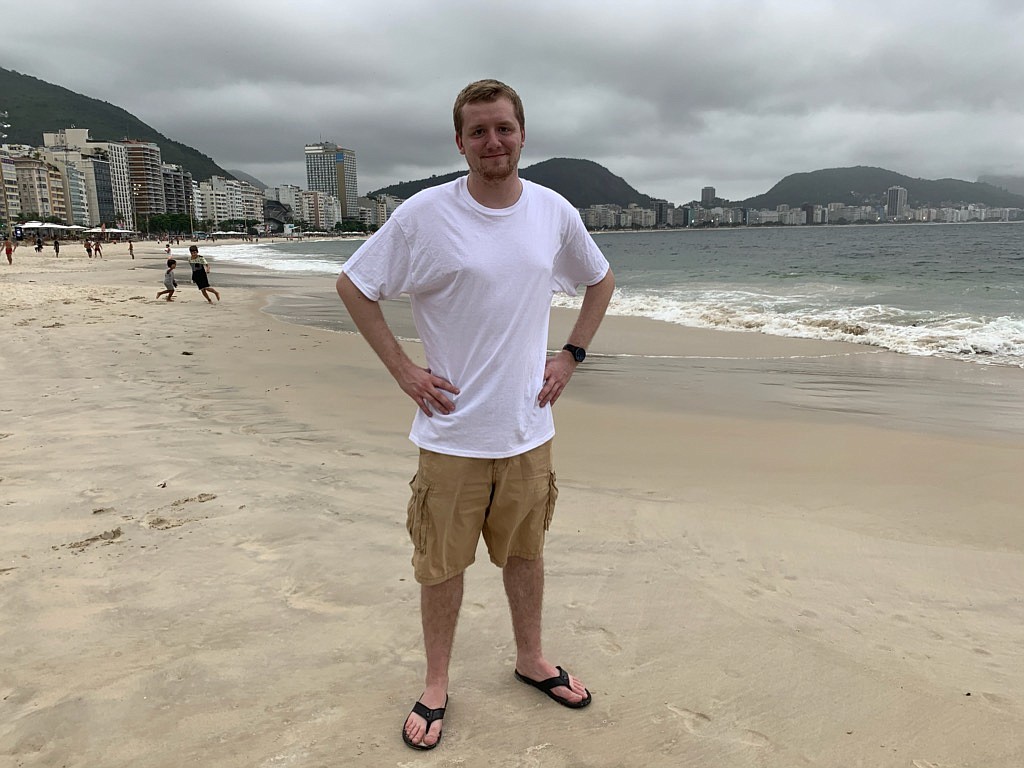 Most recently, Oetken traveled to Brazil in February. Here is Oetken at Copacabana Beach in Río de Janeiro.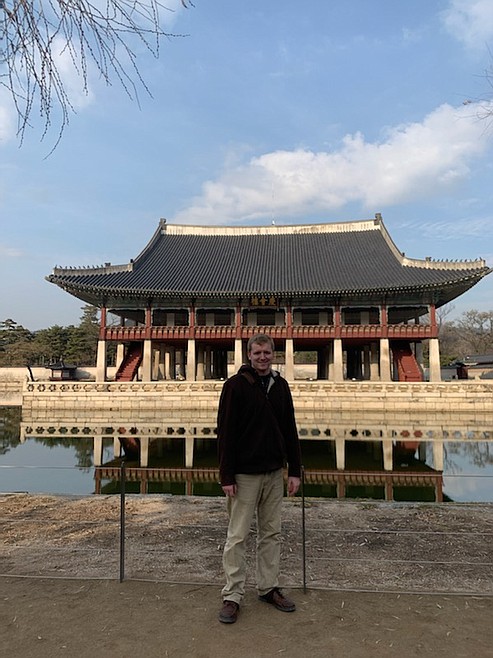 Local writer and author Nick Oetken at the Royal Palace of Seoul, South Korea in December. Oetken uses the success and flexibility of his writing business to travel every few months. Photos courtesy of Nick Oetken.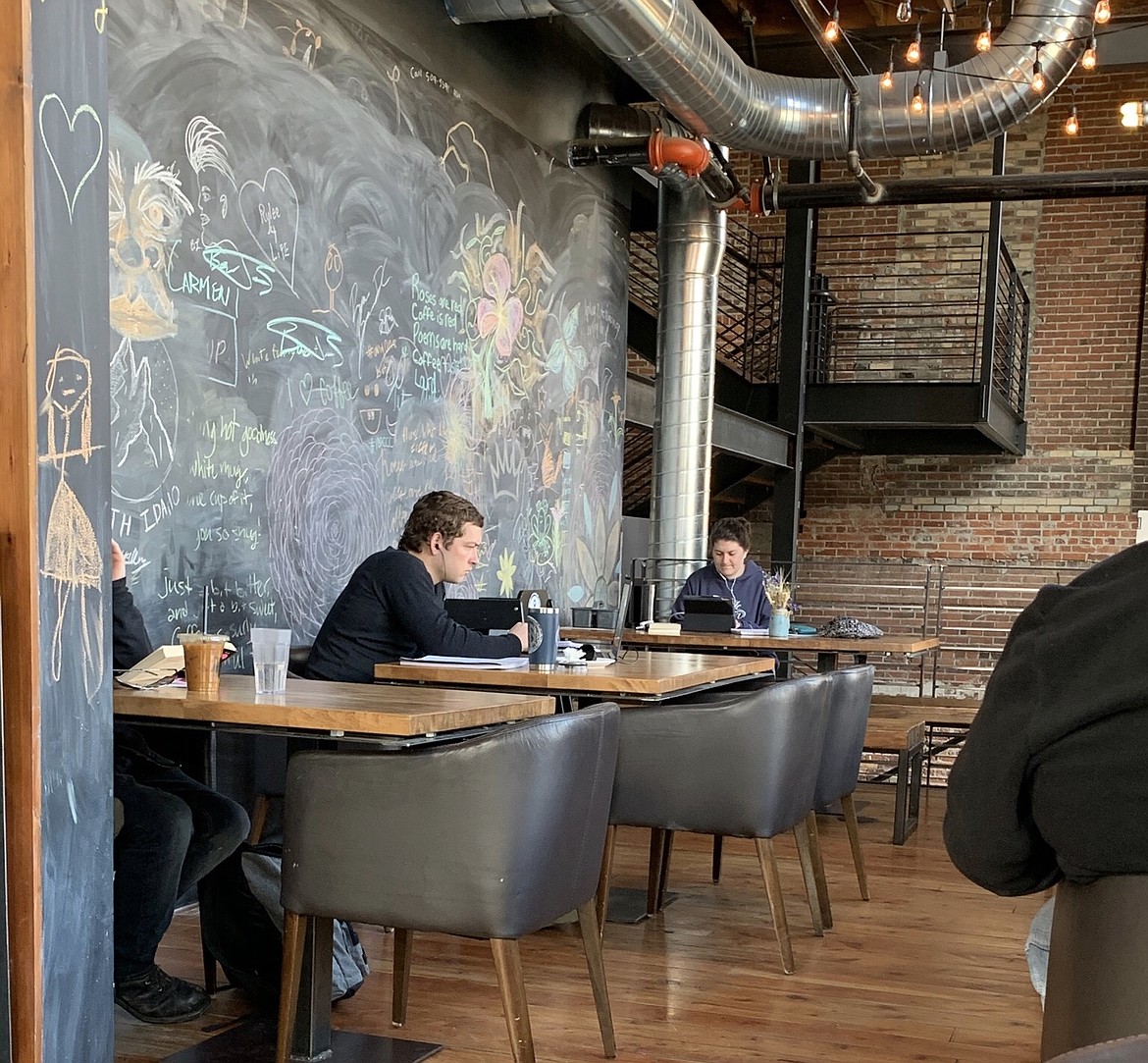 Professional writers are proliferating online, working from laptops and coffee shops such as Coeur d'Alene Coffee Co.
Nick Smoot, CEO of Innovation Collective, in the Innovation Den in downtown Coeur d'Alene. Photo courtesy of Nick Smoot.
Previous
Next
by
Elena Johnson
March 24, 2020 1:16 PM
Nick Oetken made his dream job a reality before he turned 25.
The local writer and self-published author makes his living writing articles and ebooks, producing digital content for other businesses as well as for himself.
"When I was 15 or 16 I decided I wanted to work from my laptop," Oetken said. "I can set everything for myself, my own hours. I can work from anywhere."
After months of applying, Oetken got his first writing job during his senior year at the Coeur d'Alene Charter Academy – and began churning out 10 to 15 articles daily, on topics ranging from marketing and business to home and gardening matters.
"I was writing lots and lots of articles for horrible income, but I was able to have that on my resume and I worked my way up."
Since then, the University of Idaho graduate has written articles and other professional content for businesses and publications online, as well as authored some 600 self-published ebooks.
After ghostwriting ebooks for self-published authors a few years ago, Oetken decided to give it a try. Although he says it took several months of publishing to make significant money, it has paid off. He has some 50 separate author names, separated by genre.
In online world saturated with content, he looks for gaps to find topics which may sell, writing nonfiction ebooks based on where he sees a need or room for content in a particular niche. His fiction is primarily focused on the outdoors, disaster preparation, and survival, subjects which interest him.
The work allows Oetken to work from his laptop, anywhere and anytime he pleases. He uses this flexibility and the success of his work to travel, and has seen much of the world already.
Last month it was Brazil, specifically Rio de Janeiro and São Paulo. December featured Hosaka, Japan, Seoul, South Korea, and Shanghai, China. July and August were a tour of European cities. Next month, Oetken plans to visit Maui – for the seventh time.
"I hate office jobs," he said. "No 9 to 5 jobs, ugh."
That's not to say work is just a vacation for Oetken. The success of his business requires him to employ other writers to help him, and managing other writers, while also working with clients around the world, takes up much of his time. He also markets his ebooks, researches some of the niches he writes in, and writes quickly – while ensuring quality writing.
Luckily for Oetken, he doesn't need much sleep, and likes all the hubub.
"Things are always happening. I kind of like it."
Although Oetken's work is nontraditional, it's not likely to stay that way. The local writer belongs to a broader profession of writers in the digital space, all furiously producing content for business, pleasure, education, and even online news sources. And business opportunities seem robust.
"Copywriting is booming because there's so many channels," said local entrepreneur and co-founder of the Innovation Collective, Nick Smoot.
"Never before have we had so much interesting content," said Smoot, "and the noise to signal ratio is really loud right now. There's a lot of noise."
Writers like Oetken are filling some of those copywriting needs, as well as adding their own voices to the crowd.
That "noise" is not all bad, however. In addition to digital marketing copy such as web pages, business blogs, and social media posts aimed at garnering customers, the space for the written word on the web increases access and allows like minds and hearts to find each other.
"[The internet] has cheapened content," Smoot admits, "but it's also done something magical about allowing content to get out."
That freedom for content is especially visible when it comes to ebooks. While traditional book publishing remains difficult to break into, companies like Amazon have made digital self-publishing easily accessible, allowing writers like Oetken the chance to find a paying audience.
And like much of the digital space, it's quick as well as accessible. Rather than waiting for months of formatting, endorsement-hunting, printing, and distributing, a self-published book can be up in the Amazon marketplace in a few hours, says Oetken. It's as simple as making an account, uploading an ebook and cover, and selecting some keywords.
Volume does appear to play into success, however. Oetken says it's important to have multiple books on related subjects under an author's name to help establish the author as a sort of authority. This creates some need for speed, rather than a focus on carefully cultivated prose alone.
"It's not like the Odyssey," Oetken said. "I don't care if it's Homer-level. The writing style does not matter as much."
However, the writer and author also said it's important to hand in well-written content. If demand for painstakingly crafted epic poems has diminished, the demand for quality has not fizzled entirely. Oetken said it's still important to be a "fundamentally" good writer to do well as a digital writer.
Attention to research and thought is also important for consumers and businesses, according to Smoot. Thoughts, opinions, and creative work have a space to find an audience quickly, and with few limitations in the digital space. Individuals and businesses are both taking advantage of this – which can be a good thing, says Smoot.
"I think we live in a world where you are the business," he said.
Clarifying thoughts and positions, as an individual or a business, communicates those stances for others. As businesses are increasingly branding themselves and as some consumers look for businesses in line with their morals, this clarification through writing can be key.
"Writing to get something that's deep inside of you out in long format for an audience that's going to give you time to read that, that's high value to everyone," said Smoot. "There's someone who's going to enjoy that content."
"I think long format wins, and well-thought out, well-researched pieces."
Oetken agrees that long form will continue to do well, noting that longer content typically ranks higher than shorter content, as long as it is search-engine optimized.
I think [digital writing] is the future," said Oetken. "If anything, it's happening now."
For Oetken, however, these well-thought out pieces of the future will drift away from research as he starts to focus on his creative writing.
And yes, his creative work will likely be available on Amazon.
---