Bi-Mart to open Rathdrum store Thursday
Bi-Mart, a Northwest merchandise retailer, will open Thursday in the former Stein's Family Foods building at 16102 N. Highway 41 in Rathdrum.
The store offers 15 departments of hardware, lawn and garden, health care, home furnishings, housewares, personal care, sporting goods, toys, pet, auto care, farm and ranch, clothing and footware, office and school and food and beverage. A $5 lifetime membership is good for the entire family living at home.
Ruth Jongeward is manager of about 50 employees with store hours of 9 a.m. to 8 p.m. weekdays and 9 to 6 Saturdays and Sundays.
Based in Eugene, Ore., Bi-Mart is employee-owned with 80 stores primarily in the Northwest. The company began in Yakima, Wash., in 1955 with nearby stores in Cheney and Deer Park, Wash.
In Rathdrum, phone 208-508-1953. Check www.bimart.com.
Wallace & Kuster moves to Northwest Boulevard
With Kellie Kuster offering an estate-planning law practice, the Wallace & Kuster PLLC has moved from Riverstone to Suite 200 at 1910 Northwest Blvd.
Marc Wallace retired in 2017, and Kellie Kuster took over the practice focusing on wills and trusts, probate, and estate and trust administration. A third-generation Idaho native, she has degrees from the University of Idaho and the University of Florida and practiced with an attorney group in Boise for 10 years. She is assisted by VaNita Hardy, paralegal, and Heather Kramsky, legal assistant and office manager.
Hours are 8 a.m. to 4 p.m. Monday through Thursday and 8 to 3 Fridays. Phone 208-667-2264. Check www.wallaceandkuster.com.
Doggy Style Pet Grooming opens in Coeur d'Alene
Grooming all sizes and breeds, Doggy Style Pet Grooming has opened at 510-A N. Fourth St.
A licensed groomer since 2008, Shaya Hall stresses a system to keep dogs happy, comfortable and pampered while they are safe and secure. Customers can stay while their dog is groomed. Shaya and Tashawna Hall specialize in doodles.
March specialties include free nail trims and 10 percent off all grooms. Hours are 9 a.m. to 4 p.m. weekdays and Saturdays and Sundays by appointment. Phone 208-610-8110. Check Doggy Style Pet Grooming on Facebook.
Ambitions of Idaho expands on Northwest
Offering behavioral health and developmental disability services, Ambitions of Idaho has expanded into the whole building at 1038 Northwest Blvd.
Dedicated to assisting individuals in achieving the highest fulfillment of their lifelong ambitions and dreams, Ambitions of Idaho personnel recognizes that every person is unique with personality, history and challenges and helps determine needs and goals before recommending a path. This can include counseling or psychiatric help, group or individual therapy and job and housing assistance.
Lindsay Lartz is mental health program director. Phone 208-930-1740. Check www.ambitionsofidaho.org.
And now the Tidbits
• A new commercial building is under construction at 6040 Government Way.
• Something new will be at 1026 N. Fourth St.
• Northwest Softplay is "coming soon" at 317 E. Seltice.
• 108 North, an Italian bistro, is under construction connected to the Moose Lounge downtown.
• A "Coming Soon" sign is with an "India House" sign at 740 N. Cecil Road in Post Falls.
• The Ten/6 cafe at 762 N. Fourth has closed and may open in a new location.
• Watch for Sherman Food Court coming at 1902 E. Sherman Ave.
• Something new is going into 413 Sherman beside the Art Spirit Gallery.
• A new Maverik store is being built at Highway 41 and Mullan in Post Falls.
• Alpine Animal Hospital (now on Best Avenue) is building a new place on Kathleen west of Mango Tree.
• A Union Coffee Roasters, Stretch Lab, Pokeworks and Mangia Wood-Fired Pizza will be in The Northern complex northwest of the Ramsey Road-Hanley Avenue intersection.
• Trademark Mechanical is building a new place in Hayden.
• The new Bakery by the Lake will be on Coeur d'Alene Lake Drive.
• Lean Kitchen will be at 2632 Government Way.
• A Burger King is under construction at 3827 N. Ramsey (just south of Kathleen).
• A gelato shop will be at 217 Sherman.
• The new Hardwick Hardware is under construction at 3820 E. Mullan in Post Falls.
• A new place in the northeast corner of U.S. 95 and Lancaster will be a Golden Glo Coffee Shop.
• A real headline: Homicide victims rarely talk to police.
• Some businesses with signs facing the road still haven't changed to daylight saving time. Aaaargh.
• Contact Nils Rosdahl at nrosdahl@cdapress.com.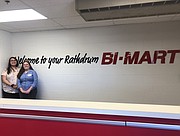 ---