CDAIDE, Cd'A Press, Fire Pizza CDA launch efforts to support local staffers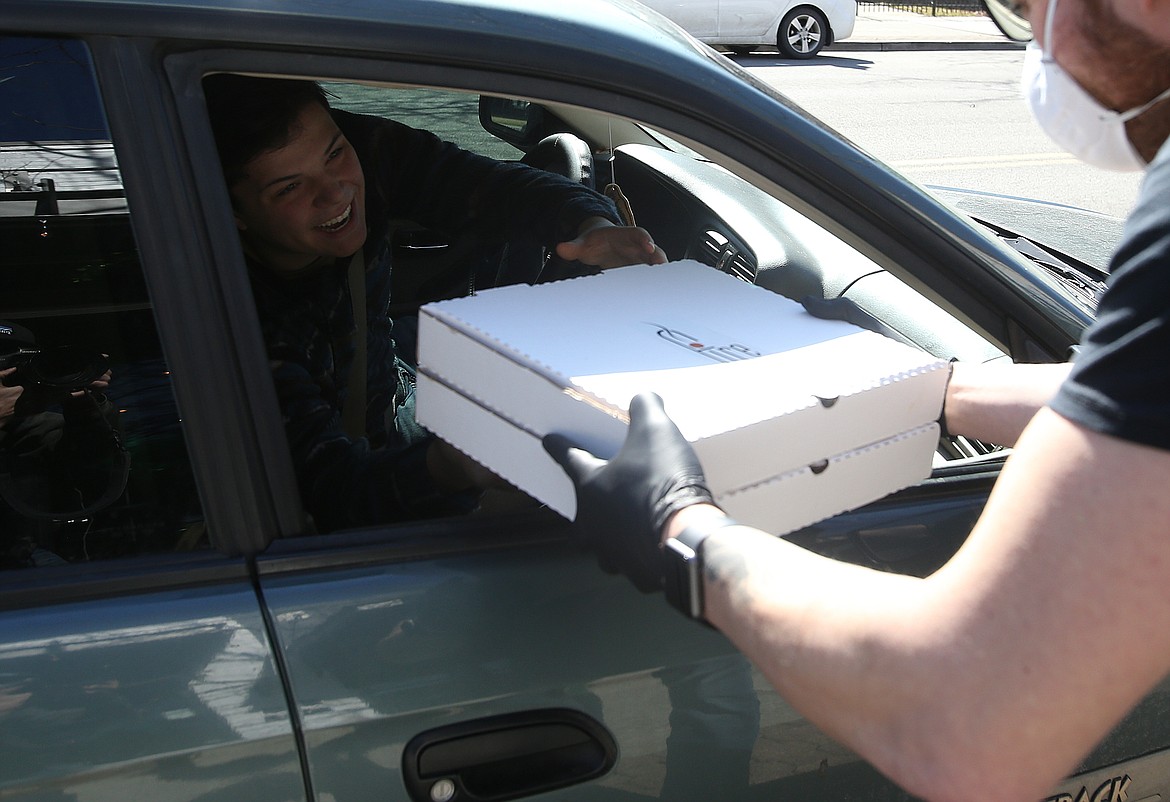 Caid Wood grabs his curbside order from Fire Pizza CDA employee Jeromy Hebert Wednesday. (LOREN BENOIT/Press)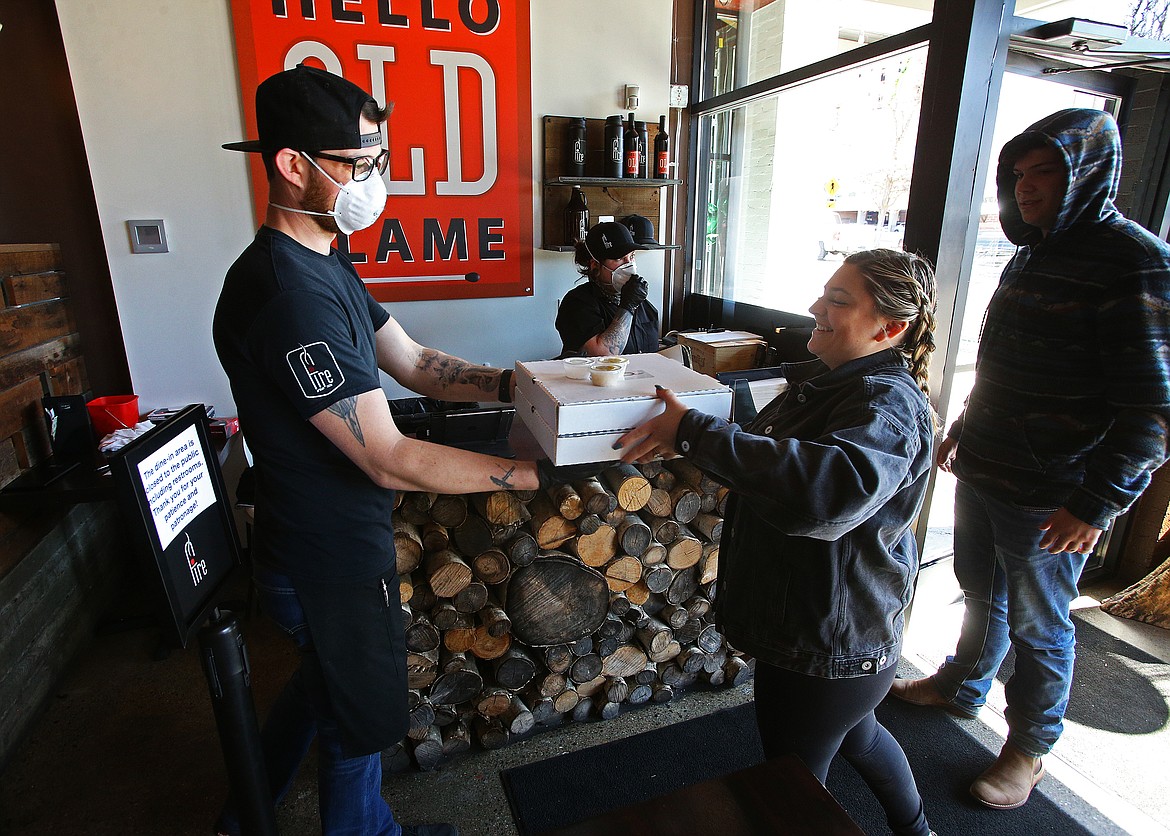 Abigail Paderson picks up her pizzas for her family from Fire Pizza CDA employee Jeromy Hebert in March. CDAIDE, a nonprofit that supports restaurant workers and was quick to react to restaurant closures this spring, has been selected as an Outstanding Nonprofit for Idaho Philanthropy Day.
LOREN BENOIT/Press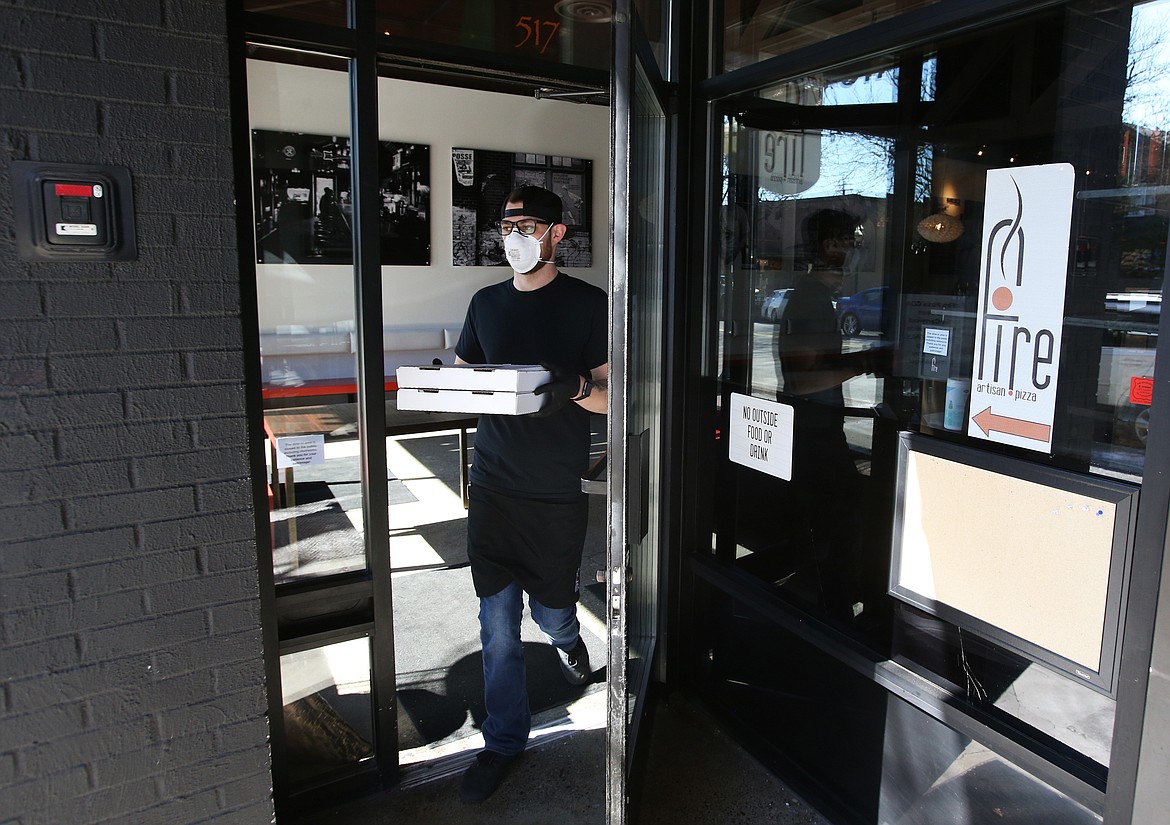 Fire Pizza CDA employee Jeromy Hebert makes his way out to a curbside order Wednesday. Several restaurants, businesses and organizations are rallying around local restaurant workers as coronavirus causes closures and restrictions. Fire is donating all proceeds for March and April to its employees. (LOREN BENOIT/Press)
Previous
Next
by
DEVIN WEEKS
Staff Writer
|
March 19, 2020 1:14 AM
CDAIDE, Cd'A Press, Fire Pizza CDA launch efforts to support local staffers
Local restaurants and businesses are rallying for their community members and employees amid coronavirus closures and restrictions.
Fire Pizza CDA owners are donating profits from March and April to support their 28 employees. The restaurant is now serving only carry-out and curbside pickup orders.
"Our decision to give all of our profits to our employees for the next two months comes from a place of, one, making sure our staff knows we appreciate them and their hard work and what they have over the years done for us as a restaurant," said co-owner Nicky McClean.
"And two, so they can come into work and not only feel like they're working for themselves, but they're working for the team," she added.
CDAIDE, a nonprofit that supports hospitality and restaurant workers, is calling on community leaders and other nonprofits to help with sources of relief.
Board President Rebecca Smith reported that CDAIDE has joined a team being organized by United Way executive director Mark Tucker to mobilize for vulnerable populations.
CDAIDE has also advocated to the mayor and City Council for the moratorium on evictions and utility shut-offs.
"It's good for people to know we have their backs," Smith said. "We also have developed an abbreviated intake process and are working entirely through phone with an expedited process to safely get people help faster. If people want to support local workers they can donate through our website (www.cdaide.org)."
Hagadone Media Group lead strategist Danny Moering said the Coeur d'Alene Press is now offering free ad space — a one-eighth-page ad in paper plus 50,000 ad impressions on www.cdapress.com — to any restaurant that is offering delivery or carryout options for the community during this crisis. Any additional ad space is offered at a deep discount.
"We will be putting together a webpage that will have links to menus and any online ordering for food service establishments to promote the options available to the community," he said Wednesday. "We'll also be offering direct mail and direct email for those establishments at a discount to help increase sales during this difficult time."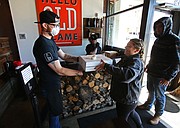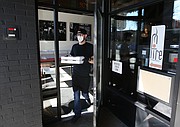 ---