Lake City Cheer qualifies for state competition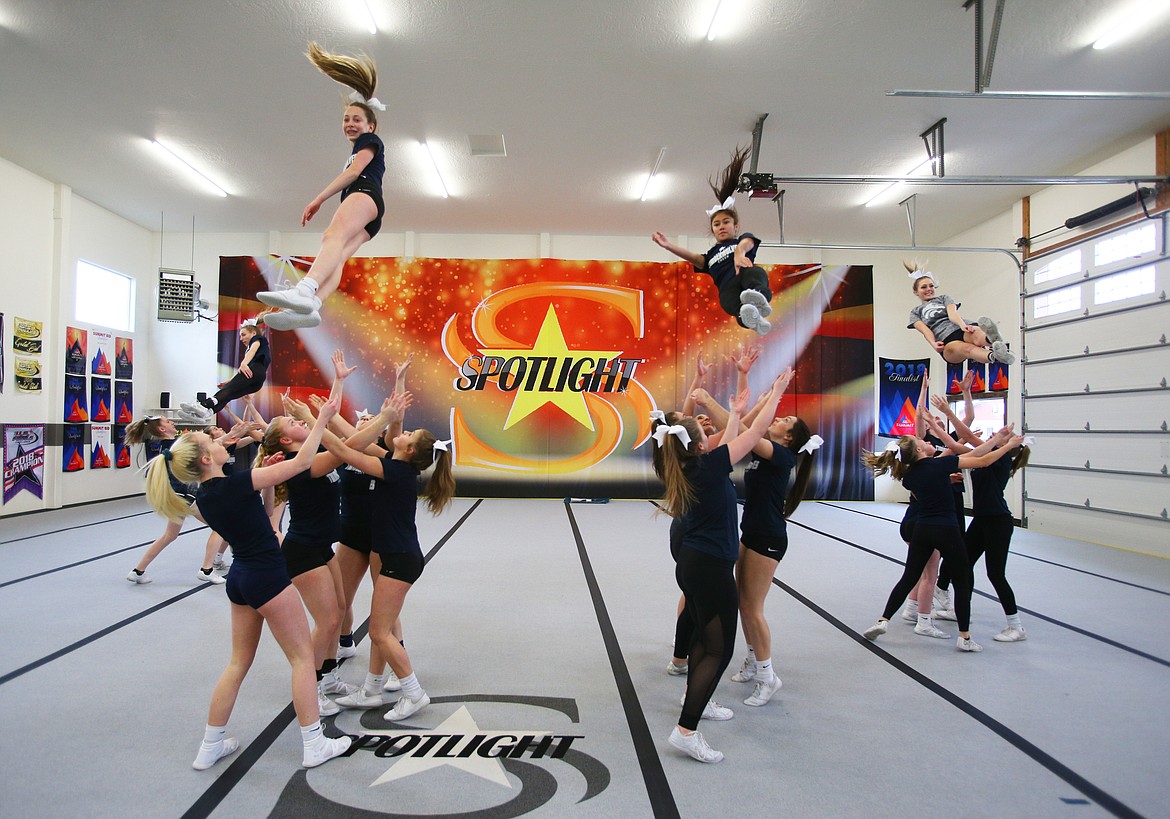 The Lake City High School Cheer squad tosses four team members into the air during practice Wednesday. Airborne, from left: Kenna Chilton (rear left), Kenzie Brock, Izzy Cochran and Shanay Branscome (rear right). (LOREN BENOIT/Press)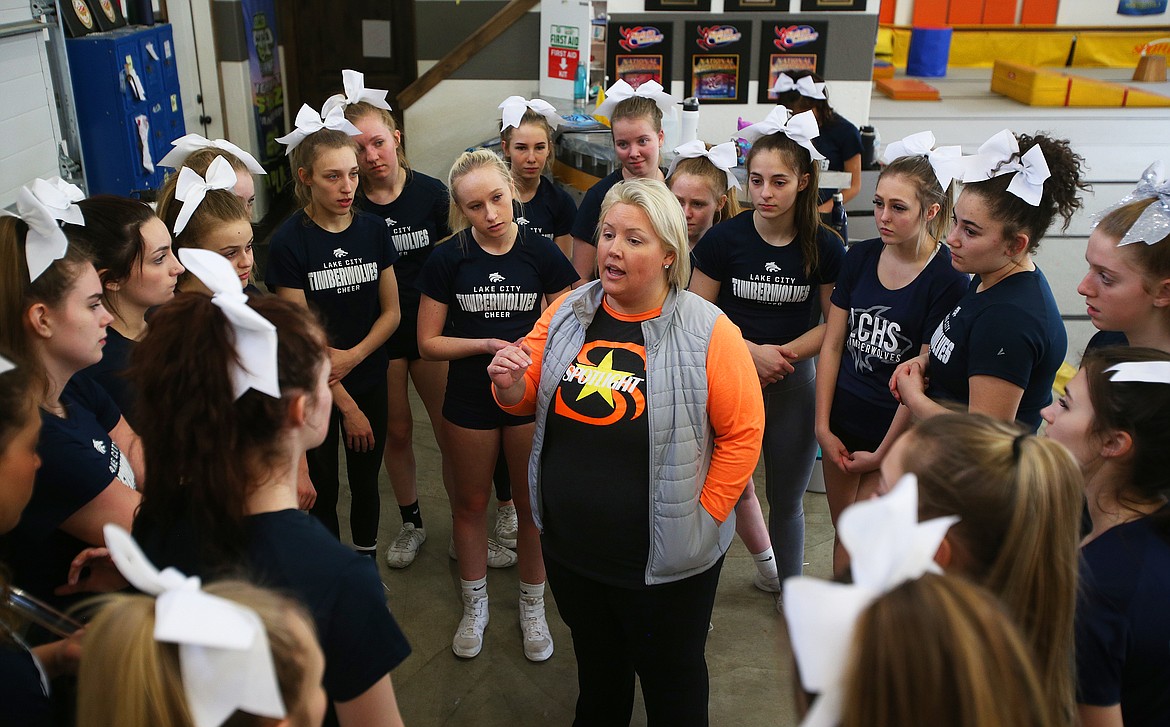 Spotlight Studio North Star coach Stacey Rae Steinwandel addresses the Lake City High School Cheer team members during practice at the studio earlier this week. Lake City cheerleaders have qualified to compete at state.
The Lake City High School Cheer team practices a stunt routine Wednesday at Spotlight Studios North Star in Hayden. Athletes on top, from left: Malea McAllister, Kenna Chilton, Shanay Branscome, Izzy Cochran and Kenzie Brock.
LOREN BENOIT/Press
Previous
Next
by
DEVIN WEEKS
Staff Writer
|
March 14, 2020 1:05 AM
Lake City Cheer qualifies for state competition
COEUR d'ALENE — Synergy, energy, camaraderie and exceptional teamwork qualified the Lake City High School Cheerleading squad for state-level competition.
On Friday, that competition was postponed, but nothing could ground the sense of accomplishment of this high-flying bunch.
"I'm super proud of the team," said senior Madi Bailey, who serves as one of the four team captains. "We worked really hard on bringing the team together and I think that's what helped us work together on the mat as well."
Two routines blew away the competition during the state qualifier at Lakeland High School on Feb. 29, including a stunt routine that placed second and a show routine that features all aspects of cheer — sideline cheerleading, gymnastics, dance and stunt. The show routine placed first at the district competition.
"We're starting to practice like a professional team," said senior and team captain Jessica Gilmore. "It was awesome to 'wow' everyone like that."
"It's the most difficult routine, so that's why I'm so proud that one is going to state," said Coach Crissy Gilmore. "They've been working really hard. It's a proud coaching moment."
Aside from their smooth moves and high-energy cheers, Lake City cheerleaders are also exemplary citizens within their school and community. They're expected to keep good grades while acting as role models, and they promote kindness wherever they go.
"Our team is unique because our athletes are good students, we have a high GPA, they are kind, they serve our community," Gilmore said. "They give more than 25 hours a season to our community. About once a month, our athletes are out serving their community."
LCHS cheerleaders qualified to participate in the Idaho High School Activities Association 2020 Idaho High School Dance and Cheer State Championships in Boise at the end of next week, but the event has been postponed until further notice because of the coronavirus outbreak.
"It kind of sucks, the fact that it's my senior year and we finally placed to state," Jessica said. "It's nice that my last season is going to be a long season, but it does kind of make me sad that we have to wait."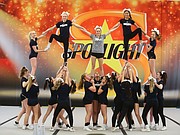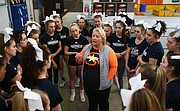 ---