Tent gives hospital virus testing tool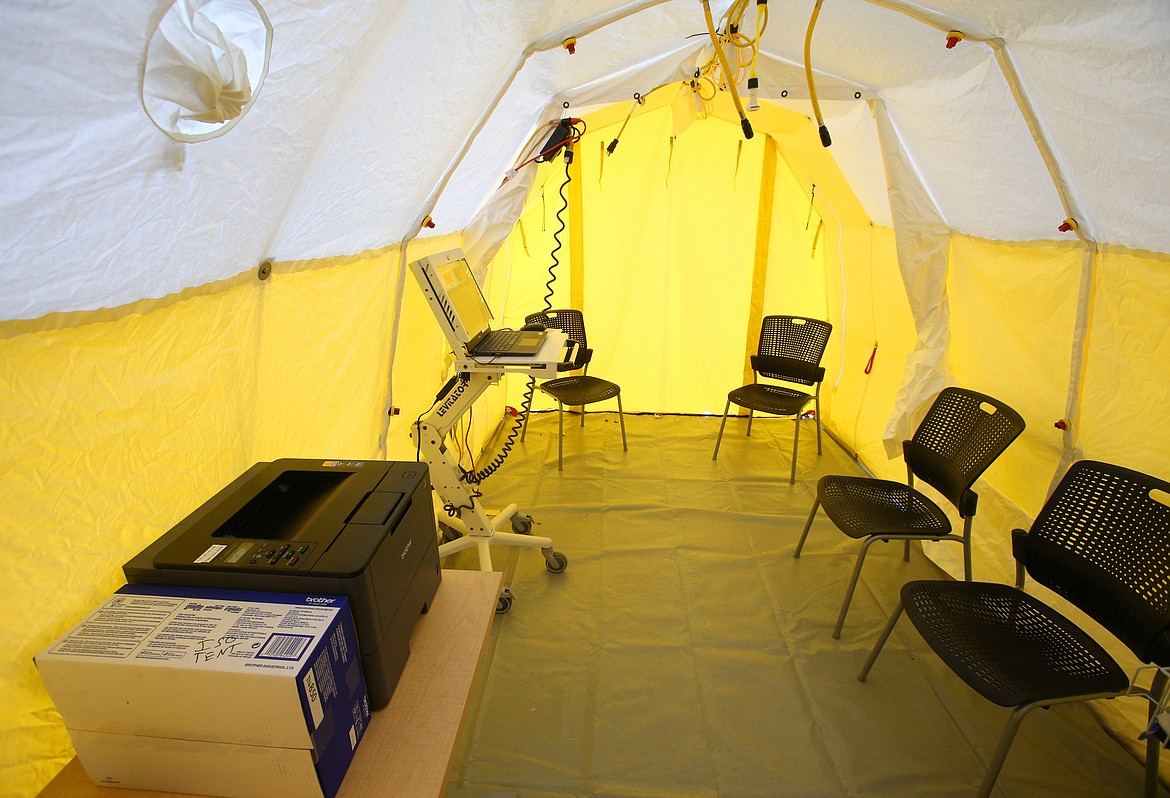 The tent serves the purpose of registering patients being tested, and collecting the necessary samples to be sent to the state or other designated site for testing. (LOREN BENOIT/Press)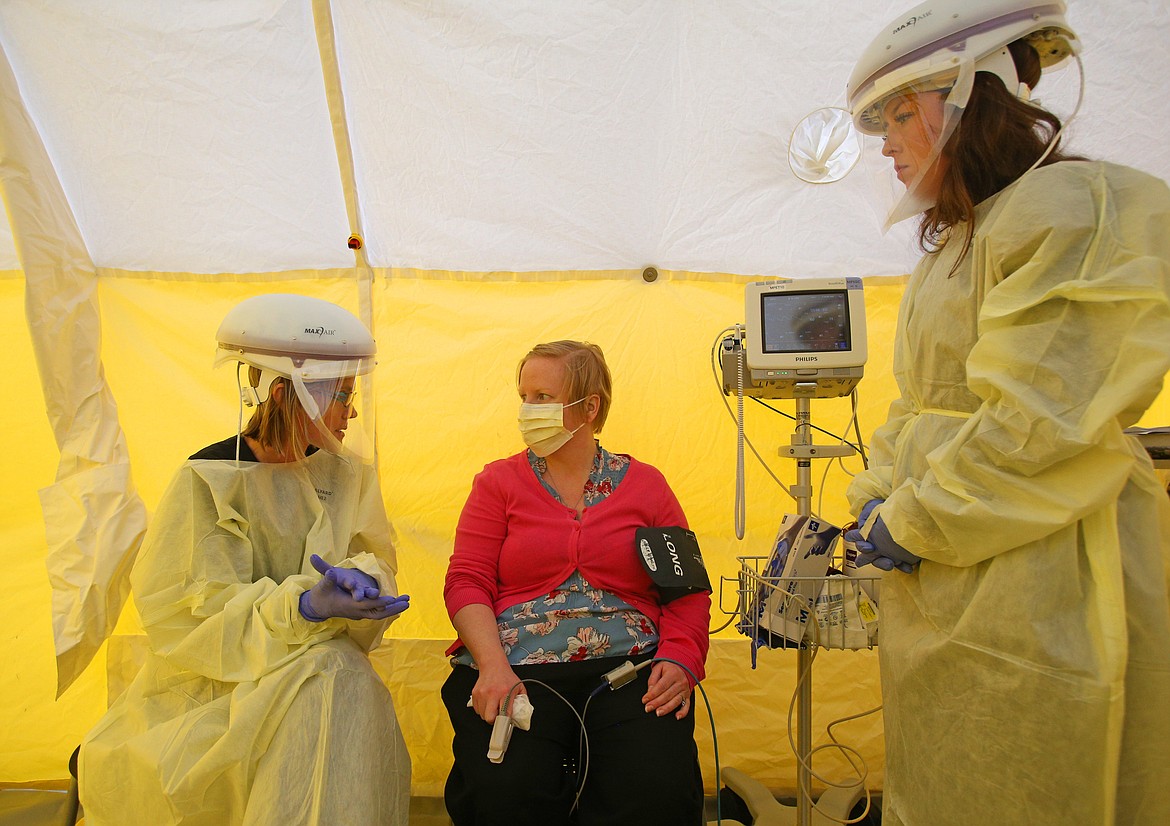 Kootenai Health physical assistant Natalie Koncz, left, and registered nurse Emily Cheeseman attend to practice patient Karly Vesely during a test run for hospital staff Wednesday. The tent allows emergency staff to test people for COVID-19. (LOREN BENOIT/Press)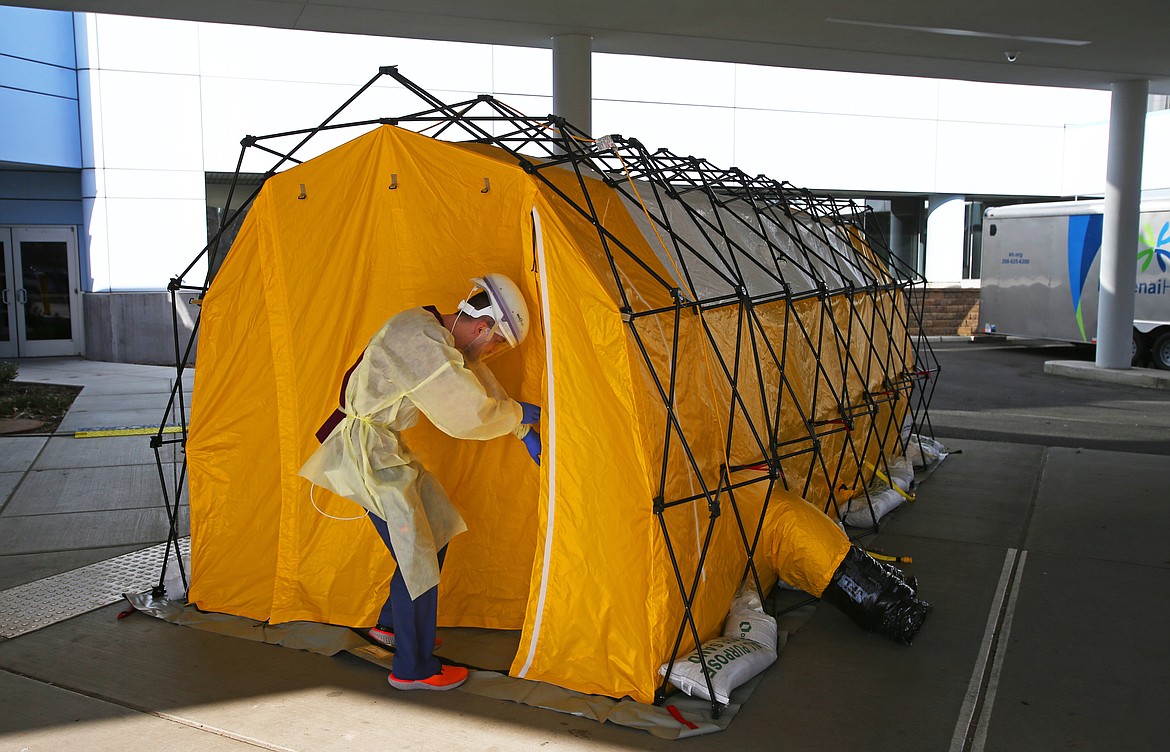 Kootenai Health technician Adam Garman enters a tent outside the emergency department entrance to the hospital Wednesday. The tent allows emergency staff to test people for COVID-19 without the risk of infecting other people inside the hospital.
LOREN BENOIT/Press
Previous
Next
by
CRAIG NORTHRUP
Staff Writer
|
March 5, 2020 1:00 AM
Governor: Idaho is well-prepared
Putting up a yellow tent outside the Kootenai Health emergency department this week prompted a social media scare and startled passersby during a worldwide coronavirus outbreak that is leaving locals on edge.
Kootenai Health spokesperson Andrea Nagel said Wednesday the tent is a proactive — not reactive — move to properly prepare for the possibility of North Idaho's first coronavirus patient, if or when that patient ever arrives.
"The triage site allows emergency staff to test people for COVID-19 without the risk of infecting other patients and staff members inside the hospital," Nagel said. "We are also working closely with primary care clinics and other local health agencies to minimize risk to the community."
Emergency department staff are manning the tent 12 hours a day. Nagel said only those patients who meet the designated Centers for Disease Control criteria as possibly-infected patients, as well as those who have been referred by the Panhandle Health District or a primary care physician, should show up to be tested.
"The tent only serves the purpose of registering patients being tested, and collecting the necessary samples that will then be sent to the state or other designated site for testing," she said. "The tent is not intended for anybody with concerns to come in and get tested. It is the referral site for patients who have been designated at-risk for having the virus."
Patients who go through the initial screening process and are approved for further evaluation within the tent will be admitted and registered, Nagel added, but they shouldn't get too comfortable.
"The majority [of patients] will be sent home to self-isolate until their test results come back," she said. "If symptoms are severe, and the patient requires a higher level of care, they might be admitted to the hospital."
As of press time, six people in Idaho — five Idahoans, one Oregonian — have been tested for the coronavirus. None tested positive.
The appearance of the tent comes as Gov. Brad Little ordered the establishment of a website — coronavirus.idaho.gov — to keep Idahoans informed through updates and best practices. Little spoke at a Wednesday morning press conference, where he said the virus's mortality rate is low.
"We are all learning more about the coronavirus as each day passes," he said. "Most of us who are in good health do not have to worry about getting sick."
Two Idaho school districts — Troy and Genesee near Moscow — closed their schools for precautionary scrubbing after students attended a University of Idaho jazz festival over the weekend, a festival also attended by students from an Everett, Wash., high school where a member of its student body tested positive for the coronavirus. That student — who was not at the festival — is in home isolation and is reportedly in good condition.
"From what we know about it, the 2019 novel coronavirus should not be a concern for parents of healthy children … But for our older population and those with compromised health conditions, coronavirus — just like the common flu — could be very harmful or deadly, especially since it's occurring during the flu season," Little said.
COVID-19 has infected more than 94,250 worldwide, killing at least 3,214. At least 51,026 have fully recovered from the virus, according to Johns Hopkins University.
In the United States, about 130 people across 16 states have been diagnosed with the coronavirus. Eleven have died, 10 in Washington state.
Conversely, 32 million Americans have contracted some strain of the flu since October, according to the CDC. Of those, more than 310,000 have been hospitalized, and approximately 18,000 have died.
"That is why we must all do our part to prevent the spread of this disease and all respiratory illnesses to preserve capacity," Little said. "We must do what we can to keep those vulnerable folks safe."
Kootenai Health and the Panhandle Health District, meanwhile, say the same rules that apply to the flu apply to the coronavirus.
"If you're sick, stay home and take care of yourself," Nagel said. "Cover your mouth and face when you cough or sneeze, and wash your hands frequently. Do not go to work or school if you have flu-like symptoms."
Panhandle Health District has opened a hotline to discuss a patient's symptoms and risks. The hotline — 1-877-415-5225 — is staffed weekdays from 8 a.m. to 5 p.m. Only patients who have been screened by the Health District or a physician's office and meet the CDC's testing criteria will be tested. That criteria includes a fever of 100.4 degrees or higher, respiratory distress (including a cough, shortness of breath or difficulty breathing) and coming into contact with a COVID-19 patient 14 days prior to the development of symptoms. At that point, health officials will weigh whether or not to send subjects to the tent.
Even then, Nagel urged, don't panic.
"If self-care is appropriate, [people] will be discharged from the tent," she said. "If at any time they need additional care they will be transferred into the main emergency department."
Nagel further emphasized the move to open the tent is just as much about carving out a space for testing as it is about protecting the patients in the emergency room. She said the hospital has more than enough space to handle coronavirus patients in the event of a local outbreak.
Congress, meanwhile, approved $8.3 billion in emergency aid Tuesday to combat the still-spreading virus, while the White House promised nearly a million new coronavirus testing kits will become available to health care officials by week's end. Gov. Little echoed Nagel's sentiment that the Gem State's knack for preparing against a worst-case scenario is what will help Idaho stave off the virus.
"The individual risk for coronavirus in Idaho is still low," Little said. "However, the national and international situation is rapidly evolving, and we do expect confirmed cases in Idaho at some point. But Idaho is prepared."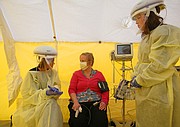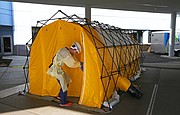 ---