The show must go on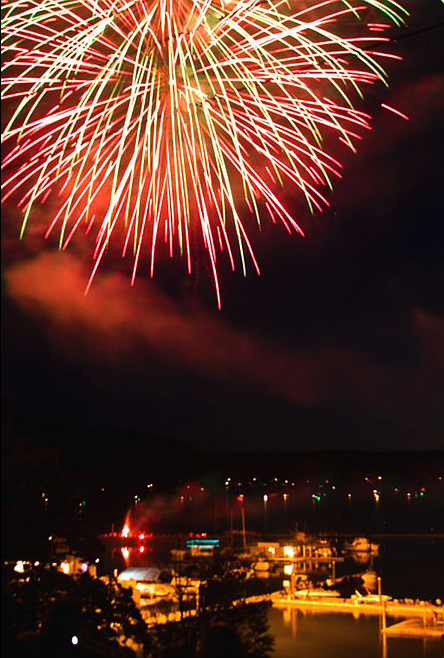 Fireworks light up the night over Harrison in this past Fourth of July photo. The 2020 Fourth of July celebration and fireworks show is still a go, with family friendly activities starting at noon and fireworks at dusk.
Photo by Ron Wicker via Facebook
by
DEVIN WEEKS & MADISON HARDY
Staff Writer
|
June 30, 2020 1:07 AM
Harrison and Spirit Lake push forward with Fourth celebrations
Harrison and Spirit Lake maintain plans to hold Fourth of July celebrations, despite neighboring municipalities calling off their festivities because of COVID-19.
"It's still a go," Amanda Reinhardt, North Idaho Travel Alliance representative with the Harrison Chamber of Commerce, said Friday. "We've got music in the park and a relaxed day. There will be some food vendors set up."
Hosted by the Harrison Chamber of Commerce, the lakeside town of about 200 will host family-friendly festivities, with yard games at noon, vendors from 2 to 6 p.m., live music from 3 to 7 p.m. and fireworks at dusk.
Entertainment and music will be performed by the Ronaldos from noon to 3 p.m., followed by Whack A Mole, according to the chamber's Facebook page.
Spirit Lake is forging ahead with its 25th annual parade and park vendors, but will not have a fireworks show.
"At the time we made our decision, Coeur d'Alene had canceled their fireworks but were still doing their parade," Jeneva Stubbs, Spirit Lake Visions secretary said. "We were worried about the influx of people and the city being able to safely maintain and handle the size of people that would come if we held fireworks."
The Spirit Lake parade will feature around 50 entries, beginning its route on Fourth Street and Jefferson, circling down to Maine Street and ending at Spirit Lake City Park. The parade starts at 11 a.m. and guides visitors to vendors, games, and live music in the park coordinated by Spirit Lake Visions.
Celebration officials are emphasizing social distancing and adherence to Gov. Brad Little's orders and Centers for Disease Control guidelines. Those who attend are expected to be courteous, thoughtful and respectful.
---