Rough terrain impedes search for local man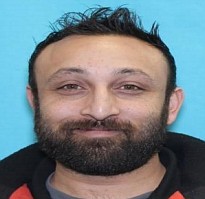 Joel Brown remains missing; last seen in Fernan Saddle area
Kootenai County Sheriff's Office deputies, U.S. Forest Service law enforcement officers, volunteers from the Kootenai County Volunteer Search and Rescue Unit and Spokane Air Unit searched all day on Monday for Joel Brown, who has been missing since Friday, in the Fernan Saddle area.
The area where Brown is believed to be is very brushy, steep and difficult to navigate, KCSO reported on Monday evening. Due to darkness and the terrain, the search was suspended until this morning. In the morning, searchers will again focus their efforts in the Fernan Creek area near Fernan Saddle.
Brown, 37, of Coeur d'Alene/Post Falls, was reported missing Sunday. On Friday, Brown's vehicle was seen on Forest Service Road 499 near Fernan Saddle, according to a press release.
"Initially, it was thought the occupants were hiking in the area. On Sunday the vehicle was in the same area," the sheriff's office reported on Sunday. "Forest Service law enforcement officers and Kootenai County Sheriff deputies contacted Brown's place of work and learned he did not show up for work on Saturday."
Anyone who has seen or heard from Joel Brown is asked to contact the KCSO at 208-446-1300.
---