Standing up for Cd'A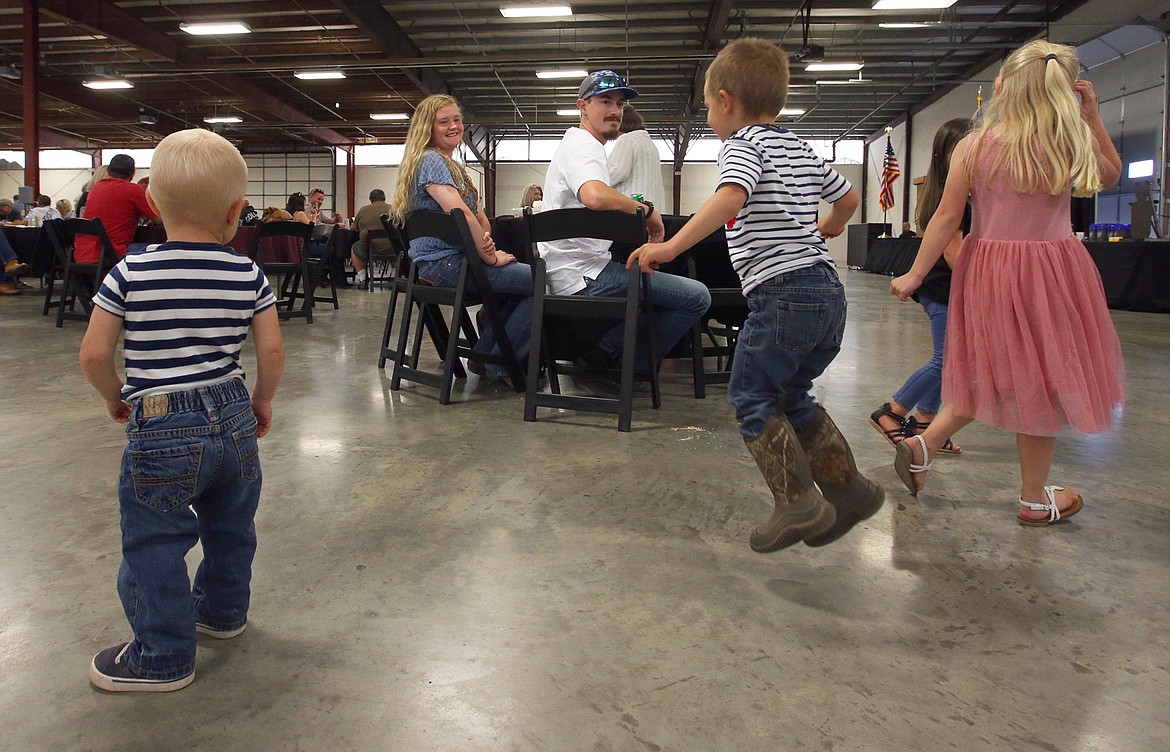 Conner and Renee Gunnoe watch their sons dance around during an appreciation dinner Sunday night at the Kootenai County Fairgrounds. The event was a thank you to people whose armed presence protected downtown's businesses earlier this month.
Photos: BILL BULEY/Press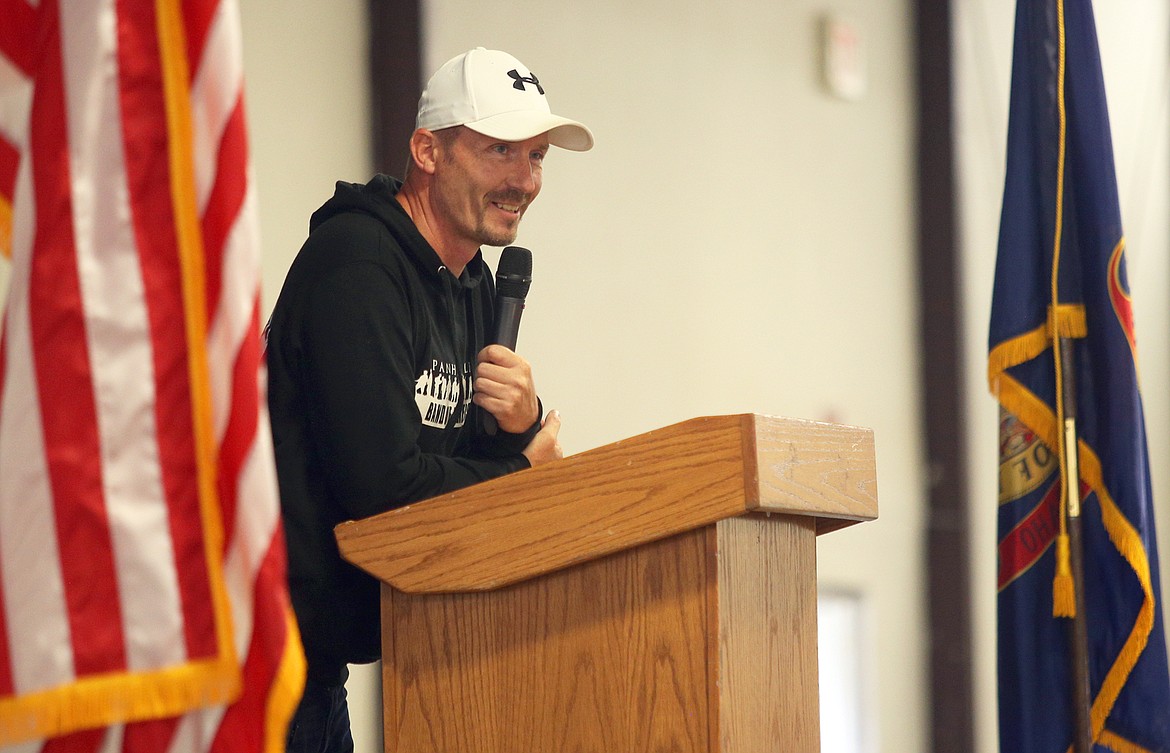 Brent Surplus, emcee of Sunday's appreciation dinner, speaks to the crowd.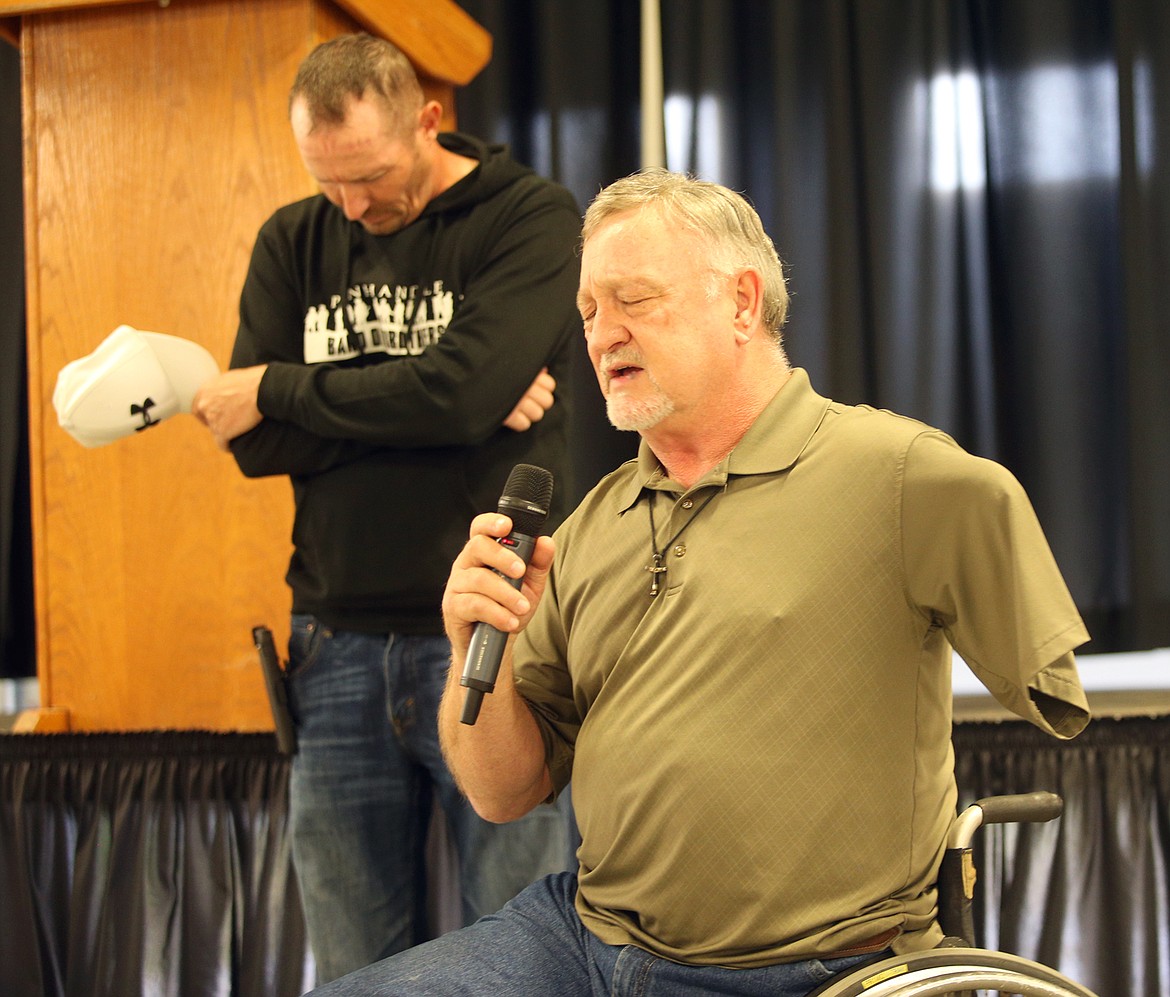 Pastor Tim Scott gives the opening prayer while Brent Surplus bows his head during Sunday's dinner at the Kootenai County Fairgrounds.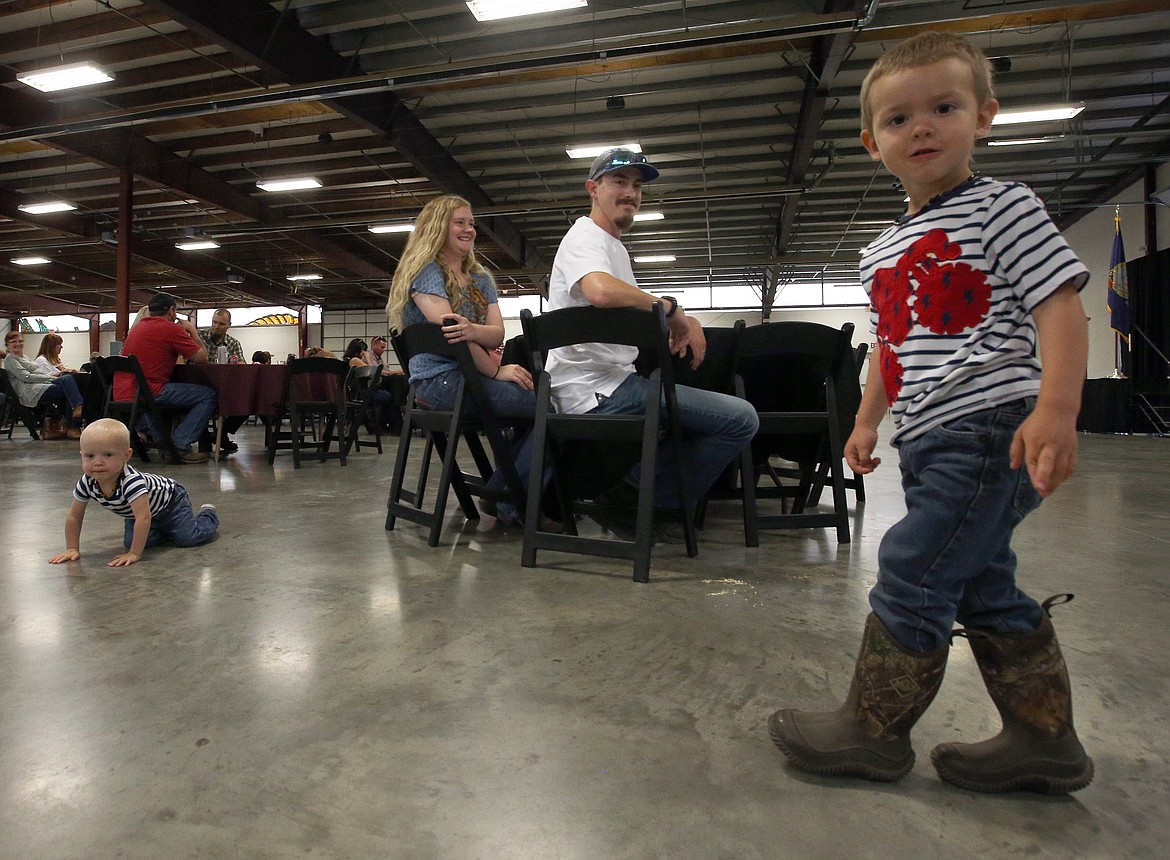 BILL BULEY/Press Conner and Renee Gunnoe watch their sons Lorenzo, left, and Ezra, play during the appreciation dinner Sunday night at the Kootenai County Fairgrounds.
Previous
Next
by
BILL BULEY
Staff Writer
|
June 29, 2020 1:30 AM
COEUR d'ALENE — Brad Chaney recently moved to North Idaho and he already knows he likes the people.
"This is what America is all about. We are our brother's keeper, as the Bible tells us," he said. "These are part of the people who stand up to put words to action. The night trouble was coming to town, they went to protect their brother."
Chaney, owner of Chaney Distributors, Inc., was one of many business owners who funded a dinner Sunday at the Kootenai County Fairgrounds to thank those who came out to protect downtown Coeur d'Alene in early June.
Sherman Avenue, on June 1, was lined with hundreds of men and women openly carrying handguns and semi-automatic weapons after hearing rioters might be headed that way. Many of them returned over the next few nights to stand guard. Nothing happened and some said those men and women may have deterred any violence.
"The group of people that is here are fantastic people," Chaney said. "They have supported this community in a way I've never seen anywhere I've ever lived."
About 200 people, adults and some kids, attended the peaceful event that included burgers and dessert, speeches, music and prizes. Several wore patriotic shirts and hats, and a few were armed.
Conner Gunnoe attended the dinner with his wife and children. He said he was proud to protect his community appreciated the thank you from businesses.
He enjoyed seeing familiar faces, too.
"It's always nice," he said.
Pastor Tim Scott, who gave the opening prayer, praised them for having resolve and discipline in ensuring that nothing happened.
"I want to thank this group full of good men and good women for standing up and being counted," he said.
Richard Whitehead, who ran for Kootenai County sheriff in the GOP primary election and finished third, talked briefly to the crowd. He was in Kalispell, Mont., when he heard armed residents were protecting downtown Coeur d'Alene.
"Watching what you all did in defense of our town and our county was truly awe-inspiring and I was never so proud," he said.
Bob Norris, who won the GOP primary race for sheriff, said
see THANKS, A6
THANKS
from A1
a reporter asked him after his victory what he thought of the armed citizens on Sherman Avenue.
Norris told the reporter, "that was the safest place in America."
He said locals didn't give anyone an opportunity to damage North Idaho shops and stores.
"The only thing that kept Coeur d'Alene and Sherman Avenue from becoming Spokane the night before was because of you," Norris said.
Brent Surplus, event emcee, said many businesses donated to the dinner.
He is affiliated with the "Panhandle Band of Brothers," which he said is not a militia and not paramilitary.
He called it an information hub that provides gun owners with information, as well as being a defender of life and property.
"We don't at any one time want to get pushed around and say, 'We're going to go ahead and let what happened in Seattle happen to our town.' That's the bottom line," Surplus said.
Alan White of Blinds, Etc., donated to the event and said he appreciated how people looked out for each other and did what they could to prevent trouble in North Idaho.
Nathan and Gina Rogers of Inland Botanicals in Post Falls said they contributed to the dinner as a way to support those who came out to protect businesses, residents and First Amendment rights.
"We want everyone to be together, come together, to find common ground and love one another, is really what it's about," Gina Rogers said.
Julia Demmett, a small business owner, said, "to have someone else be able to protect my business when I can't, it means the world to me."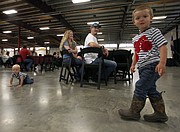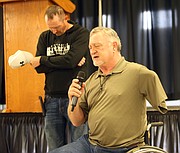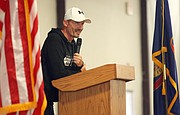 ---