Could a wet May and June lead to a dry July and August?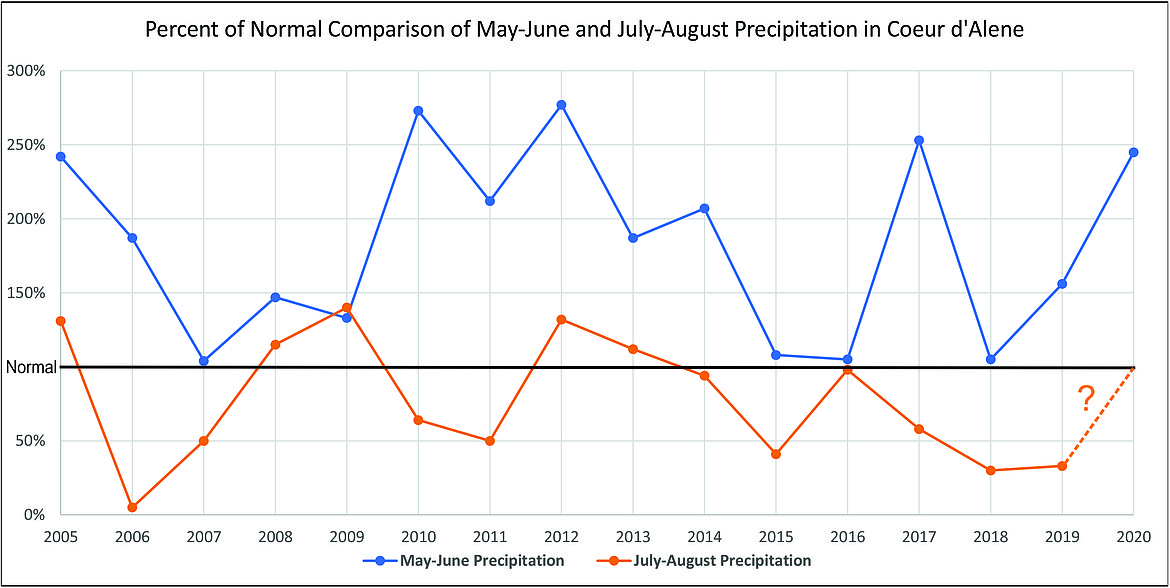 After Tuesday, 2020 will be half over. Conditions here in the Inland Northwest were fairly warm last week before cooler temperatures arrived over the weekend.
Record heat has been baking parts of the West in late June. Temperatures in California's Central Valley have been near or over 100 degrees. Redding, Calif., hit 109 degrees on Friday. The weekend did bring some much-welcomed relief as highs in that area dropped into the 80s.
In Death Valley, the official spot of the hottest temperature in recorded history of 134 degrees, temperatures last week were close to 120 degrees. It's already been very hot in Phoenix, Ariz., as the city hit 112 degrees on May 29. On average, Phoenix usually doesn't report highs above 110 degrees until June 10.
The hot and dry pattern, combined with tall grasses and brush in the southwestern U.S., has led to numerous fires in Arizona. The Bush Fire is the fifth-largest blaze in the state's history and the 2020 fire season for Arizona is already becoming one of the worst.
The southwestern U.S. has been very dry as many areas have received less than 50 percent of their average precipitation for May. However, the Pacific Northwest southward into Northern California was above normal for rainfall from the middle of May through early June. Although, the moisture is appreciated, the wet conditions likely increased the amount of brush and foliage. As we've seen countless times, we often see wide swings from wet to dry in a short period of time.
According to the National Interagency Fire Center forecast, there is the potential for a tough fire season across much of central and eastern Washington as well as northern Idaho and northwestern Montana. By August, the areas for an above-normal wildfire season increase into central and southwestern Idaho, northwestern Nevada and much of Oregon. The Portland and Seattle regions are forecast to have a near-normal wildfire season. Above-normal conditions for fires are also forecast to persist into September across much of the Far West.
Precipitation in Coeur d'Alene and surrounding areas have been in a back-and-forth pattern in terms of drier and wetter than normal months. For example, January was much wetter than normal, followed by a very dry February. March was 0.60 inches above average, but April was 0.78 inches below normal. May turned out to be another wet month and June will also finish above average.
It's looking like 2020 will be another year in North Idaho with precipitation totals above normal levels. Despite the many wetter-than-average seasons since 2000, there have been periods of about 6-12 weeks with extremely dry weather. Cliff and I believe that this summer will have another six-week pattern with mostly dry and very warm to hot temperatures in the Northwest.
Looking back at Coeur d'Alene's climatological data, since 2014, May and June's combined precipitation has been above normal. The following July and August had moisture totals below normal. In 2016, July and August precipitation totals were 98 percent of average.
For this year, May and June's combined rainfall will end up close to 250 percent of normal. Cliff predicts that next month's moisture total should be around 0.65 inches, compared to the July normal of 0.92 inches. Most of that precipitation is expected to fall at the beginning of the month with only scattered showers or an isolated thunderstorm later in the month. We also think that some storm systems during the summer season will have the potential to produce "dry lightning," especially across eastern Washington. This would not be good news for the 2020 fire season.
From the mid portion of next month to the end of August, conditions here in the Inland Northwest are forecast to be much warmer and drier than normal. The late July and early August period should have temperatures well into the 90s with a day or two near 100 degrees. Then, toward the end of August and into early September, moisture in Coeur d'Alene and surrounding regions should start to increase. In fact, Cliff predicts that August's rainfall total may be slightly above the average of 1.23 inches.
Therefore, despite an approximate six-week period of dryness this summer, monthly rainfall totals for July and August may be close to normal. In other years, such as 2005 and 2012, when May and June's precipitation was over 200 percent of normal, the July and August rainfall was around 135 percent of average.
By the way, in 2012, we were in a cooler La Nina sea-surface temperature pattern that likely resulted in additional moisture for the Inland Northwest. Recently, ocean temperatures have been cooling, which may also help with moisture this summer. Stay tuned.
• • •
Contact Randy Mann at randy@longrangeweather.com
---