THE FRONT ROW with MARK NELKE: Just when you find what you need ...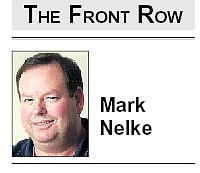 The recent announcement of a (one-time) popular department store chain closing several of its stores really hit home to me.
It continued a disturbing trend in my shopping life.
As soon as I find a go-to place, or a particular go-to shopping item, boom! — either the store closes down, or the item is no longer made.
Now, for copyright reasons, I don't want to run the risk of saying the name of said (one-time) popular department store chain that recently announced the closing of several of its stores — but the name also sounds similar to that of a standout athlete I once covered at Clark Fork High — Acie Henley.
This store was a trusty place for clothing items in particular, as well as funky Christmas gifts, for some reason.
I had found some go-to jeans there — so naturally, they stopped making them after a while. They came out with a somewhat similar version years later — but naturally, you can't find that one anymore either.
I feel for the good folks of Sandpoint and Lewiston, who soon will be losing their (one-time) popular department store. The store at Silver Lake Mall in Coeur d'Alene has been spared — for the time being — as has the two stores in Spokane.
On vacation last summer, I found some key items at said store in Missoula — so naturally they have since closed that store down.
BEFORE THIS news, there was another (one-time) popular department store chain that was another go-to place for clothing, appliances, lawn mowers and other yard care necessities.
It was once known as the place "where America shops", but obviously that is no longer the case — especially around here.
If you went looking for the local store, thinking it was still open, you might end up in a squat rack somewhere, with 390 on the bars.
There was — emphasis on WAS — another multi-purpose department store where I found of style of jeans that worked. Naturally, they stopped stocking that style — and of course that store has since closed down too.
Not gonna name that one either — but if you made it across the street, you were at the Ironwood Shopping Center.
Years ago, there was a place at the Post Falls outlet stores that had some jeans for me. That was a go-to place for several years — until that store went out of business.
Heck, pretty much every one of those stores went out of business.
In my college days, still living in Spokane, there was a go-to place for clothing at the NorthTown Mall, back before it was remodeled into its current form.
Can't remember the name of the place for sure — might have also been a place where doubles and triples are hit. Pretty sure it was downstairs at the mall, in the basement.
Nowadays, if you tried to go downstairs at NorthTown, you'd probably get arrested.
Oh well, you can sometimes go online and find what you need — if only they had it in your size. Or you have a tailor in the family.
At this rate, I might have to make my current wardrobe last for the duration.
REMEMBER ALBUMS?
I remembered them probably longer than you did. I was still buying albums several years after most others had transitioned to CDs. Maybe it took a while to trust that whole cupholder thing.
However, now that albums are making a comeback and stores want an arm and a leg for them, I'm glad I held on to mine.
Same with 45s.
Whoever invented the round adapter thingy that you put on the turntable, then put the 45 around it, was a genius.
That was much safer than trying to muscle one of those other adapters into the hole in the middle of the record. How many singles did you snap in half trying to wedge that bugger in there?
When you're young, VHS cabinets could almost serve as furniture. During their popularity, I loaded up on VHS tapes and cabinets — especially once the price of a blank tape came down from $14 a pop.
If I could get away with it, I might try using a stack of VHS cabinets as an end table. Take that, Touch of Modern!
Naturally, they don't make VHS cabinets anymore.
I do use a digital recorder for interviews — but even then, it took a few years to wean myself off the ones that used those mini-cassette tapes.
How could someone's voice end up inside a skinny rectangular thing that you shoved in their face, I thought. And if you hit the wrong button — boom, there went that interview.
One time at the health club, a teenage boy looked on quizzically as I grinded some noisy thing against my face while in the sink area after a workout.
Apparently he'd never seen an electric shaver.
There's a certain regional brand of potato chips that you can't find around here, so I look for them on my travels — not so much because of the taste, but perhaps a reminder of the innocent days of youth.
That brand of chips is among the top three reasons to go to Kalispell — which still boasts a (Acie Henley) store, I believe.
Those chips can still be found, in a regional chain store there, wedged between rows and rows of national brands.
But it's getting harder and harder to find them.
But at least the store chain is still there.
For now.
Mark Nelke is sports editor of The Press. He can be reached via email at mnelke@cdapress.com. Follow him on Twitter@CdAPressSports.
---